The rise of net zero housing will likely accelerate in wake of the pandemic.
The net zero energy building (NZEB) movement has hit critical mass. After decades of being considered a fringe goal and showcased in the media as maverick, net zero housing has earned its place in the mainstream. It's slated to become the way all homes will be built in the near future.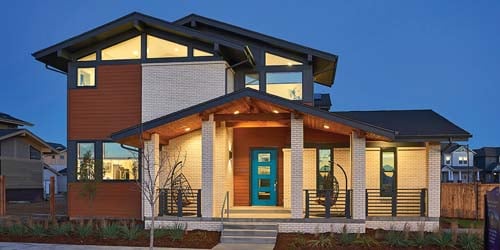 A number of factors are driving this movement. They include:
New, cost-effective technologies and ratcheted codes are driving demand for NZEBs
A doubling of the built environment by 2050, with aggressive clean energy targets being set by governments, corporations, and communities
Building professionals using sustainability, energy efficiency, net zero building and solar as differentiators.
Also, consumers are playing a central role in purchasing, specifying green products up to
70 percent of the time—even in categories such as insulation and solar that they never used to touch. Meanwhile, creative financing options are making it possible for people to buy those homes.
All of those elements support an even bigger ideal: The built environment can have a tremendous impact on reducing greenhouse gas (GHG) emissions. According to environmental policy firm Energy Innovation, if all buildings were net zero and the industrial processes were adapted to net zero, then the United States could reduce its GHG emissions by more than 50 percent. ​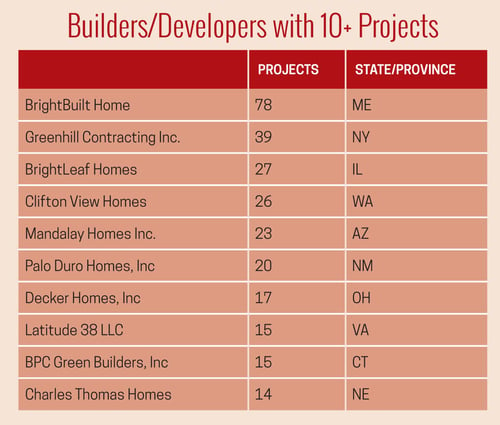 Contrary to popular belief, only three of the nation's busiest net zero homebuilders are in the Western United States.
Ed Mazria, internationally esteemed architect and founder of Architecture 2030, finds a parallel between global emissions and U.S. GHG emissions. He makes the case that the built environment is the most-promising sector to reduce GHG emissions enough to keep global warming below the 2°C limit set during the 2015 Paris United Nations Framework Convention on Climate Change. Here Mazria speak about achieving zero emissions at the 2020 Sustainability Symposium.
If so, the built environment is on its way. In the United States and Canada, the number of net zero residential structures from 2017 to 2018 grew by 59 percent, according to COGNITION Smart Data. In addition, more than 22,000 single-family and multifamily projects that are in design, construction, or operation.
It's expected that the global market for net zero energy structures will explode to $78.8 billion by 2025 due to innovation in high-performance products, renewable energy, and automation technologies, and corresponding advancements in codes and policy. And this growth is irrespective of location, climate, and political jurisdiction. Time will tell.