Masonite
Innovating new uses for waste to improve material production and benefit local industries.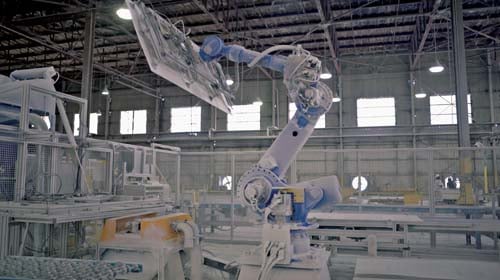 Last year, a plant won one of Masonite's Environmental Excellence Awards for developing a way to reuse scraps from door manufacturing.
Company Profile
Founded: 1924 by William H. Mason
Headquarters: Tampa, Fla.
Leadership: Frederick J. Lynch, President and CEO
Products and Services: Designer and manufacturer of interior
and exterior doors for the residential new construction, residential repair, renovation and remodeling, and non-residential building construction markets.
Employees: 7,000 + worldwide
Website: www.masonite.com
COMING UP WITH sustainable solutions to production is a challenge for all building supply manufacturers. But Masonite found ways to create solutions that work on a local level and lead to meaningful results.
Every year, Masonite encourages its approximately 65 manufacturing plants around the world to enter its Environmental Excellence Awards competition. The competition recognizes plant initiatives that improve the environmental impact of Masonite's products and manufacturing techniques.
Winning ideas often become best practices in the company, and have resulted in a number of ways to improve operations in its plants worldwide.
"It's so much more effective than a top-down, corporate-directed initiative because every plant knows where its specific opportunities for waste minimization are," says Jim Rabe, vice president of environmental health and safety. "It gives plants the flexibility to deliver meaningful results."
Last year, one of Masonite's North American plants won for developing a process to reuse scrap boards left over at the end of the production process, by grinding them up and adding them back into the feedstock into the process.
A few years ago, another winner found that residue resulting from a manufacturing process could be used by local farmers as a soil amendment. The residue is called AgRite, and Masonite plants in Wisconsin and Quebec, Canada, work with local farmers to reuse the product.
More Sustainable Products
Masonite also creates innovative products that are better for the environment, such as AvantGuard entry doors that are fiberglass but made to look like exotic wood species.
The fiberglass doors go through a large printer that applies an image of high-end wood species, including teak, Spanish cedar, cherry and black walnut. The image captures the wood's unique graining and pattern to look exactly like real wood.
This process saves exotic or rare wood from being harvested and results in a cheaper product that can last longer, as fiberglass typically results in high insulation abilities, more water resistance and increased durability to climatic changes.