Mariposa Meadows: Expanding the Vision
Green Builder® Media's most ambitious project to date, the VISION House® at Mariposa Meadows is on track to open this summer.
GREEN BUILDER MEDIA'S latest VISION House® project is breaking new ground. When completed, compact, low-impact residences, a corporate campus and research center—all powered by renewable energy systems—will share space with moose, bears and beavers, high in Colorado's Rocky Mountains. An ambitious vision, to be sure, but one that's been in the works for some time.
"Several companies are providing products and materials, some of which will also collaborate on research and monitoring."
The Mariposa Meadows project is part of an original set of goals I outlined over a decade ago," says Ron Jones, president and cofounder of Green Builder® Media. It will function as a Sustainability Institute, featuring self-sufficient homes and buildings for ongoing monitoring, a central micro-grid, a meeting center for thought leadership summits and training, testing labs, experimental greenhouses and gardens, workshops, barns and environmental research facilities—all at 10,400 feet.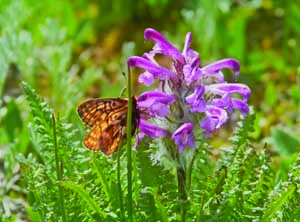 What's in a Name Taken by the lush alpine meadows that grace the landscape, Ron Jones and Sara Gutterman, president and CEO of Green Builder® Media, respectively, named the Colorado property that will serve as the Green Builder® Sustainability Institute "Mariposa Meadows," after the Spanish word for butterfly. One of the region's endemic species is called the Uncompahgre fritillary—a mouthful of a name for a small, endangered butterfly that lives in patches of snow willow at high elevations above the tree line. Limited by its range and threatened by over-collecting, this creature is just one of many that make this alpine region special. Uncompahgre—an Ute phrase which, loosely translated, means "dirty water" or "where water makes rock red"—is a common place name in southern Colorado, lending itself to a river, a wilderness area and one of the "fourteener" peaks (elevation 14,000+ feet) in the Rocky Mountain range.


About half an hour away, ReVISION® Rancho La Garita will serve as a lodge and base camp in Lake City, a town of about 400 nestled below Mariposa Meadows.


"'La Garita' means 'sentry' or 'watchman,' which reflects how we'll use the Rancho," says Gutterman. Visitors will decompress at the lodge before heading up to the more remote Mariposa Meadows—near the tree line and out of cell phone range. Photo courtesy of Ron Burrell.
"We figure that if we can successfully implement these concepts in the extremes of a remote, high-altitude location, they can be applied in urban, rural or suburban settings across the country," says Sara Gutterman, CEO and cofounder of Green Builder® Media.
The first phase, the VISION House® at Mariposa Meadows, consists of three residential structures: Atrium Duet, two living units connected by a central enclosed living space; Aspen Cabin, a two-story structure with an open loft; and a Studio unit above a garage. Eventually, the property will include eight to 10 residential structures and a similar number of other buildings for research, conferences and storage. The ReVISION House® at Rancho La Garita, in the nearby town of Lake City, will serve as a lodge and base camp for visitors attending workshops and other events at the Sustainability Institute.
"When people come here from the big city and corporate life, they'll spend a day or two acclimating at the Rancho," says Gutterman. "The property includes a half-mile of riverfront—any fisherperson's dream."
Jones and Gutterman had been searching for the right site for several years, focusing on the Rocky Mountain region from Montana to northern New Mexico. While looking at a parcel in southern Colorado, they stumbled upon the Mariposa Meadows property—a 120-acre inholding surrounded by National Forests, 14,000-foot peaks and three wilderness areas. The property's history traces back to the Homestead Act, and while the acreage has been used for high-altitude grazing, it has never been mined or farmed.
"Our goals are to protect and maintain the property in as pristine a condition as possible, while at the same time conducting real-life testing and applications," says Jones. He and Gutterman have outlined 11 Sustainability Tenets to guide the project, which include everything from Energy Efficiency to Wildlife Protection.
Mariposa Meadows's isolated location offers unique opportunities. The project will utilize and demonstrate several onsite energy generation systems, including wind, solar PV, solar thermal and geothermal. The property is blessed with abundant ground and surface water (and came with generous water rights), but as the most upstream user—excluding the beavers, of course—Jones and Gutterman intend to manage the precious resource carefully. The compound will include a four-season greenhouse for experiments with cold-weather agriculture, but Jones also plans to work with county extension service agents to optimize the natural production of hay grasses that grow in the alpine meadows.
"We want to learn how to irrigate for maximum yield," he says. "Not so we can grow hay as a cash crop, but enough to benefit wildlife, and to harvest one or two cuttings that we can trade for local beef." Jones is also looking into using a team of draught horses to harvest the hay.

One of the issues the Sustainability Institute at Mariposa Meadows will study is how to best adapt to climate change, which is already affecting the forests of Colorado. Plagues of mountain pine beetles and similar species have devastated Western forests, leaving huge swaths of dead conifers.
A warmer climate means longer breeding seasons and higher survival rates among larvae. Drought conditions stress trees and weaken their ability to produce defensive sap. The spruce beetle, closely related to the mountain pine beetle, attacks spruce trees, which grow in the high-altitude zone up to 11,000 feet. Beetles have killed many mature spruces at Mariposa Meadows.
"Although we're saddened by that fact, it's also just another page in the history of the region," says Jones, who will be working with the Forest Service to explore options for containing the beetle damage.
Overcoming Construction Challenges
The first phase of the project broke ground last summer. As those who have been following Jones's Tailgate columns know, the extreme climate and remote location haven't made things easy for the excavation, foundation and framing crews. Roads are only passable six months out of the year—if they're lucky. Breaking ground hinged on cutting in a long driveway from the dirt-and-gravel Forest Service road to the building site. The rough-graded road weaves 250 yards up through the northwest corner of the property. It's not unusual to cross paths with a moose on the way.
"It's a lovely approach, but difficult," says Jones. "But if you can get concrete trucks up here, you can do anything." Acquiring a permit for a new well delayed construction for a month, but crews made the most of the truncated building season. The concrete slab foundations for all three structures have been poured; two of the buildings are framed and dried in. The SIPs package for the third building is on site, ready for the snow to thaw.
As with previous VISION House® projects, Mariposa Meadows could not be realized without vigorous support from sponsors. Green Builder® Media is working with organizations such as the Structural Insulated Panel Association (SIPA), UL Environment and the National Fire Protection Association (NFPA). Several companies are providing products and materials, some of which will also collaborate on research and monitoring.
Meeting the Energy Efficiency goals started with the building design and envelopes. The compact buildings were sited to take advantage of winter solar gain and clustered to minimize the overall footprint. All three residences are being constructed out of Structural Insulated Panels (SIPs), which consist of extruded polystyrene foam (EPS) sandwiched between sheets of oriented strand board (OSB). Not only are SIPs extremely strong, they provide superior energy performance by minimizing thermal bridging and air leaks.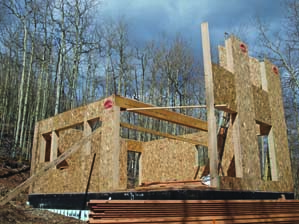 Ready to Assemble. The SIP packages provided by SIPA allowed for quick assembly and minimal site disturbance. The smaller panel sizes meant they could be handled by a small crane or a small crew. photo credit: SIPA
"The driver for this project was to minimize site disturbance," says Jack Armstrong, executive director for SIPA. "SIPs really fit the onsite constraints." SIPA provided the design, delivered the materials and supervised the installation. They delivered prefabricated panels to Rancho La Garita, where they used local lumber to develop Ready-to-Assemble (RTA) packages, which included pre-built headers and pre-installed posts. Once the packages were delivered to the Mariposa Meadows site, crew erected the roofs and walls of two buildings in about a week, says Al Cobb, president of SIPA.
"We brought in a team of professionals for the installation, but also trained local carpenters on the SIP system," says Cobb, who supervised the construction. "They were eager to learn and more than capable."
High-Altitude Envelopes
The Mariposa Meadows site is prone to high winds and heavy snow loads, and the buildings must stay warm in the bitter winters without taxing the renewable energy systems. SIPs will help the residences meet the triple requirements of durability, strength and energy efficiency.
SIPA member BASF provided its patented Neopor EPS for the panels at Mariposa Meadows. This foam includes graphite particles, which both reflect and absorb radiant energy, improving thermal performance by approximately 20 percent. Roof panels are 12 ¼", with R-values exceeding R-50. Wall panels are 8 ¼" and close to R-40. But as Cobb explains, R-values alone don't account for the system's total performance. A SIPs envelope is a tight one, typically performing in the range of 0.5 to 1.0 air changes per hour (ACH). (For comparison, a Passive House must perform at 0.6 ACH or better.) In addition, closed-cell foam performs better at lower temperatures, which is not reflected in products' officially reported R-values.
"It's a slippery slope when you start talking about R-values," says Cobb. "That's why we stress the importance of modeling and monitoring." SIPA will collaborate on ongoing energy performance monitoring at Mariposa Meadows.
DuPont DrainWrap and weatherization products will ensure tight envelopes, and strategic placement of triple-glazed tilt-and-turn windows from EuroLine Windows Inc. will play a critical role in the buildings' energy performance. Efficient Whirlpool appliances and Grundfos solar-powered well pumps will further reduce demand.
Infloor radiant heat (hydronic) systems will heat the buildings. In these, hot water runs through cross-linked polyethylene (PEX) tubing, which is already buried in the concrete slabs; as the concrete mass heats, it releases heat into the room.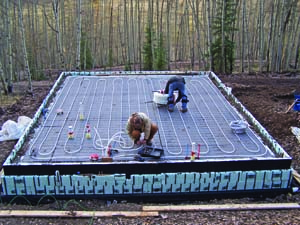 Flexible Heating. Uponor is providing the PEX tubing and plumbing manifolds for the radiant heat floors. All three concrete slabs were poured before the job was snowed in.
"Radiant heating really is the most comfortable system there is," says Ingrid Mattsson, director of brand management for Uponor, which is supplying the PEX tubing and plumbing manifolds. "It's also healthy and efficient." Unlike forced-air furnaces, radiant heat systems don't blow dust around, and the heat stays closer to the floor instead of rising to the ceiling. The flexible systems can be zoned to save energy and run on any source that can heat water, including solar thermal units. Because the tight envelopes have reduced demand, the hydronic systems will function even more efficiently.
Once the snow thaws, construction will resume on the three buildings and their energy systems. Goals for 2015 include completing the first phase and starting a second cluster of buildings on the other side of the road. Most of the activity will focus on infrastructure: digging wells and trenches for geothermal loops, installing the irrigation system and constructing a large building to house farm equipment and materials.
SIPA and Green Builder® Media will take advantage of having two buildings further along in the construction process by holding a "SIPs-raising" workshop. Though the details are still forthcoming, Gutterman promises additional workshops and events will take place at Mariposa Meadows in 2015.
"We don't want to just report on green building news," she says. "We want to help create it."