Mariposa Dreamin'…

Ron Jones
4 min read
Green Builder Media President Ron Jones ruminates on the development of the VISION House at Mariposa Meadows, our net zero, off-grid sustainability center located high in the Rocky Mountains of Colorado.
On such a winter's day, with the Vernal Equinox just weeks away and much of the lower forty-eight already basking in unseasonably mild conditions, the high country slumbers beneath a pristine, glistening blanket of white. At least three popular ski areas in the state had recorded over two hundred inches of snow through the end of February, knowing full well that here in the Rockies a couple of the snowiest months on average, March and April, are still to come.
The forest road that winds its way through Mariposa has been snow packed and groomed for snowmobiles for the past few months and will likely remain so until late April or even well into May. But even now, for the hardy soul willing to venture there, the careful siting and orientation of the compound that we have made part of our VISION House series, along with the best-in-class building systems and components selected for the construction, project an inviting sense of sanctuary, comfort, and security.
When we began visualizing the initial phase of development at Mariposa Meadows, we accepted the challenges of building on a remote site at an elevation of 10,400 feet, on steep, rocky terrain in the midst of an aspen forest. And we knew that in order to execute a successful project, one capable of matching the sometimes extreme conditions there, our design approach and product selections would be of paramount importance.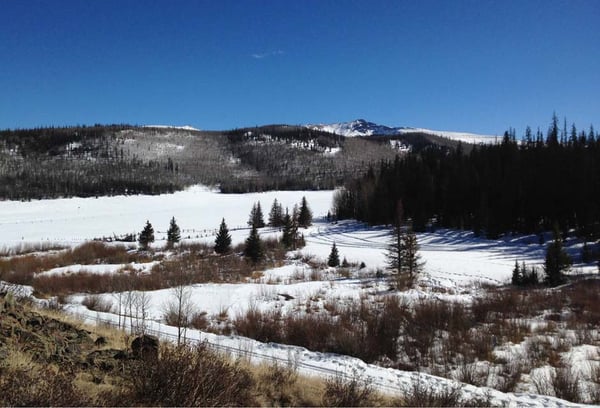 The aforementioned forest road, regulated by the U.S. Forest Service and maintained through an agreement with the county, bisects the 122 acre inholding roughly from southwest to northeast in parallel with a perennial creek that has its headwaters about three miles to the south and west and which, after leaving our holding, joins a larger stream that itself eventually feeds into the Gunnison River, a major tributary of the mighty Colorado.
It made sense for us to locate our first cluster of buildings high in the northwest corner of the property, tucked up against national forest boundaries to both the north and west, on a natural, secluded bench resting in a clearing in the aspen covered hillside with excellent solar gain and a commanding view of the meadows and riparian zone below, as well as the surrounding forested mountainsides and peaks.
This also allowed us to access the site without having to engineer and construct a permanent stream crossing, which we will need to provide in the future for subsequent phases of the development, and made it possible to accelerate our schedule and essentially establish a sort of "beachhead" that we could secure from unwanted road traffic, knowing that the construction would take several seasons and require us to store large volumes of materials and equipment for extended periods of time.
Calling on our own experience and instincts, and greatly aided by the skills of our excavation contractor, the route of the access drive, eventually more than 900 feet long, revealed itself as we walked the forest seeking the natural path of least resistance. The result was an initial long run up the hill from the road below that faces due south, allowing it to harvest several hours of direct sunlight daily throughout all four seasons and making it possible for it to dry out and drain with great efficiency. The drive then employs two hairpin turns, first to the left and then back to the right, that not only traverse the remaining slope but also provide an element of misdirection, so that when the buildings do finally come into view they present a wonderful sense of arrival.
It is important to point out that the access drive needed to accommodate not only passenger vehicles but much larger equipment as well, including a full size drilling rig for the water well, ready-mix concrete and dump trucks, large telehandler and crane, and deliveries of oversized building materials such as structural insulated panels exceeding 24 feet in length and I-joists up to 40 feet. This required that we be strategic and careful with regard to tree removal so as to protect and preserve as many of the mature aspen specimens and existing ground cover as possible.
Preparation of the building pads involved considerable effort due not only to the topography but also the geology, since a typical thin layer of soil covered extensive areas of deep-running veins of rock that necessitated a good deal of over-excavation followed by fill and compaction to allow for foundation work, plumbing rough-ins and buried utilities. Again, special care was needed to avoid disturbing the closely adjacent natural areas because the kind of fragile flora found in places like these don't recover well, or quickly.
The excavation phase was undertaken concurrently with the designing of the eventual structures knowing that we might have to make real time modifications and adjustments depending on what we ran up against on the site and it required a leap of faith that we would be successful in drilling a productive water well. Once we submitted our plans for building permits, we had to await final approval to commence actual construction until could prove water as certified by the state engineer. We were rewarded with an official report describing a 300 foot well, featuring a 165 foot static water column that produced a spectacular 35 gallons per minute (GPM), a flow that according to the well driller was among the best he had ever experienced.
We had started our site work in July and finally received the go ahead from the building official in the form of approved building permits in September. At the time our progress seemed excruciatingly slow, but in hindsight, given the fact that we had just arrived in the area, had no existing relationships with local officials, contractors or suppliers, what we were able to accomplish in a few short weeks now seems pretty impressive. We had made many good decisions but we had undoubtedly enjoyed some good luck along the way.
The real work was about to begin and even though we were putting together the help we needed on the fly, from a small and unfamiliar labor pool, we looked forward to getting our hands on some great building products and materials.
Next time: 122 acres but no place to park!
---

Ron Jones, Co-Founder and President of Green Builder® Media, is recognized as one of the fathers of the green building movement. Instrumental in establishing guidelines and programs through NAHB, USGBC and a variety of regional initiatives, he has more recently worked with the International Code Council in the development of both the National Green Building Standard (ICC 700) and the International Green Construction Code. He is the charter chairman of the Green Builder Coalition, a grassroots non-profit advocacy group whose goal is to promote integrity in the building industry, and beyond, in an effort to return balance and harmony to the relationship between the built environment and the natural one. A recognized author and keynote speaker on four continents, his industry credentials and leadership experience, combined with his inspirational message and "take no prisoners" style, make him a high-demand presenter for conferences and events of all kinds.