Lucky Seven: Green Builder Wins Again!
With humility and delight, Green Builder magazine proudly accepts the award for Best Trade Publication for the seventh year in a row from the National Association of Real Estate Editors (NAREE). A hearty congratulations to our stalwart editorial team, and a sincere thank you to NAREE, as well as our readers, advertisers, partners, and friends, for your continued support and contribution to our ongoing success.
Since our launch in 2005, Green Builder Media has helped set the standard for excellence in sustainability, quality, resiliency, and wellness in the built environment. There are many things that differentiate Green Builder Media, beginning with our unwavering commitment to and passion for making the world better, cleaner, healthier, and more efficient.
Everything that we do—from generating award-winning content, to developing cutting-edge demonstration homes, to hosting thought leadership events, to offering pioneering market intelligence, advances our goal of improving the performance of the built environment.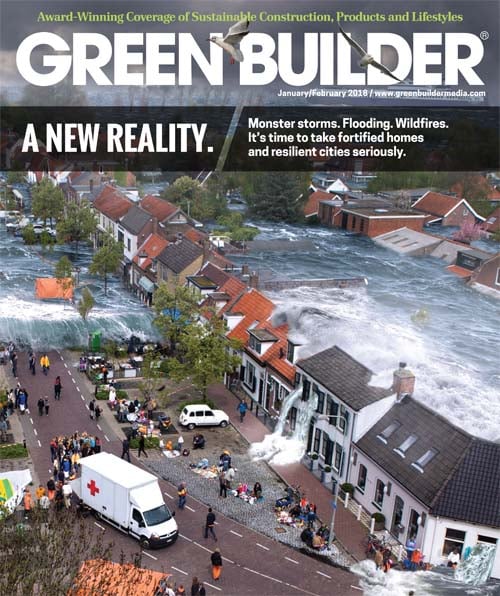 We've had the privilege and opportunity to engage in some incredible initiatives and projects over the years, and it is always satisfying to receive positive recognition for our determined work.
We're particularly gratified to receive the award for Best Trade Publication for the seventh year in a row from the National Association of Real Estate Editors (NAREE) for our flagship publication, Green Builder.
In their commendation of the magazine, NAREE judges called out our mission (and the double entendre of our name), Building a Better World. "Packed full of good service pieces, Green Builder gives readers news they can use, such as what kind of homes can withstand storms and other natural disasters. Visually appealing through design and photography, [the magazine is] small but powerful."
In response to the accolade, our editor in chief Matt Power said, "It's easy to break new ground with Green Builder, because most of the day's pressing issues revolve around the assumption of safe and resilient housing. Extreme weather events are forcing rapid code changes, and builders are scrambling to reinvent how homes are built. We know our readers include both professionals and consumers, so we try to serve both with leading edge ideas and innovations, as all housing moves toward zero net. The future is solar, super-insulated, efficient and strong."
From our humble beginnings, when it felt like we ran a marathon every day just to maintain our ground, to today, when sustainability has been normalized and is simply considered common sense, it has been an exhilarating (and, in truth, at times exhausting) journey.
I emphatically congratulate our team—your dogged commitment and passionate determination has allowed Green Builder Media to play a role in the transformation of the built environment and the transition to a sustainable future.
And while it is thrilling to be honored for our work, we realize that none of it would be possible without the ongoing support and encouragement from our readers, advertisers, partners, colleagues, and friends. A heartfelt thank you for continuing to trust and believe in us. Here's to another 15 years of continued success and transformation together!
Want to read more? Follow me on Twitter and Facebook. For more information about green building and sustainable living, visit Green Builder Media at www.greenbuildermedia.com, like us on Facebook, and follow us on Twitter for regular updates and breaking news.