LP WeatherLogic Water Screen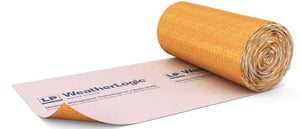 LP Building Solutions' WeatherLogic® Water Screen can maximize a project's moisture retention protection to help extend the life of exterior surfaces via increased ventilation and drainage. It provides an added layer of protection to mold growth to help improve performance of housewrap or WRB sheathing. It's also lightweight and easy to install.
The Water Screen is available as a synthetic polymer-based screen that can be used with OSB and a WRB housewrap, or in conjunction with an integrated panel, such as the LP WeatherLogic Air & Water Barrier. Installs like regular sheathing for potential labor savings while keeping jobsites cleaner and more professional.
The product works well with all other LP structural products. It also comes with a 25-year warranty. The Water Barrier is part of the LP Structural Solutions portfolio, which the company notes has a single goal: helping the industry work toward better, more resilient homes to help stand up to whatever nature can throw at it.
For more information: www.lpcorp.com