Low-Mow Lawns
Most of your clients will be reluctant to give up the lawn completely. Here are some ways to upgrade that patch of grass.
With more than 40 million acres of residential and commercial grass lawns in the United States, turfgrass is firmly rooted in American culture. Unfortunately, the conventional lawn has numerous drawbacks: it requires frequent mowing, irrigation and fertilizer application, and it is commonly treated with pesticides. These applications are largely void of wildlife and pollinators and do not nourish the soil.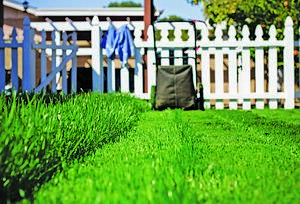 According to the EPA, 67 million pounds of synthetic pesticides are used on lawns in the U.S. every year. Photo Credit: Sean Hobson
"Climate change is going to produce a novel climate, so we should rethink the turfgrass that we have all over, with the European paradigm of mowed lawns," explains conservation biologist Matt Vance. "We can switch over to landscapes that mimic natural systems and have more function than turfgrass—that add more diversity and include plants that are edible, attractive to wildlife and beautiful."
Less-Thirsty Alternatives
Several alternatives exist that possess such resilient qualities, such as low-growing flowering weeds that can withstand foot traffic, including chamomile, clover and violets. Many of these have the benefit of staying green during droughts, attracting wildlife and providing food. White clover, for example, fixes nitrogen in the soil, supplies early-season forage for pollinators, is a host to several species of butterflies, and attracts variety of pollinators, including at-risk bumble bees.
No-mow lawn mixes are also available that consist of regionally native grasses that grow to heights of several inches to a foot or more. Native to the Great Plains of North America, buffalograss, blue grama and curly mesquite require little water but have some characteristics that are different from non-native turfgrass. Buffalograss, for example, is only suitable in lower-traffic areas and turns brown in the fall. But it requires less frequent mowing and little irrigation, and it has high survivability. Vance does recommend weeding to maintain a low profile for native grasses, when a manicured appearance is desired.
Reasons to Rethink the Lawn
Gasoline-powered landscape equipment (mowers, trimmers, blowers and chainsaws) account for over 5 percent of urban air pollution.
Residential application of pesticides is on average 20 times that of farmers per acre.
Yard wastes (mostly grass clippings) comprise 20 percent of municipal solid waste collected. Most still ends up in landfills.
A lawn has less than 10 percent of the water absorption capacity of a natural woodland.
Source: EPA
Meadows and Prairies
If foot traffic is limited and a low profile is not essential, a natural prairie or meadow is an option. Landscaping with native wildflowers and grasses helps create a thriving ecosystem while improving air and water quality through reduced mowing, use of pesticides and fertilizers, and irrigation. Once established, such landscapes require less maintenance than a lawn. Native plants require less care, because they are adapted to local growing conditions. They do require periodic mowing or burning to maintain a prairie-like landscape, and some weeding is necessary.
Begin by determining the level of foot traffic, the use and the desired look of the site. Observe the available sunlight, moisture and the type of soil present. Some plants thrive in sandy soil, while others prefer clay-rich soils.
Be aware that using higher-profile plants will result in a wilder appearance. Some homeowners may not desire large swaths of these adjacent to the home. In some cases, a traditional lawn may be preferred, but perhaps it can be scaled down or mixed with some low-growing plants for added benefit.
"I would go gradually," recommends Vance. "I wouldn't just till the lawn under and establish a wildflower meadow, because it is a very drastic change that will create a wild appearance, and most people won't like that. Start small and increase native plant beds, a few square feet over here, and through the years increase them."
Prairie Plants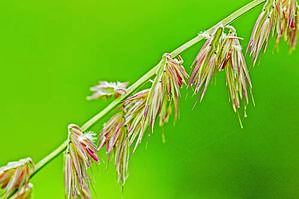 Side-Oats Grama by Tom Potterfield
The list of plants is long and varies according to region, but here is a short list of solid performers. Some companies offer seed mixes for specific regions; for example, the Habiturf mix, pictured here, was developed in Texas, and includes buffalograss, blue grama and curly-mesquite.
Grasses
Buffalograss
Blue Grama Grass
Side-Oats Grama
Indian Grass
Big Bluestem
Little Bluestem
Fescues (cool climate grasses)
Sedges (grass-like plants that grow well in shady and moist areas)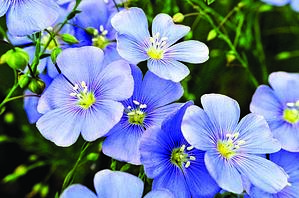 Blue Flax from Chesapeake Bay Program
Catlin Sedge
Pennsylvania Sedge
Baltimore Sedge
California Meadow Sedge
Wildflowers
Wild Lupine
Purple Coneflower
Prairie Phlox
Blue Flax
Butterfly Weed
Black-Eyed Susan
Blanketflower
Mexican Hat
Meadow
Blazing Star
---
Sarah Lozanova is a green copywriter and communications professional and an adjunct instructor for Unity College and a regular contributor to environmental and energy publications and websites, including Mother Earth Living, Earth911, Home Power, Triple Pundit, CleanTechnica, the Ecologist, GreenBiz, Renewable Energy World, Windpower Engineering & Development, and Solar Today.