Linda Cheung's Artistic Way to Promote a Green Message

Samantha Carlin
6 min read
Ditching her corporate positions, Cheung focused her efforts towards climate change awareness through augmented reality murals.
Linda Cheung is the founder and creative director of Before It's Too Late, a nonprofit arts organization that engages artists, students, and communities to take action on climate change through art and technology. The road she took to get to this point is inspiring.
The Path to Radical Change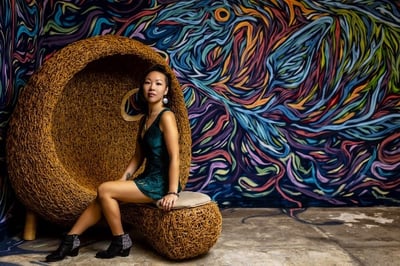 While working in finance in New York City, Cheung had what she described as "an early life crisis." She realized that she couldn't continue her current work for the rest of her life as she wasn't making any meaningful contribution to society.
Inspired by documentaries, Cheung found her passion for climate change. "I was really shocked to find out how bad the issue was and how much more significant and urgent it was than I previously realized," Cheung explained.
At first, Cheung approached climate change using her previous experience in finance to enter the renewable energy field, getting her MBA from MIT. While she focused her first year on energy, Cheung had a second realization: "I think the solution needs to be so much more radical, not just incremental change. As long as I stayed in the corporate world, people weren't going to be willing to be disruptive and radical with the change, and that's what we need. We need a radical decarbonization across the board."
During her second year of graduate school, she focused her efforts elsewhere, taking a massive leap of faith. She formed her nonprofit organization with a few classmates who were similarly passionate about sustainability.
After diving into the research and speaking to people in the field, she noticed an overwhelming need for better communication surrounding climate change. "It's such an abstract topic that a lot of people don't feel is here and now because it happens in an invisible way," Cheung explains. "So it doesn't feel like it's impacting us even though we do need to take urgent action."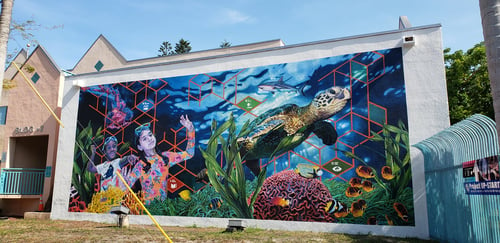 Download an app (

directions on the Before It's Too Late site

) and play with Chung's augmented reality educational murals, which are located throughout Miami.
Zoning in on communication, she focuses on shifting paradigms. "Some of these values and world views that we have in our society are very out of sync with nature," Cheung stresses. For instance, the unfettered growth instilled in our corporate world is by no means sustainable.
Early on in her interest in environmental awareness, she noticed that "it's this small little fire; everyone is preaching to the choir. The same group of 200-300 people are showing up to all the events."
Finding ways to change actions through "making this heavy and abstract topic more personable, make more sense and interest more people" is what Cheung describes as her calling. Specifically, she attempts to reach the people in the middle, those who have yet to decide on climate change and compel them to take action.
Through founding Before it's Too Late, she was able to find creative ways to educate and inform the public about environmental issues, helping inspire change and advocacy.
Climate Change Challenges
Chueng still looks back and admires her courage to leave the corporate world and start a nonprofit on her own. Ditching the cushiony paycheck, she faced financial hurdles the first years she was in Miami.
"I understood that anxiety and insecurity that you can feel and how much that can really affect your psyche," says Cheung as she looks back on the beginning of Before it's Too Late. But from the start, Cheung knew monetary success was never going to be the centerfold in her career. "I chose nonprofit over for-profit because I really wanted the mission to be first instead of the pressure of monetization," Cheung strongly emphasizes.
Cheung also found that traditional funding routes that worked for other nonprofit organizations did not necessarily work for her. Writing grants "took a lot of time and effort," and at the end of the day, she didn't get them. So, doing away with grant applications, Cheung focused on her mission and instead made connections to fund her work. The augmented reality murals spoke for themselves, and that's how Before it's Too Late has been able to stay successfully afloat.
The Magical Eco Murals
With no previous art background, Cheung dove into learning the ins and outs of the field, learning to paint murals. Cheung's success was unexpected as she broke into a new industry, "I had an idea for augmented reality murals, and I went for it," she simply notes. But the murals are not that simple.
When she first started, Cheung "had a silly and idealistic goal." She laughs as she explains how she "wanted to do 12 murals in 12 different communities within Miami in one year."
"Well, of course, it took much longer and was much harder to get funded, so I just did one." Cheung is grateful that she took her time to produce her best work, which received attention and led to her second mural, getting the ball rolling. "I am finally achieving [my vision] but just at a much longer, drawn-out timescale than I had initially imagined, but I'm still proud of that," says Cheung.
She now prefers to take her time on each mural instead of "cranking it out." Each mural is its own masterpiece. Cheung summarizes her thought process, noting she asks herself, "What are the main issues here, and then what is most important to communicate with people?"
Considering designs, artist collaborations, and the unique augmented reality feature, Cheung has fun pulling together different disciplines to create murals that incite environmental action and awareness. Click here to see how the augmented reality works.
Cheung uses her murals to empower artists, students, and vulnerable communities to become agents of change surrounding climate issues.
Climate Activist Tips
Cheung not only facilitates the creation of interactive murals, but she also advocates for an environmentally focused lifestyle. Before It's Too Late's 7-day challenge started as an earth week initiative but serves as a guide for sustainable living any time of the year.
Chueng recommends that "first, you start with yourself. What are the individual actions and areas in your life where you can make the most change?" Since this is such a multi-disciplinary issue, the second course of action, she suggests, is to "start thinking about how you can be part of advocating for systemic change ... through civic action and the types of businesses you support. Trying to get the government to take action and businesses to be more socially responsible."
Chaung adds that "it's so much deeper than just the actions and redesigning society; it's even spiritual." In fact, the last day of their challenge aims to rebuild your connection to nature. "We have become alienated from nature, forgetting just how much we are a part of it and how much everything that we use comes from this amazing technology .. but at the end of the day, the raw ingredients come from the earth," Cheung acknowledges.
Understanding our dependence on nature and our impact as humans on the ecology of our planet can help people connect the dots.
Specifically, Cheung suggests eating less meat, carpooling more, updating to an electric vehicle, and finding renewable energy sources. It's as simple as switching the main components of your life to become greener, and being aware of the green solutions out there.
Equally important, Chung explained, is "spreading that awareness to your friends and family, and volunteering for and supporting nonprofits involved in these causes." She doesn't expect you to dedicate your life to this cause, but instead, find a specific issue that you care about and contribute your support.
For example, Before It's Too Late hosts a week-long challenge for K-12 schools during earth week. "This year, we had 13,000 students from 95 schools across south Florida," Cheung boasts. It is ultimately educating and inspiring people at a young age to take action and create a ripple of change.
---
Publisher's Note: This content is made possible by our Today's Home Buyer Campaign Sponsors: Panasonic, Whirlpool, Rockwool, and Lee Industries. These companies take sustainability seriously, in both their products and their operations. Learn more about building and buying homes that are more affordable and less resource-intensive on Today's Home Buyer.
Aug 25, 2021 10:31:41 AM · 6 min read
---

Samantha is able to express her passion for the environment -- both natural and built -- as the special projects manager at Green Builder Media. Prior to joining the Green Builder Media team, she worked as an order management specialist at C.A. Fortune, a consumer brands agency. She is a recent graduate of the Master in Environmental Management program at Western Colorado University with an emphasis on sustainable and resilient communities. Originally from the suburbs of Chicago, she is currently thriving in Gunnison, CO where she enjoys the surrounding geology, mountain biking, and skiing.