LG Multi V 5 Heat Pump System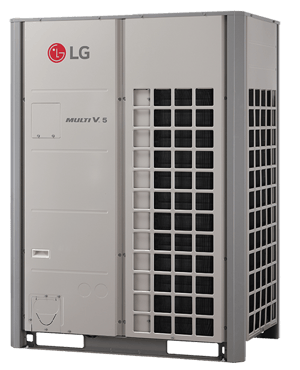 Heating and cooling represent the biggest energy users in most buildings. For electric heating pump systems, the biggest technology hurdle has been performance in extremes of cold and heat.
The Multi V 5 unit from LG, which includes the company's LGRED (Reliable to Extreme Degrees) technology, boasts an innovative system that allows for simultaneous heating and cooling in different zones. The space-saving design features higher-elevation piping technology, which expands the number of floors and piping distance runs allowed for installation. Moreover, with the help of sensors and adaptive programming, the Multi V 5 fine tunes its processes automatically, further increasing energy efficiency. By enabling a building's HVAC system to function at optimal performance, the Multi V 5 significantly contributes to the building's reduction of overall operational energy consumption, costs and, ultimately, environmental impact.
Exclusive LG features such as Advanced Smart Load Control, Comfort Cooling Intelligence, and Smart Heating monitor real-time changing weather conditions. This enables it to make building load calculations to adjust operation and reduce energy consumption. Touting a 43 percent smaller average footprint than previous generations, the Multi V 5's compact chassis utilizes a space-saving design that results in lower structural reinforcement costs.
For more information: lghvac.com