Kohler WasteLAB Ann Sacks Crackle Collection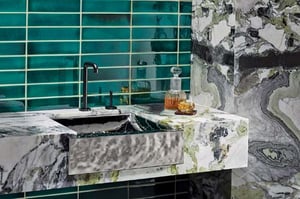 With Kohler WasteLAB's Crackle Collection, a line of repurposed tile, what was once on the floor now clings to the walls. The company, along with stonework specialist firm Ann Sacks, has developed a product made almost entirely of recycled pottery cull, and factory sand and dust. Available in sizes from 4-by-4 inches to 6-by-12 inches, the Crackle tiles offer a stylish way to dress up vertical surfaces without a large environmental footprint..
Before it is fired, discarded clay is pressed, WasteLAB artisans hand-cut each tile and remove excess clay around the edges. An interactive glaze is then applied, which has a unique composition designed to pool and break over the textured surface during firing. A resulting delicate crackle occurs after the firing that carries across the tile face, adding to the dimensional quality and artful visual effect. The tile is available in a half-dozen colors suitable for interior use.
The Crackle Collection is the result of initiatives developed as part of Kohler's award-winning Innovation for Good program, which develops and implements sustainable business solutions to some of the most pressing problems related to safe water, safe sanitation and reliable power.