Kitchen and Bathroom Design With Staying Power
Truly green kitchens and baths include design elements that will stand the test of time. These projects should age in place along with their owners, while at the same time optimizing energy use and water efficiency.
HOW DO YOU ACHIEVE both sustainability and design that can weather ever-changing trends in a kitchen or bathroom? It's not easy, and it also depends on whether you're designing a remodel or a new construction project.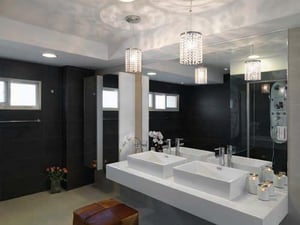 The ultra-efficient WhisperRecessed light/fan combo from Panasonic looks like an architectural-grade recessed light fixture and goes with the modern aesthetic of many baths.
Not surprisingly, water consumption is a major factor to consider when it comes to kitchen and bath design. On average, about 70 percent of a family's water use—about 280 gallons of water—happens indoors; 21 percent of that is just from doing laundry. The bathroom consumes the most amount of water, with the toilet using as much as 27 percent, according to the EPA. Just the faucets in the bath and kitchen can issue 11 gallons of water per person each day. That means the type of shower heads, faucets, toilets, washers and dishwashers that are installed have a big impact on the home's water consumption (and utility bill), so if you're recommending bang-for-your-buck upgrades, this is a good place to start—that, and replacing older energy-hogging appliances with new, efficient ones.
Design Drivers
But as designers across the country have observed, the jury is still out on eco-friendly kitchen and bath design that may require a higher upfront investment. For example, California is currently leading the way in water conservation, but that is a campaign driven more by building codes than consumer demand, according to Therese DuBravac, a Portland, Oregon-based design consultant at Neil Kelly Design.
"People are money conscious. There is a growing awareness, though, and people are seeing that a bigger house with more bathrooms and vaulted ceilings—well, it's just more maintenance costs, resources and utilities. People under age 45 are especially aware of all this. Also, people aren't living in the same house as long, so they don't want to make big investments. They want quality, but on a smaller and better design scale," DuBravac says.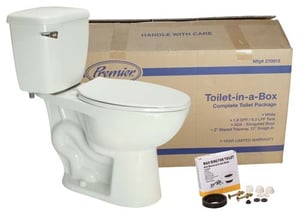 Any major bath remodel should include upgrading fixtures and toilets with WaterSense-labeled models, such as this "toilet-in-a-box" from Premier Faucet. www.premierfaucet.com
Smaller scale means more built-in flexibility—like the pull-outs and roll-outs that were on top of the client list for 90 percent of the 2015 National Kitchen and Bath Association (NKBA) survey respondents—and it's an increasingly in-demand concept that DuBravac also encountered in her recent Portland kitchen remodel of a 1940s home.
Staying Power
Because trend is often about color, and new colors come and go every year, all that's required to keep up is a few cans of paint. But any design with classic lines should be in style for many years to come, which is why New Jersey-based designer Patricia Gaylor always opts for a more classic approach to design. "I try to keep it somewhat 'edgy,' but clean and simple. To change a classic bath is like changing a black dress—you update the lighting, the colors," she says.
NKBA's 2015 trend survey indicates that white is at its height for color scheme, followed by grey, while low-maintenance and contemporary kitchens and baths are in demand. In general, textures and colors are much cleaner, and people are seeking a more spare look.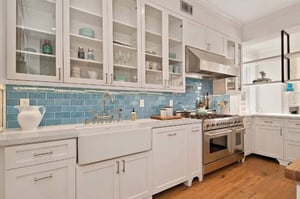 The "subway"-style backsplash by California-based Fireclay complements the glass-fronted cabinets and apron sink in this classic kitchen. www.fireclay.com
"Because we live in such a confusing environment, people want to have an uncomplicated yet sophisticated place to go home to," says Gaylor. "They are choosing a more simple and serene design."
Case in Point: Tile
Choosing recycled tile helps to minimize waste, but choosing the right design is what will make your project feel timeless. Jamie Chappell of Fireclay Tile explains that white will always be the most classic color and 3" x 6" the most classic shape. "If you want to introduce color or pattern, we suggest you stick to one of the two classics—either a simple shape with a colorful glaze or a neutral shade paired with an interesting shape."
When considering design history of a home's style, you should pay attention to shapes and sizes more than colors, Chappell suggests. "Color tends to be influenced by trends of the era. For example, pink was all the rage in the 1950s, but will never appeal to everyone. You can achieve period details while remaining somewhat color agnostic by paying homage to sizes and patterns."
A tile's composition is the first place to look for a sustainable element. Is the tile made from recycled materials, and are those recycled materials post-consumer or pre-consumer? And where the tile is made also matters; because tile is heavy, it can have a large carbon footprint due to transport, even if it is composed of recycled materials. So, 100 percent recycled tile made in China is less Earth-friendly than 50 percent recycled tile made in the U.S.
Top 10 Design Trends
The NKBA's 2015 Kitchen & Bath Design Trends report shows a continued leaning toward modern styling. The demand for simple, streamlined looks offers an opportunity to minimize materials and push healthy finishes. On the other hand, the rise of outdoor kitchens and "multiples of appliances"—e.g., split refrigerator plus a wine cooler—could spell higher energy usage overall, even if the individual units are energy efficient.
Clean with an overall contemporary feeling. A fusion of styles and multiple colors in one kitchen.
European-styled cabinets.
Multiples of appliances in one kitchen.
The rise of steam ovens.
Furniture-look pieces.
Outdoor kitchens.
Fewer standard kitchen tables, replaced by counters or tall gathering tables.
TVs and docking stations.
Wine refrigerators.
Focus on the user experience, from easy maintenance to accessible design. Considering the needs of all users in the space, including pets
Source: NKBA