Presumptive Democratic nominee Joe Biden added climate clout to his 2020 presidential campaign with the selection of California Senator Kamala Harris as his running mate. The former attorney general of California has had a long history of fighting for environmental justice.
Kamala Harris has spent decades advocating for climate action and social equity. As District Attorney in San Francisco, she formed an environmental justice unit to tackle environmental crimes impacting low-income residents.
As California's Attorney General, she took on the big oil companies, investigating the extent of ExxonMobil's knowledge of climate change and corresponding damage inflicted upon the public with deceptive marketing campaigns. She also negotiated $50 million in settlements with BP, Chevron, ConocoPhillips, and Phillips 66 for pollution and emissions infractions, and she filed a lawsuit against the federal government to block oil fracking off the coast of California.
While some environmental advocates criticize Harris for not being aggressive enough on climate action while serving as Attorney General, most agree that she staunchly upheld environmental values.
During her short-lived 2020 presidential bid, she took a moderate stance on climate action when compared to other candidates like Washington Governor Jay Inslee and Senator Elizabeth Warren, focusing her climate plan on environmental justice.
As part of her platform, she did promise to hold corporations accountable for polluting activities and committed to decline money from oil and gas companies.
Harris was one of the original sponsors of the Green New Deal, even pledging to eliminate the filibuster to get it passed.
She recently collaborated with Representative Alexandria Ocasio-Cortez to introduce the Climate Equity Act, which would establish an Office of Climate and Environmental Justice Accountability to assess the impact of environmental legislation and regulation on low-income communities.
"Indigenous communities, black and brown communities, and the youth of our nation are calling for and demanding justice," Harris said when the Climate Equity Act was introduced. "We need them at the table from the beginning."
Earlier this summer, she partnered with Senators Tammy Duckworth and Cory Booker to introduce the Environmental Justice for All Act. This act mandated that the EPA consider the cumulative effects on air and water pollution before issuing permits in low-income communities that are already struggling with pollution and climate change challenges.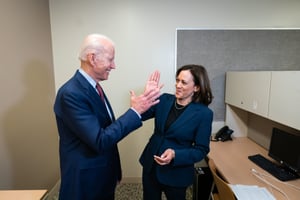 Now that she has been selected as the Vice-Presidential candidate by Biden, Harris is re-upping her commitment to the environment. She is more progressive than Biden on some climate issues—for example, she supports ending fossil fuel subsidies, ceasing fossil fuel extraction on public lands, and implementing a carbon fee on polluters. And, despite initial hesitancy to do so, she has committed to pursuing a national fracking ban and ending fossil fuel exports.
Given that Biden recently pledged that, if elected, he will transform the U.S. to 100% renewable energy by 2035, Harris certainly has some lofty goals and milestones ahead of her. But her legal expertise and plaintiff-driven approach put her in the catbird seat to aggressively tackle climate action in a methodical and systematic way.
Harris has said that "crimes against the environment are crimes against communities," leaving no doubt that environmental justice will continue to be a central pillar of her agenda.
We can only hope that the Biden-Harris ticket will bring a renewed sense of urgency and purpose to climate action—there isn't a minute to lose.
Want to read more? Follow me on Twitter and Facebook. For more information about green building and sustainable living, visit Green Builder Media at www.greenbuildermedia.com, like us on Facebook, and follow us on Twitter for regular updates and breaking news.
---
Image courtesy Biden campaign.