The Dutch Post-Impressionist painter Vincent Van Gough said that "great things are not done by impulse, but by a series of small things brought together." Like Van Gough's artwork, comprised of singular brilliant strokes united together to form a masterpiece, the past few weeks have witnessed a series of activities that, combined, may turn out to be game changers in the quest to mitigate the risks of climate change.
To begin with, leaders from around the world convened in Peru to negotiate the Lima Accord, a much anticipated framework for a global treaty expected to be signed next year in Paris, requiring countries to submit domestic policy plans that limit greenhouse gas emissions with transparent metrics, identifiable methods of verification, and measurable milestones.
Next, New York Governor Andrew Cuomo made a watershed decision to ban hydraulic fracturing, or fracking, throughout the state, citing concerns over public health risks, water contamination, air pollution, earthquakes, and diminishing financial returns (extracting energy from fracking will become increasingly more difficult, expensive, and risky).
Despite pressure from the oil and gas industry to open up fracking in New York, Cuomo set an important precedent in which the health of New York citizens trumped short-term capital gains. New York is the first "shale state" to take such bold action against fracking, and Cuomo's decision is expected not only to influence similar decisions in other states considering fracking (such as Maryland, Pennsylvania, and California), but also to strengthen anti-fracking, or "fracktivist", efforts nationwide.
Critics hammered Cuomo for hampering the potential for economic revival in communities throughout New York, putting the Governor in the hot seat to solve the deep economic troubles afflicting large portions of the state. Unfortunately, rather than unveiling an accompanying comprehensive, state-wide strategy that would replace fracking with clean energy programs, such as solar and wind installations, Cuomo addressed the issue by approving three new casinos to stimulate local economies.
To augment the Lima Accord and Cuomo's fracking ban, President Obama offered some decisive—and tough—words last week about the Keystone Pipeline, emphasizing that the project's costs far outweigh the benefits. According to Obama, the Keystone Pipeline has the strong potential to create environmental damage in the U.S. and augment the global risks of climate change, with little positive impact on long-term job creation, economic opportunity, or national gas prices.
Obama said, "At issue on Keystone is not American oil, it is Canadian oil that is drawn out of tar sands in Canada. That oil currently is being shipped through rail or trucks, and it would save Canadian oil companies and the Canadian oil industry an enormous amount of money if they could simply pipe it all the way through the United State down to the Gulf. Once that oil gets to the Gulf, it is then entering into the world market and it would be sold all around the world. … There is very little impact, nominal impact, on U.S. gas prices, what the average American consumer cares about, by having this pipeline come through… It's very good for Canadian oil companies and it's good for the Canadian oil industry, but it's not going to be a huge benefit to U.S. consumers."
Obama's words and willpower pertaining to the Keystone project will be tested repeatedly beginning in January for the rest of his presidency, as gaining approval for the pipeline will be one of Mitch McConnell's top priorities once he becomes Senate majority leader.
Like President Bush, Obama is proving to be a very un-lame duck, making yet another pro-environment move last week by protecting Alaska's Bristol Bay from future oil and gas drilling. The region, the source of 40% of the wild-caught fish in the U.S. and home to many threatened species (including beluga and killer whales), generates $2 billion in fishing revenues and $100 million in tourism revenues each year. While the action does protect the area from fossil fuel drilling, much to environmentalists' dismay, it does not prevent a proposed gold, copper, and molybdenum mine that could be equally as devastating to the region's ecosystem and fishing industry.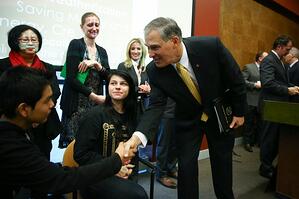 Gov. Jay Inslee announces his plan to charge polluters and reduce carbon emissions in Washington. (photos by Joshua Trujillo/seattle pi.com)
In other news, Washington Governor Jay Inslee introduced an ambitious climate proposal that would create a carbon market, a statewide fuel standard, and a $60 million fund to support clean energy projects and technologies. The recommended cap-and-trade program, part of the Carbon Pollution Accountability Act (which would go into effect in 2016), would emulate the models currently employed by California, Quebec, and the Regional Greenhouse Gas Initiative (comprised of a consortium of eastern states), is expected to generate $1 billion annually, much of which would be spent on upgrades to the state's transportation and education systems. "We can clean our air and our water at the same time we're fixing our roads and bridges," Inslee said at a press conference last week. "It's a charge on pollution rather than people."
The Sightline Institute, a Seattle-based sustainability think-tank, claims that Inslee's plan is "the most comprehensive and probably the most progressive carbon-pollution regulation system anywhere in the world."
Finally, the EPA recently announced new national standards for smog reduction and coal ash disposal. The new smog control standards will cut emissions levels from 75 ppb to 65 ppb (an entirely viable amount—the European Union's limit today is 60 ppb and Canada's is 63 ppb). The EPA states that these health-based standards were created to protect all U.S. (and global) citizens, and will particularly benefit the 25 million people Americans with asthma and others most at risk from air pollution, namely 74 million children, 40 million senior citizens, and nearly 17 million outdoor workers.
Additionally, last Friday, the EPA announced a regulation that creates safeguards for communities against ground, air, and water contamination from coal ash disposal. The regulation increases transparency requirements for the disposal of coal ash, including annual groundwater results, corrective action reports, and dust control plans.
Interestingly, the EPA's announcement was welcomed by the coal industry, as summarized in a statement made by Thomas Adams, executive director of the American Coal Ash Association: "EPA's final decision to regulate coal ash as a 'non-hazardous' material puts science ahead of politics and clears the way for beneficial use of ash to begin growing again — thereby keeping ash out of landfills and disposal ponds in the first place."
Since no previous standards for disposal existed at all, environmental groups recognized the standard as a step in the right direction, but they feel that the regulation falls far short of what is necessary to appropriately protect communities, waterways, and ecosystems located in the backyards of power plants across the nation from poisonous slurry and toxic pollution.
This flurry of climate activity makes the holidays particularly joyful for me. I can't think of a better gift than the promise of a healthy planet and an environmentally secure future.
Have you heard any other good year-end climate action news? Write to me at sara.gutterman@greenbuildermedia.com or follow me on Twitter or Facebook.
For more information about green building and sustainable living, visit Green Builder Media at www.greenbuildermedia.com, like us on Facebook, and follow us on Twitter for regular updates and breaking news.