Just in Time at Mariposa Meadows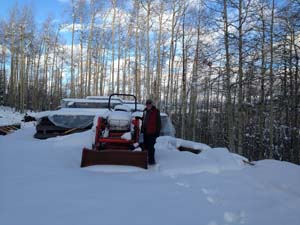 IT SHOULD NOT have come as a shock. After all, we had been contending with a series of fall storms for a few weeks already, in our attempts to secure the compound for the upcoming winter months—a time when the snow would be measured in feet, and the roads would be closed until next spring. Some of the trips to and from the job site had already become "white knucklers," as we charged into the drifts and hoped that by sticking together everyone could avoid needing a tow.
Battling cold temperatures and slick terrain, alternately icy and muddy, comes with the territory, but it's still worrisome to pay the crew to shovel snow so they can actually get to the work they are really there to do. Fortunately, they are efficient at both, and uncomplaining, so we had been able to dry in the buildings and secure the considerable amount of material onsite as we pushed toward one last milestone for the season: getting that final slab poured, before it was too late.
Through a combination of determination and luck, maybe something closer to a minor miracle, we orchestrated the series of steps needed to at last be able to reach our goal. The foundation was secure, the sub-grade was compacted and meticulously leveled, the plumbing rough-in complete and duly inspected, and the underslab insulation, moisture barrier, rebar and wire mesh were in place. The loops of tubing for the zones of radiant heat were carefully laid out, connected and pressurized. All that remained was the act itself.
Once the first concrete truck arrived, I felt a slight sense of relief—but also wondered if it would make it back up the snow-packed forest road to the paved highway after unloading. It wasn't until after the third truck arrived that I knew they were able to get both in and out and I was finally able to take a truly deep breath. Somehow we had pulled it off; the rest was up to the crew.
The sky was threatening, the wind sharp, and the afternoon sun seemed intent on hiding behind the scattered clouds, warning us not to take too much for granted. The first spits of frozen moisture came within minutes of the finishers wrapping up. We gratefully rolled out the big sheets of plastic we had standing by so we could protect the wet surface enough to let it set up, knowing that our larger concern was for the second night, when we would need to protect the green concrete from freezing.
The next couple of days were almost anticlimactic. We even enjoyed a fair amount of sunshine. The stress and anxiety of the previous week had all but faded away when a foreign sound shook me out of my false sense of comfort.
Two snowmobiles appeared out of nowhere and blared up the long winding driveway, before coming to a stop right in front of us. As the drivers removed their helmets, I moved to intercept them and personally invite them off the property, but held up when I realized they were just guys from town—friends of the crew, wanting to say hello. But the message was clear: our time is up for now. Until spring, then…