On Tuesday, February 19 through Thursday, February 21 at Design & Construction Week, Green Builder Media will showcase The Align Project—a stunning example of net-zero, small footprint, intelligent living, with the smartest home and mobility technologies all under one roof. And did we mention free coffee and beer (see below for details)?!?!
While with us at The Align Project, you can talk with the Green Builder Media team and our partners—including innovative companies like Rheem, Jinko Solar, Toyota, DuPont, Tabuchi Electric, Andersen, Viega, Rockwool, Loxone, Delta Electronics, FLO by Moen, Corian Design, Trex, and Voltea—about the convergence of sustainability and technology in a right-sized-home that challenges entrenched ideas about how we live.
Here is the schedule of festivities: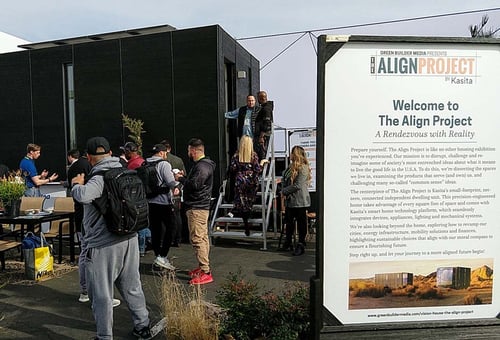 Tuesday, February 19:
9:30am-11:30am Coffee, Cake, and Conversation at The Align Project—RSVP today!
1:30-2:30—meet with Green Builder Media President Ron Jones, the Green Builder®, about the future of green building and sustainable development
3:00-4:00—meet with Green Builder Media editor in chief Matt Power about smart technology and assisted living: the next big thing
Wednesday, February 20:
10:00-11:00—meet with Green Builder Coalition Executive Director, Mike Collignon about water issues
1:00-2:00—meet with Jim Meyers, Director Buildings Efficiency Program, Southwest Energy Efficiency Project (SWEEP) about the evolving code landscape
3:30-4:00—meet with Green Builder Media CEO Sara Gutterman about the evolving ecosystem of smart home technologies and Smart Home 2.0
4:00-5:00—Who says you can't catch a break? After a few days on the show floor, join Green Builder Media for refreshments (free beer!) and relaxation!
The Align Project is located in the KBIS Salon, booth number is BL10001 in the Bronze Lot (south of the south hall next to the Renaissance Hotel).
Be sure to stop by for a chance to win one of the following giveaways!