Jinko Solar
The 2017 target: proactive global community involvement.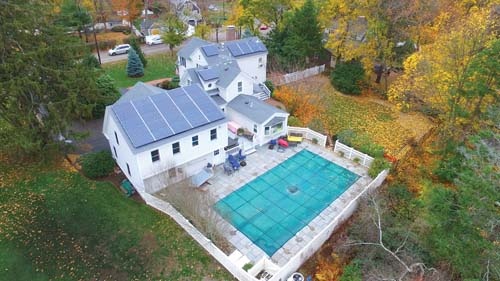 Earth's largest solar panel maker plans to continue promoting the numerous benefits of sun power used by residences everywhere.
Company Profile
Founded: 2006, Xiande Li and Kangping Chen
Headquarters: Shanghai, China
Leadership: Xiande Li, Chairman of the Board; Kangping Chen, CEO
Products and Services: Solar panels
Employees: ~15,000
Website: www.jinkosolar.com
As the world's largest solar panel manufacturer by global shipment volume since 2015, the 16th fastest growing company currently according to Fortune, and the fastest-growing residential solar provider, JinkoSolar sells its modules in 78 countries worldwide.
In addition to manufacturing sustainable power-generating devices capable of harnessing the sun's free electricity, JinkoSolar is actively targeting energy use and greenhouse gas emission reductions through its manufacturing processes.
Regularly issuing reports to the Montreal Protocol on Substances That Deplete the Ozone Layer, the company reports that no ozone-depleting substances are released during production, except for a limited amount of CO2. The company also tracks wastewater discharge, direct energy consumption and water used to create its panels.
Over the last two years, JinkoSolar has achieved a 53.39 percent decline in electricity consumption, a 76.26 percent reduction in water usage, a 76.15 percent decline in wastewater discharge and 53.05 percent decrease in GHG emissions.
Helping Low-Income Communities
JinkoSolar recently donating 620 kW of solar panels to Oakland, Calif.-headquartered nonprofit solar installer GRID Alternatives. This will enable an estimated 1,600 low-income families and multi-family affordable housing providers nationwide to benefit from free solar systems in 2017, according to JinkoSolar U.S. General Manager Nigel Cockroft. "Ensuring all communities have access to clean energy is extremely important to us," he says.
Recently invited to participate in Berlin's Business 20 (B20) Summit under the theme "Building Resiliency, Improving Sustainability and Assuming Responsibility," JinkoSolar is sharing policy recommendations in line with the B20's belief that a future-oriented, sustainable and competitive world economy can only be guaranteed if businesses keep finding innovative solutions to increase sustainability and decrease resource usage intensity.
As a founding member of U.S. Solar Energy Industries Association's national recycling network, the company also provides convenient options for those seeking to remove end-of-life panels at from their homes or power plants.