James Hardie's Improved "Hover" App Offers Special Perk for Contractors: The Lowest Available Price on Company Products
The app can convert a 2-D photo into 3-D measurements, but the best feature may be its integration with the company's "Contractor Alliance Program."
James Hardie Building Products Inc., the leader in fiber cement siding, today announced the launch of the James Hardie 3D app, an iOS compatible application which helps replacement contractors obtain complete and accurate measurements of siding, trim, soffit and windows from smartphone photos. The app is free on iTunes, and an Android version is currently in development.
With the snap of a few photos, contractors can easily obtain exterior measurements and a 3D rendering of a home, which greatly reduces the guesswork of job estimates. And with 95 percent accuracy, it eliminates the need for manually re-measuring, saving replacement contractors time and money.
"We love the app. I was skeptical of how useful and accurate this program would be, but have found it remarkably accurate," said Paul Trautmann, owner of Timberland Exteriors, Inc. in Stillwater, Minnesota.
The app allows users to interchange exterior design elements like windows, as well as more than 20 James Hardie ColorPlus® Technology colors, so replacement contractors can give clients an instant visual of their home. With a 360-degree view, users can inspect every element of a home for a preview of the final product.
"We continue to seek out new ways to provide value to members of our Contractor AllianceTM Program," said Marc Setty, business manager of the repair and remodel segment at James Hardie Building Products. "Anytime we can help our customers save time and money, and sell more jobs, we get very excited."
Members of the James Hardie Contractor Alliance Program will also receive the lowest price available in the market when using the app.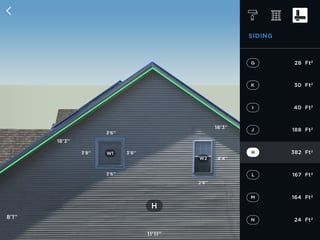 Powered by HOVER, a mobile platform that generates accurate 3D property measurements from smartphone photos, the James Hardie 3D app makes it easy for contractors to calculate square footage and lineal measurements. Measurements can also be exported as a PDF and emailed from the app.
The image shows what the HOVER app looks like in action.
We previously wrote about the James Hardie 3D App HERE.
To learn more, visit HardieAlliance.com and sign up at http://jameshardie.hover.to.