The world is changing. It's a perfect time to invest in data and insights that will help you optimize your company's positioning in light of the new demands that shifting consumer expectations will place on the building industry. Enter COGNITION Smart Data subscription packages stage left.
By now, you've probably heard of COGNITION Smart Data, Green Builder Media's suite of market intelligence and data services.
Let me offer some context—Green Builder Media started tracking metadata on our progressive audience in 2014, generating insights into the behaviors and interests of early adopter and first mover consumers and progressive building professionals.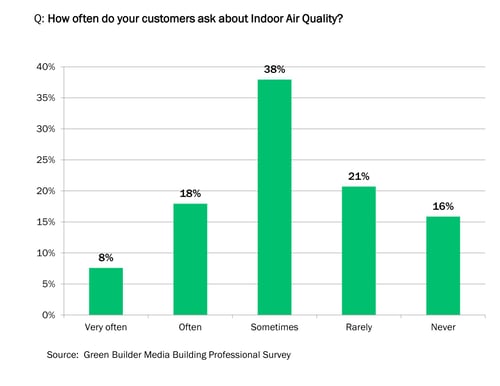 About two years ago, we realized that in order to be as relevant and meaningful as possible, we had to look beyond our own audience to the wider world of web and social media to collect information about megatrends that were transforming the building industry.
So, never shying away from a challenge, Green Builder Media developed a sophisticated, proprietary Artificial Intelligence-based technology platform that mines Internet content using contextual filters and parameters, harvesting data that is laser focused on the built environment.
The robust intellectual property that we've developed enables us to identify consumer behaviors, purchasing patterns, sentiment, market innovation drivers, and transformative business practices that are specifically relevant to the building industry, making our data significant and actionable for building professionals and manufacturers alike.
Once we collect the data, we then analyze and interpret it using our unique domain expertise that comes with over 15 years of working with the leading edge of the market to deliver intelligence and recommendations about evolving market dynamics.
Up until now, we've worked primarily with our manufacturer partners to leverage COGNITION Smart Data to develop super-informed business strategies, refined marketing campaigns, enhanced competitive positioning plans, and advanced product development blueprints.
I'm pleased to announce that we are now rolling out COGNITION Smart Data subscription packages to a wider spectrum of building professionals, allowing them to tap into the power of COGNITION so that they can successfully navigate the dynamic landscape of ever-evolving consumer preferences.
From the Just the Basics to the Make me the Boss program, COGNITION Smart Data subscription packages include ongoing access to real-time data about consumer behaviors, purchasing patterns, sentiment, and innovation drivers through Weekly Hot Takes, Monthly Snapshots, Quarterly Market Intelligence Reports, and custom dashboards.
As with most technology development projects, COGNITION has been a labor of love—taking more human and financial capital than we expected, but I can assure you that the results are truly special. We're now able to offer superior market intelligence that you simply can't get anywhere else.
Want a demo or more information? Write to me at sara.gutterman@greenbuildermedia.com.
Want to read more? Follow me on Twitter and Facebook. For more information about green building and sustainable living, visit Green Builder Media at www.greenbuildermedia.com, like us on Facebook, and follow us on Twitter for regular updates and breaking news.