Introducing The Arc House
Living large in 432 square feet of master-crafted comfort.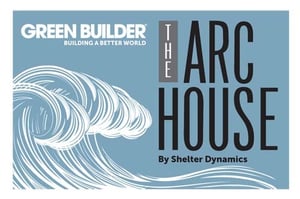 GREEN BUILDER MEDIA and Shelter Dynamics have teamed up to introduce the Arc House, the latest in Green Builder Media's forward-thinking VISION House series. This innovative "tiny home" integrates many facets of sustainability into one compelling, compact package, taking the concept to the next level with its unique form, craftsmanship and functionality.
Jim Gregory, founder of Shelter Dynamics, used a sailboat as the inspiration for his solar-powered, net-zero energy prototype. He envisioned a small, factory-built dwelling that is functional but elegant, characterized by a high level of craft—a home that is efficient in its use of energy, water and space, but that doesn't sacrifice quality of life or comfort.
Like a cruising sailboat, the Arc House doesn't rely on a utility grid for power. An airtight shell, smart home technology, and a comprehensive solar PV array and battery system combine to make the home completely energy independent.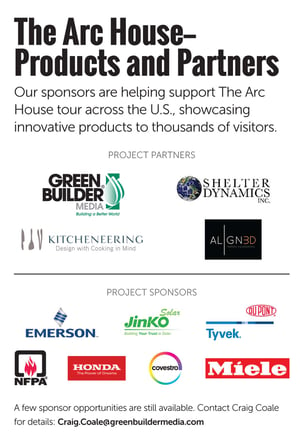 Gregory created the curving Arc House form with a framework of structural wood arches. Visible from the interior, these arches are an integral part of the Arc House's warm aesthetic. A wall of super-efficient windows combine with the ten-foot high ceilings to create a feeling of spaciousness inside.
The Arc House is just 432 square feet, but its well-designed interior—featuring comfortable living areas, clever storage, and even a walk-in closet—optimizes every square inch. Moorea Hoffman, principal designer at Kitcheneering, worked with Shelter Dynamics to create a versatile and functional kitchen.
Net-zero and intelligent, beautiful yet functional, the Arc House expands the market for tiny house living with its example of resilient, versatile housing. Following are some of the Arc House's most outstanding components.
Smart + Solar
Smart home technology and solar technology share a common goal: to provide occupants with a greater level of control over their homes. Complementary benefits include reduced energy use, improved efficiency and greater comfort. The Arc House demonstrates how these technologies can fully integrate to create an intelligent, efficient home—one that automatically makes adjustments to optimize energy use and comfort, but also one that provides feedback to occupants and encourages them to change their behavior.
Smart + Solar Features:
Responsive HVAC
Smart Glass
Interactive Lighting
Smartphone-Enabled Security
Weather Integration
Resilient
The Arc House is factory built and easily transportable, giving it great flexibility in its ultimate destination. Its small footprint, independence from the grid and versatile design make it an ideal solution for a variety of living situations. Equally at home in a rural, urban or suburban setting, The Arc House can serve as a primary residence for a single person or a couple. It can be used as a retreat, vacation home or "mother-in-law" unit. Clusters of Arc Houses can create small communities, based on the cooperative housing model, in which each household enjoys private space but also shares common areas such as courtyards and gardens.
Resilient Features:
Wildfire Resistance
Grid Independence (Solar PV, Inverter and Battery System)
Rainwater Harvesting and Graywater Reuse Systems
Water Conserving Fixtures
Factory Built Construction and Mobility
Repairable and Modular Components
Net-Zero Energy
The Arc House runs on the sun. At 432 square feet, The Arc House naturally has lower energy demand than a larger one, especially when it comes to space heating and cooling. An energy-efficient envelope, efficient appliances and smart home technology reduce The Arc House's energy demand even further. Closed-cell spray foam insulation applied to the roof, floor and walls combine with rigid polyisocyanurate sheathing to create an R-40 envelope with superior air sealing. Super-efficient R-5 complete the envelope. A modest 1.5 kW solar PV array powers the Arc House during the day; at night, the home switches to battery power, all without sacrificing modern functionality and comfort. The Arc House includes a full suite of appliances and a state-of-the-art HVAC system.
Net-Zero Energy Features:
Super-Insulated Shell
Advanced Windows
Efficient HVAC and Appliances
Integrated Solar
Passive Solar Design
Energy Use Feedback
Sustainable
The factory-built Arc House saves material that is typically wasted during site-built, "stick-frame" residential construction. In addition, materials and products for The Arc House were carefully selected for their durability, health, and responsible manufacturing. Exterior materials, such as fiber cement siding and an acrylic roof coating, protect the building from moisture, wind, fire and UV damage, helping ensure the building's longevity. Inside, durable finishes, from quartz countertops and recycled glass tile to locally-made cabinets and oak flooring, complement the wood trim details. The beauty of The Arc House also contributes to its sustainability, inspiring occupants to value and care for it.
Sustainable Features:
Efficient Factory Construction
Small Footprint
Protective Exterior Materials
Recycled Content
Durable and Healthy Interior Finishes
Beauty
Small but Spacious
Tiny never felt so luxurious. Inspired by the elegant efficiency of a sailboat, The Arc House form is created with a series of curving wood arches that are both strong and aesthetically pleasing. Ten-foot ceilings create a feeling of volume and spaciousness. A wall of glazing heightens this feeling of spaciousness and also invites the outdoors in. Thoughtful design creates distinct bedroom, living and kitchen areas—even a walk-in closet. Niches and built-ins, tailored for the dwelling's curved form, optimize every square inch of interior space. Moorea Hoffman's thoroughly-conceived kitchen is versatile enough to accommodate both simple meal preparations and gourmet feasts for a crowd. The window wall and deck encourage occupants to expand the living space to the outdoors.
Small but Spacious Features:
High Ceilings
Curving Window Wall
Efficient Design with Distinct Zones
Niches and Built-Ins
Indoor/Outdoor Living
Fully Conceived Kitchen