Interface
Going beyond net-zero.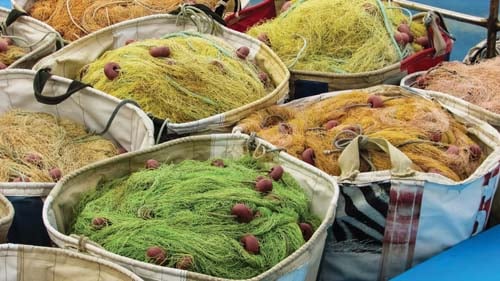 Interface's Net-Works program encourages residents of impoverished communities to collect fishing nets, which can be reused as yarn for carpet.
Company Profile
Founded: 1973 by Ray Anderson
Headquarters: Atlanta, Ga.
Leadership: Jay Gould, President and Chief Operating Officer
Products and Services: World's largest manufacturer of
modular carpet.
Employees: 3,400+
Website: www.interface.com/US/en-US/global
INTERFACE IS ONLY FOUR YEARS AWAY from owning up to its 2020 commitment, but the company isn't worried about meeting the goals promised. It already reduced GHG emissions by 92 percent and water intake by 87 percent, sources 84 percent of its energy globally from renewable resources (96 percent in the United States), and increased the amount of recycled and bio-based products used by 50 percent.
Mimicking the Environment
Now, the company is looking at how it can give back to the environment. It started a new initiative, Factories as Forest, which works to make factories perform more closely to healthy forests. Interface partnered with Biomimicry 3.8, a company of biologists and engineers that helps companies use natural ecosystems to solve challenges.
Interface piloted the program in an Australian factory. Biomimicry studied a high-performing ecosystem close to the factory to use as an example. They reported on the ecosystem's impact on many factors, including carbon filtration, nutrient filtration and pollination spaces. Then, Interface studied that list and implemented ways to mimic those systems inside its factory.
Contributing to the Community
Interface also started Net-Works, which promotes using recycled materials while helping impoverished communities. The company realized carpets include the same nylon material used in fishing nets, which often pose environmental issues in impoverished communities that rely heavily on the water.
The nets are removed from the water and local residents turn them into yarn used in carpet. So far, the program has removed 177,223 pounds of fishing nets from water in the Philippines.
With initiatives like Factories as Forest and Net-Works, Interface is not just reducing its environmental footprints—it's actually helping to improve the environment. The company lives up to the idea that companies should aim for beyond net-zero.
By the Numbers
Interface's commitment to the environment has already resulted in:
92 percent less GHG emissions
87 percent less water intake
84 percent of global energy consumed from renewable sources
50 percent increase in use of recycled and bio-based products