It's not the presents, the eggnogg, or even the roast beast that's the biggest CO
2

downside from the holiday season. It's the travel.

I was doing some research for a story I'm writing about holiday upcycling, and it occurred to me that there's probably too much focus on the CO2 impacts of the orgy of holiday STUFF we buy and consume—and not enough on the much larger impacts of travel.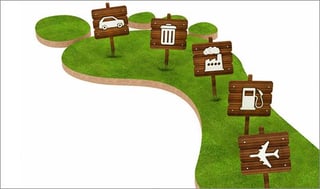 No matter how you look at it, we're not taking Climate Change very seriously.

The Real Meaning of Christmas?
It's interesting to follow the American consumer during the holiday season. Outbrain tracks "clicks" to see what people are interested in during this period—a boon to marketers. Am I the only one who gives out a heavy sigh as I read this list?
Outbrain 2013 Report: "Throughout the month of November, consumers showed the most interest in beauty content (65% higher CTR than holiday content average), content that emphasized convenience (+22%) and content about holiday parties (12%). In late November –not surprisingly–consumers began to also show a strong interest in Christmas content (+21%), as well as content offering inspiration and tips for the holidays (+13%),specifically, "tricks" (+83%) and "ideas" (+20%), and content on home decor and crafts (+11%), specifically "decorating" (+23%)."
A PLANE PROBLEM:
Let's leave aside the content of what we're spending our wealth on (the phrase, fiddling while Rome burns comes to mind). If we can't hope to change the public psyche overnight, we can at least look at the bigger picture of holiday impacts. And that picture shows that lipstick, plastic toys and martinis are not the biggest environmental "sins" of our commercialized celebrations. Its how we physically get there and back.

"The Thanksgiving and Christmas/New Year's holiday periods are among the busiest long-distance travel periods of the year. During the 6-day Thanksgiving travel period, the number of long-distance trips (to and from a ­destination 50 miles or more away) increases by 54 percent, and during the Christmas/New Year's Holiday period the number rises by 23 percent, compared to the average number for the remainder of the year. And although heavy media attention focuses on crowded airports and bus and train stations on the Wednesday before and Sunday after Thanksgiving, when personal vehicle trips are added to the mix the National Household Travel Survey (NHTS) reveals that Thanksgiving Day is actually a heavier long-distance travel day than Wednesday."
W
hen we travel by plane, or even drive a few hours to visit family, the impact of that fuel use will probably dwarf everything else we do on the holiday. If we really wanted to "green" our holidays, we would tighten up our homes, park the car, stay in, and cook with local foods. These are the kind of real choices we need to make, however, if we want to do more than give lip service to slowing and evenually reversing global warming.