Innovation with Purpose: Hard Lessons Learned from CES
Last week in Las Vegas, CES showcased, as always, a veritable garden of earthly delights. Artificial Intelligence and Alexa were everywhere. Autonomous cars zoomed around parking lots. 3D printers pumped out gadgets of every kind. Oceans of high-def TVs dazzled spectators with delightful images. Robots cleaned, virtual reality transported viewers to unimagined places, smart luggage trailed after its owners, and drones buzzed incessantly. But the real takeaway for some attendees this year wasn't the whiz-bang of technology, it was something altogether different.
In a recent article in The Guardian, Olivia Solon points to the failure of CES 2018, lamenting that, despite all of the cool gadgets and devices, the show felt empty and without purpose.
"The annual tech trade show seems less about real innovation breakthroughs solving unmet needs and more about incrementally improved nice-to-haves for the 1%," said Solon. "Given the other scandals that rocked the [technology] industry in 2017, including sexual harassment, poor factory working conditions and exploding batteries, and mounting evidence that people should spend less time glued to their devices, one might have hoped for a more cautious or conscientious display of mass consumerism. Here's hoping for 2019."
I can't say that I disagree with Solon's sentiments—the show, while incredible in so many ways, was awash in gadgets that seem to exist simply for the cool factor, rather than technology that brings meaning to life.
I've heard it said that technology has become our new religion, offering the hope of salvation in a troubled world. If this is, indeed, the case, how do we ensure that we are developing a faith that is infused with real value and consequence, rather than wasting our time praying to false gods?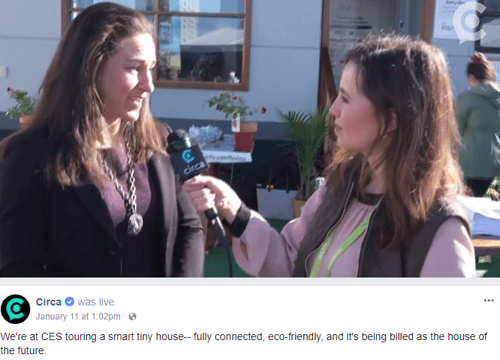 Green Builder Media did our best to play a role in answering this complex question by bringing our small-footprint, net-zero energy, smart + solar Flex House demonstration project to CES this year. We endeavored to showcase how technology designed with a purpose can play a role in reducing energy and water use, optimizing renewable energy generation and storage, and keeping our families healthy, safe, and protected.
Click here to watch a video overview of the Flex House, in which I attempt to explain how our Alexa enabled home uses products like Sensi smart thermostats and fans; Bosch ductless mini-splits, appliances, and tankless water heaters; Sylvania smart lighting; WeMo smart switches and plugs; Phyn whole home water monitoring system; Jinko Solar photovoltaic panels; Tabuchi Electric solar system battery; and Rachio smart irrigation system to enhance our lives and reduce our environmental footprint.
Interestingly, while exhibitors at CES unveiled technologies that promise to tackle big problems ranging from urban congestion to cancer, there is one thing that those technologies couldn't do: keep the lights on—on Wednesday during the show, the power went off in the Las Vegas Convention Center (the outage was allegedly due to condensation on a transformer from heavy rainfall.) In contrast to the endless devices that were powered down and silenced, the solar powered Flex House (with our Jinko solar panels and Tabuchi Electric battery) kept running like the Energizer bunny! Check out our blog about the incident here.
Overall, the Flex House was a successful activation, and I feel like we were able to move the needle and increase awareness at least a little bit about how technology can be applied in meaningful ways to help us live more sustainably.
And, undoubtedly, some of the technologies showcased at CES were breathtaking, with real applications for improving our health and quality of life, enhancing our cities and built environment, and protecting our planet.
However, it was abundantly clear that there is still so much more work to do to ensure that technology is designed with meaning and purpose. If not, we simply continue to propagate a wholly unsustainable economic model.
At CES, exhibitors touted technologies that help us do ordinary things. But perhaps we should pivot our thinking and focus on the innovations that will help us accomplish the extraordinary.
How do you think we can create technology with purpose? Write to me at sara.gutterman@greenbuildermedia.com.
Want to read more? Follow me on Twitter and Facebook. For more information about green building and sustainable living, visit Green Builder Media at www.greenbuildermedia.com, like us on Facebook, and follow us on Twitter for regular updates and breaking news.