As Green Builder Media embarks on our next extraordinary demonstration project, the VISION House Seattle Cascades with Meritage Homes VP Innovation CR Herro, we fully embrace the exquisite joys and agonizing realities of building in today's market.
There's nothing quite like designing and building one's dream home—fashioning the glimmer of an idea, the concept of a state of being, into a delightful structure that comforts the mind and manifests the soul.
That's what we're endeavoring to do with the VISION House Seattle Cascades, a demonstration project that Green Builder Media is creating CR Herro, VP Innovation at Meritage Homes (8th largest homebuilder in the nation.)
The goal of the project is lofty: to redefine sustainability and set a new standard for building green in the current marketplace by blending sustainability, quality, durability, intelligence, and wellness with affordability.
We plan to highlight the gamut of issues that building professionals and consumers should consider when building in today's market, including novel design approaches, advanced products, enabling technologies, efficient building systems, and renewable energy.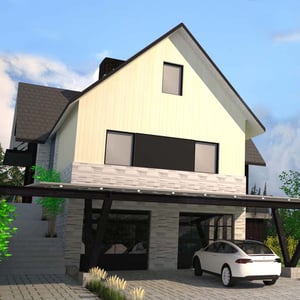 We're also endeavoring to debunk the price per square foot and lowest upfront cost valuation metrics that have been paralyzing our industry for far too long. These metrics are no longer valid, and they are wholly insufficient for measuring quality, performance, resilience, and environmental impact.
To achieve optimal results, we've gathered some of the greatest minds in the country, including internationally-acclaimed sustainable architect Stace McGee and award-winning green builder Ted Clifton, along with product manufacturer partners like Whirlpool, Control4, Uponor, Western Windows, Panasonic, Boral Roofing, Cultured Stone, Schneider Electric, Schott, Square D, MoistureShield, Premier SIPs, and Nudura.
Off-grid, net zero, and connected, the VISION House Seattle Cascades will feature a Panasonic solar system (with storage); robust Control4 smart home system that will connect all of the lighting, devices, and mechanical systems with the solar system and optimize performance; radiant heating by Uponor; super-efficient windows from Western Windows designed specifically for the Pacific Northwest climate; stone-coated steel roofing from Boral; durable manufactured stone from Cultured Stone; energy management system from Square D; high-performance fireplace glass from Schott; and resource saving KitchenAid appliances.
The home will be off-grid with respect to water and sewer as well as energy. "I was pleasantly surprised at how easy it was to unplug in the Seattle climate," says Herro. "Utilizing rainwater harvesting and an atmospheric generator that pulls water out of the air, I'm going to have twice as much water as the typical American home needs."
For the most part, the process has been engaging, educational, and enriching. "I love this project. I love working with all of the manufacturer partners, experts, and incredible minds that we have brought together," asserts Herro.
But we have certainly experienced some unexpected setbacks, including lengthy delays in the permitting process. It doesn't matter who you are in King County—leading production builder or first-time homebuyer, you wait all the same in the queue.
Another good lesson learned: keep it simple. "Herro's initial sketches incorporated simplicity of design and economy of scale, so it was easy to translate them into an excellent example of a modern-day high performance, healthy home. However, all of our partners, understandably, wanted to put their best foot forward and showcase their most advanced products, so in order to keep the home at a reasonable price point and create something that is replicable across the country, we had to make hard choices and reduce the bells and whistles," states architect Stace McGee.
"Anytime you're trying to do something different, the usual systems break down in terms of permitting, contractor channels, and the like, so you can't follow a normal process, which effectively doubles the cost and time to manage the learning curve," laments Herro. "We're trying to do something progressive and different with this project, and being on the leading edge can be challenging. We want to develop case study so that other people—including building professionals, homeowners, permitting entities, municipalities, realtors, appraisers, and lenders—can feel safe following suit and moving forward with the types of products and systems we're using. We're trying to normalize advanced green building and design practices. That has been both a burden and a joy, but I'm grateful for the ability to participate."
With its high-performance building envelope systems, efficient mechanical systems, self-optimizing smart technologies, and sustainable design features, the VISION House Seattle Cascades will showcase that an upfront investment in efficiency will yield thousands of dollars in annual operating savings without any sacrifice.
"This is of paramount importance," asserts green builder and building science expert Ted Clifton, "because we need to help homeowners understand the true value of their home investment. What is the rate of return in reducing operating costs versus other types of investment? Does an investment in efficiency outperform what you'd get in stock market?"
Interesting questions to be sure. We invite you to follow our progress as we continue to glean valuable lessons and develop essential insights through the VISION House Seattle Cascades project.
Want to read more? Follow me on Twitter and Facebook. For more information about green building and sustainable living, visit Green Builder Media at www.greenbuildermedia.com, like us on Facebook, and follow us on Twitter for regular updates and breaking news.