Ingersoll Rand
Combating climate change remains #1 on this company's 'To Do' list.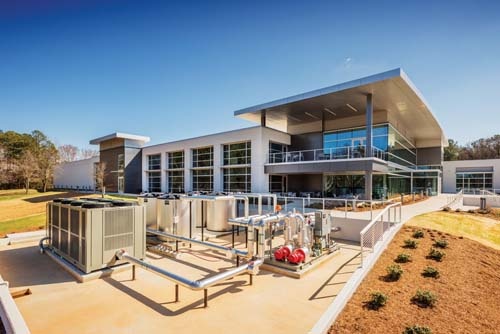 Green-promoting products—such as the Trane thermal storage ice tanks at Ingersoll Rand's headquarters in Davidson, N.C.—are expected to make an ever-increasing dent in the fight against climate change.
Company Profile
Founded: 1905
Headquarters: Davidson, N.C.
Leadership: Michael W. Lamach, Chairman and CEO
Products and Services: Green-centered products include Trane energy-efficient heating, ventilating and air conditioning systems; Club Car small-wheel, zero-emissions electric vehicles; American Standard heating and air conditioning systems; and Ingersoll Rand's own line of compressed air systems, tools and pumps, and material and fluid handling units.
Employees: ~45,000
Website: www.ingersollrandproducts.com
Included in Corporate Responsibility Magazine's top 100 global corporate citizens for the past four years, Ingersoll Rand has made a significant commitment to greenhouse gas reduction. Those efforts are not slowing down as the company heads into the next decade-plus, according to Scott Tew, executive director of Ingersoll Rand's Center for Energy Efficiency & Sustainability.
Fading Away Greenhouse Gas Emissions
Ingersoll Rand plans to cut the refrigerant GHG footprint of its products by 50 percent by 2020 and incorporate lower global warming potential alternatives across its portfolio by 2030. "That's a big deal," says Tew. "That means we have to work fast to transition our product lines to new, climate-friendly refrigerants." The company also plans to reduce operations-related GHG emissions by 35 percent by 2020, Tew adds.
Research on Multiple Levels
The company is actively working with universities, other industries and non-governmental organizations to develop a roadmap for transitioning products which currently have no viable alternative eco-friendly solutions, Tew notes. It also plans to invest $500 million in product-related research and development over the next five years to fund the long-term reduction of GHG emissions.
Re-Manufacturing Instead of Buying New
In line with Ingersoll Rand's approach to sustainability, the company has introduced what it calls "re-manufacturing," which involves rebuilding used equipment and putting it back into service.
For example, "We have a special facility with craftsmen that completely refurbish the existing giving compressor," Tew explains. "Then we ship it back and install or re-install it in the system, giving that entire unit another 20-plus years of life."
Refurbishing an existing system is much less intrusive than installing a new one, and much more cost effective, he adds.