Ingersoll Rand
Engaged employees determine new ways to reduce waste and minimize GHG footprint.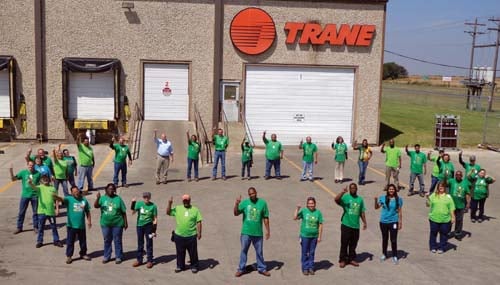 Ingersoll Rand's green teams consist of volunteer employees who identify ways to improve the company's sustainability efforts.
Company Profile
Founded: 1905 (formed by a merger of Ingersoll-Sergeant Drill Company and Rand Drill Company, both of which formed in 1871)
Headquarters: Davidson, N.C. (NA Headquarters and Corporate Center)
Leadership: Michael W. Lamach, Chairman and CEO
Products and Services: HVAC Equipment and services; complete compressed air systems, tools, pumps, material handling systems and comprehensive services; transport temperature control systems for a variety of mobile applications, including trailers, truck bodies, buses, shipboard containers and rail cars; and small-wheel, zero-emissions electric vehicles.
Employees: 40,000+
Website: www.company.ingersollrand.com
THIS YEAR MARKS the second year in a row that we've named Ingersoll Rand an Eco-Leader—and we're not the only ones acknowledging the company's commitment to the environment. It also recently made Corporate Responsibility Magazine's annual 100 Best Corporate Citizens List for the third consecutive year and earned an Outstanding Employee Engagement Practices & Green Teams Award from the Institute for Sustainable Enterprise (ISE).
The industrial energy market is projected to grow 44 percent in the next 10 to 20 years. As a major provider of compressed air solutions, electric and off-road recreation vehicles, commercial and residential HVAC and energy services, and transport refrigeration business, Ingersoll Rand's commitment to sustainability will make an impact on providing green solutions.
Employee Engagement
Another reason Ingersoll Rand continues to win sustainability-related awards is due to its employee engagement policy.
"One of the reasons we won the ISE award was the way we took a systematic approach to engaging employees," says Scott Tew, executive director of the company's Center for Energy Efficiency and Sustainability. "The way to ensure you make lasting change is to fundamentally help employees understand that each person has a stake in the company's success."
Ingersoll Rand's Green Teams encourage employees to join a team, and each team identifies ways they can reduce the company's waste production, improve its GHG footprint and overall better the company.
"In aggregate, the impacts are huge from employee teams. When everyone takes a few small steps, it goes a long way. Some reduce waste to the landfill, install renewable energy sources, paint rooftops white instead of black," Tew says. "In aggregate, it really blows you away—all of these teams provide a big impact."
Employee engagement is a major reason the company has been successful in its Climate Commitment, which we highlighted last year (http://bit.ly/28JuHHg). The company celebrated one year of the commitment at the end of 2015.
"Once we made the calculations, we avoided 2 million metric tons of CO2, which is equivalent to the electric used in 270,000 homes for a year," Tew says.