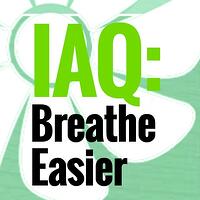 In April, Green Builder Media will launch a one-year content marketing campaign on Indoor Air Quality. In a recent survey, we asked our readers about the importance of indoor air quality and their preferred strategies to ensure a healthy environment.
WHEN ASKED about healthy home strategies, over two-thirds of our readers told us that they discuss mechanical ventilation solutions with their homebuyers, followed closely by low/no VOC paints and finishes.

When asked about the green building strategies that are most important to homebuyers, energy efficiency was the clear winner. Indoor air quality came in third.

Indoor Air Quality is not top of mind when it comes to connected home. This can be interpreted in many ways, indicating that there is either a lack of education on the topic or a deficiency of connected home technology that relates directly to IAQ.