For many homebuyers, Indoor Air Quality (IAQ) has quickly shifted from a 'nice to have' to a necessity. In fact, for some consumers, it is now as important as location when buying a home. Green Builder Media is closely tracking the exploding market phenomenon of healthy homes with COGNITION Smart Data, and we've uncovered some interesting—and surprising—trends.
Indoor Air Quality (IAQ) has historically been the equivalent to the hypothetical monster lurking under the bed. No one quite understood it, and, even though people had an inkling that it was scary and worth paying attention to, they hoped that by ignoring it, they could simply wish it away.
But that's not the case anymore. The concept of healthy homes, driven primarily by IAQ, has evolved substantially over the past few years and is now an exploding sector that can no longer be overlooked. Indeed, IAQ has evolved beyond the realm of early adopters and first movers and is firmly situated in the mainstream.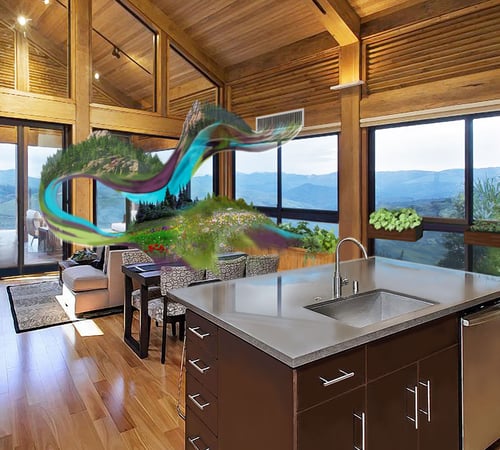 Through COGNITION Smart Data, Green Builder Media's suite of market intelligence and data services (powered by a sophisticated, proprietary technology platform that uses Artificial Intelligence and the logic of IBM's Watson to mine web and social media content), we are able to track the hottest trends and most compelling movements within market segments.
Within the healthy home space, we've unveiled some compelling insights. First, over 90% of consumers consider IAQ to be extremely important or very important, and, interestingly, it's the leading category that consumers associate with green building—more so even than performance, renewable energy, and building science.
Nearly 70% of consumers interested in IAQ want to keep themselves and their families healthy. Close to 20% of consumers interested in IAQ struggle with allergies.
25% (and growing!) of consumers ask about IAQ often or very often, and nearly 25% are purchasing products that proactively address IAQ issues (like monitors, sensors, and smart home devices). Given that those numbers were in the single figures only a short while ago, the sector is clearly experiencing considerable growth on an annualized basis.
Homeowners have become quite savvy about green products and smart home devices, and they're demanding proof points to show that IAQ products can back up manufacturer claims. So, it's important for manufacturers and builders to provide certifications, case studies, research, and data that demonstrate clear performance results.
Comfort is the leading purchase driver behind IAQ considerations across all consumer audience segments, followed by (in order) security, sustainability, quality, and wellness.
DIY consumers are the most active with respect to IAQ content on the web and social media, so for elevated engagement, manufacturers may want to target DIYers for enhanced exposure, pickup, and earned PR.
There is subtle difference in consumers' perception about sustainability versus health and wellness. While consumers perceive energy efficiency, water conservation, and resiliency as part of the sustainability equation, they associate indoor air quality with health and wellness rather than sustainability. It's a delicate nuance for sure, but an important one for any manufacturer or builder wanting to create effective, targeted messaging for customers.
One of the hottest trends in the IAQ category is a proliferating interest in sensors and monitoring systems that provide real-time observation and reporting, resulting in a mushrooming demand for proactive, intuitive systems that can provide alerts and notifications and can interconnect devices, mechanical systems, ventilation fans, and other products in the home (like windows) to manage IAQ in an automated and streamlined manner.
The surging interest in healthy homes, as well as the adoption of IAQ sensors and monitors, is placing new demands on manufacturers and building professionals. To achieve optimal success in today's marketplace, manufacturers and building professionals need to become invaluable resources for homeowners in their journey towards understanding the impact of indoor air quality on their family's health and productivity.
To do that, it's important to emphasize situational awareness, enabling homeowners accurately measure and manage IAQ through real-time data and develop a deeper understanding of how to solve for any IAQ issues (for example, specifying low VOC/non-toxic products, proper ventilation, fresh air exchange, and regularly changing filters.)
As the market continues to evolve, look for ongoing innovation with respect to demand-controlled, intelligent systems that integrate mechanical systems with sensors, windows, and other IAQ devices.
Correspondingly, as research on the health impacts of pollutants in homes and buildings progresses, expect enhanced codes, regulations, and mandates that address IAQ issues in a comprehensive and methodical manner. Beyond CARB in California, we're starting to see changes that may be implemented as early as the 2021 code cycle (underway now) in both the single family and multi-family sectors that address ventilation and exhaust systems, proper airflow and air exchange, and range hoods.
For more information about COGNITION Smart Data insights about indoor air quality and healthy homes, check out the webinar I recently presented on the topic.
And if you'd like to learn more about how you can unleash the power of COGNITION to enable your team to make more informed decisions about marketing, sales, competitive positioning, audience segmentation, product development, or strategic business development, email me at sara.gutterman@greenbuildermedia.com.
Save the date! Join us to celebrate our 12th annual Home of the Year and Sustainability Awards winners on January 19, 2020 in Las Vegas, as well as for our Sustainability Symposium 2020: Improving the Human Condition on January 20. Click here for more information—we'll let you know when registration opens!
Want to read more? Follow me on Twitter and Facebook. For more information about green building and sustainable living, visit Green Builder Media at www.greenbuildermedia.com, like us on Facebook, and follow us on Twitter for regular updates and breaking news.