Indoor Air Quality a Focus of this Net Zero Home
Lubberland's Edge home showcases smart air management.
When Norbert and Robin Wesely designed their retirement dream home in southeastern New Hampshire, they were inspired by the concept of dynamic energy efficiency: living in a net-zero home that generates as much energy as it consumes. This would make planning for rising energy costs on a fixed income much simpler.
It's been a year since this 1,900-square-foot test house for innovative Zehnder America was completed. Since then, Norbert and Robin have enjoyed exceptional comfort and indoor air quality in their modern, light-filled home, Lubberland's Edge.
"It's a really special home that integrates numerous innovative technologies," explains Norbert. "There isn't another project with an equal combination of features in our area."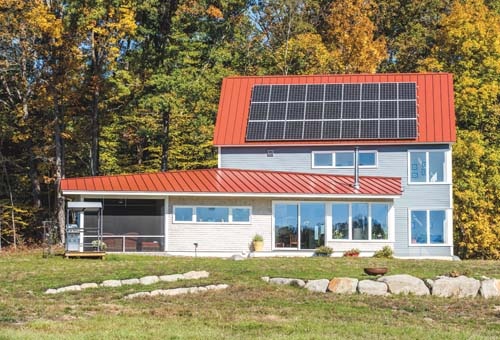 Lubberland's Edge in Newmarket, N.H., is a state-of-the-art custom home that uses smart air monitoring and solar power to cut energy costs to one-tenth of normal.
By the Light of the Day
Lubberland's Edge has a solar orientation to take advantage of winter sunlight, which gradually provides heat throughout the day. Even on overcast winter days, light fills the home. A vaulted ceiling in the living room, 11-foot ceilings on the first and second floor, and exceptional wilderness views give the space an expansive, open feel.
The home was designed by Kaplan Thompson Architects and built by FUTURO Construction to the Passive House standard, a rigorous certification for homes that use 90 percent less energy for heating and cooling than a code-built home. What costs other people $1 in power is a mere 10 cents for the Weselys.
Drawing on innovative new technologies and a passive solar design, the home generates as much energy as it consumes. The home's 7.5-kW roof-mounted solar system covers all energy needs, including space heating and cooling, cooking, laundry and hot water heating. No fossil fuels are consumed; the house is exclusively powered by clean solar energy.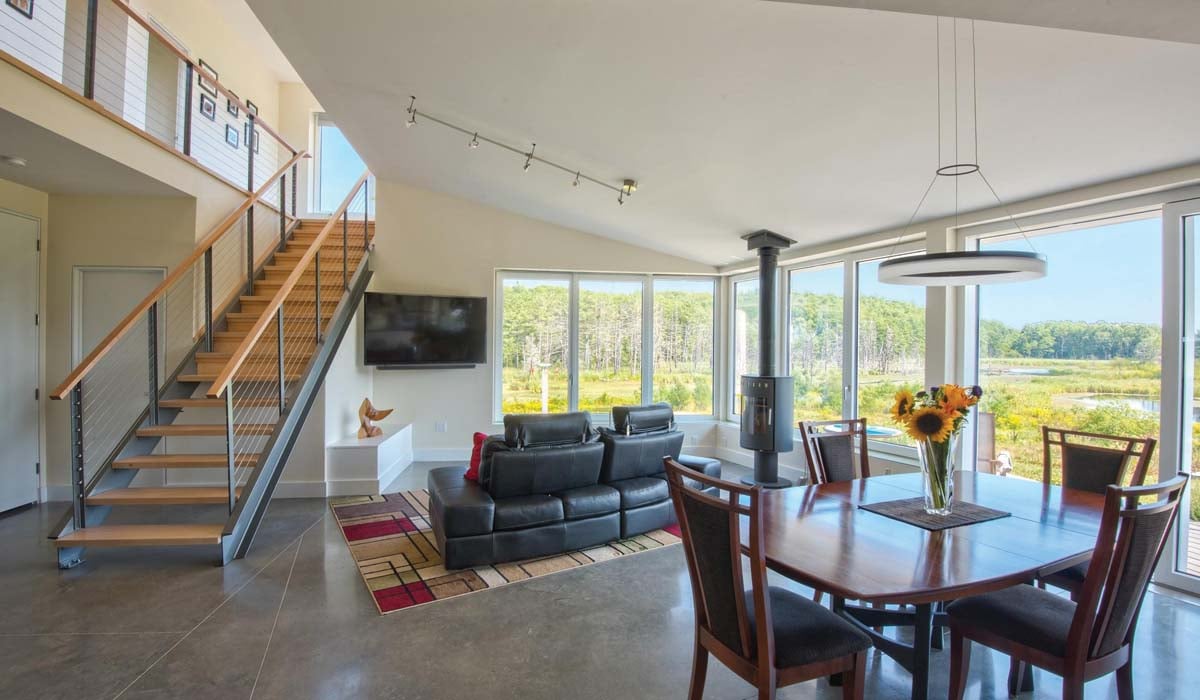 All the Pieces
Four energy-efficient and smart Zehnder systems are used to ensure comfort throughout the year while promoting indoor air quality:
The ComfoFond L eco geothermal system uses ground temperatures to preheat the incoming air throughout the winter, and pre-cool and dehumidify it during the summer. The geothermal energy also keeps electricity costs extremely low.
When summer temperatures become too high, the control unit turns on the Zehnder ComfoCool, a low-noise, low-energy heat pump cooling system.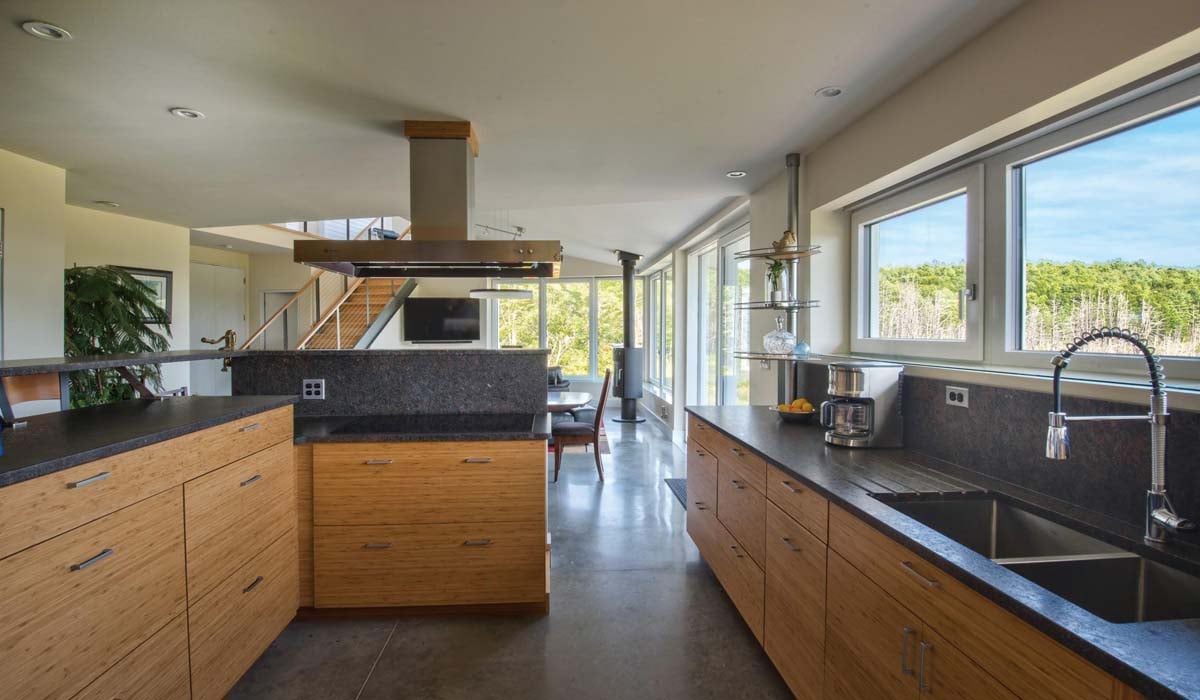 Bathrooms feature electric Zehnder towel-warmer radiators, which create an instant heat zone that warms the rooms as well as the towels.
A Zehnder ComfoAir 550 energy recovery ventilator (ERV) provides exceptional home ventilation, bringing in a constant supply of fresh, filtered air while removing indoor air pollutants, excess moisture and odors. This also helps promote occupant health by preventing mold growth during wet seasons, and reducing humidity that can drive up internal temperatures during summer.
The ERV recycles heat in the winter and helps minimize the need for air conditioning in the summer. The whole-house ventilation system supplies air to the bedrooms, living room, pantry and office. Stale air is removed from the bathrooms, kitchen and mudroom.
"The level of indoor comfort and air quality is mind boggling," says Norbert. "It doesn't matter what is going on outside, the indoor climate is always ideal."
The kitchen exhaust hood works with the ERV system to ensure that cooking fumes are quickly removed at the source to promote indoor air quality. Particles from cooking are a common source of indoor air pollution and can be problematic in virtually airtight houses without adequate home ventilation.
Also, there are numerous, additional energy-efficient features in the home, including a heat pump water heater, LED lights, a ventless clothes dryer with a heat pump and an induction range. A polished concrete floor on the first floor provides thermal mass, helping to maintain even indoor temperatures. Triple-pane windows and doors, and generous amounts of insulation reduce the heating and cooling load.
Although there is a wood-burning stove in the living room, the couple have only used it a handful of times—for ambiance—throughout their first winter in the home.
The Weselys have found Lubberland's Edge extremely comfortable, as well as energy efficient. It's two benefits in one: Their new house fits their financial goals and protects the environment.