It's not easy to introduce updated concepts to the building industry, but some are making it happen.
In January, I spoke at the Green Builder symposium and then attended the International IBS/NAHB/NKB show. What struck me is how wonderful and diverse the building industry is—and yet how separated into silos we still are. With a few exceptions, such as the larger product manufacturers exhibiting at IBS, we do not share information among architects, designers, engineers and general contractors, let alone home and building owners. A home show I attended in San Jose in February confirmed that thought: Few manufacturers, builders and remodeling companies were there to share information with homeowners.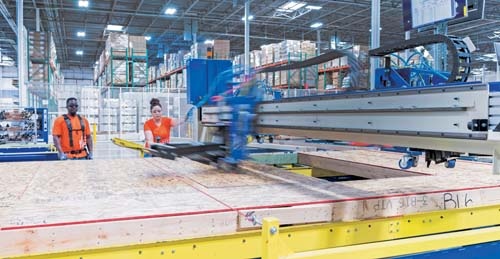 Tech construction firm Katerra specializes in factory-style construction of individual walls, floors and roofs for new homes. These can be assembled after arrival at a worksite, allowing for better quality control.
The reason for mentioning this siloing is because it is key in addressing how to create increasing efficiency and effectiveness in the building industry. In studies of all the major industries covering the past 50 years, the building industry has experienced the least increase in efficiency and effectiveness in the past 20 to 50 years compared to most other industries.
We are not going to improve the industry without improving the ease with which we can share information, and refining our methods of construction. The path to "better-faster-cheaper" in the building industry will include improvements to our processes—not by "digging holes faster" or working faster, but by working smarter and increasing collaboration across the industry.
This isn't a factor in the building industry alone. In academia, some college students have also seen "more division than unity between the different academic disciplines on campus," and some are beginning to build communities for interdisciplinary education between the arts, sciences and engineering, and to change the campus culture. More programs of interdisciplinary studies and programs are in existence than in the past, and we are likely to see this trend continue.
If at first you don't succeed...
There are efforts going on now to change the old ways of creating buildings across all building types. In February of this year, CIFE at Stanford University had an Industrialized Construction Forum, "The Future of Housing Innovation," a superb presentation of a variety of building approaches. The companies presenting included Acre Designs, RAD, Urban Sidewalk Labs, Social Construct, Katerra, Clark Pacific, PassiveDom, Project Frog and BONE Structure.
At the end of the forum, Ray Levitt, a Stanford engineering professor with significant industry experience, expressed concerns. Levitt noted that there have been a number of attempts in the U.S. over the years to introduce forms of industrialized construction of houses, housing and building, such as the Department of Housing and Urban Development (HUD)'s Operation Breakthrough in the 1970s. Levitt wondered if the lessons from those efforts were being adequately considered and addressed.
In addition to Operation Breakthrough, my own familiarity with "Industrialized Construction" goes back to my days in architecture school when we studied Konrad Wachsmann.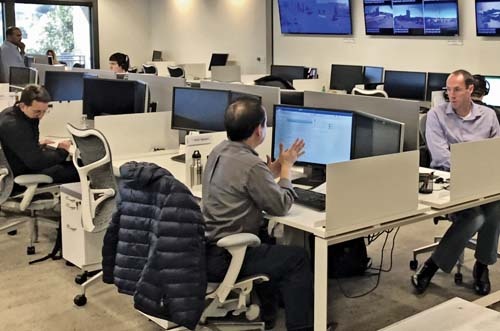 Employees at Katerra do more than simply construct or supervise new projects. They also stay up to date on the company's ever-evolving green strategies.
But there are now mounting economic and environmental pressures on the building industry to perform more efficiently and effectively, to find time and cost savings, and to embrace a new model of construction that includes forms of pre-built structures as a way to more efficiently develop, design and construct buildings.
The Case for Katerra
One company leading the way is the construction technology company Katerra, which in January received $865 million in research and development financing.
I've seen a few different descriptions of Katerra, one being a "technology-driven off-site construction company." But I found it to be much more than that. The company was founded by Michael Marks, former CEO of Flextronics and former Tesla interim CEO, and Fritz Wolff, executive chairman of The Wolff Co. The latter is a "fully integrated real estate private equity firm that is focused on the multifamily sector."
Katerra's Menlo Park, Calif., headquarters is a compilation of open offices, glass walls, lots of big screens and a buzz of activity. The company's construction factory is in the Phoenix area, with more factories in various locations being planned. This includes plans for a cross-laminated timber (CLT) plant under construction in Spokane, due to come online in 2019. There is also have a Seattle office where Design Director Craig Curtis, FAIA, is based.
One of the first things to understand is that Katerra is not a startup. It was formed in 2015 and already has a considerable backlog—almost $1 billion of booked work. With the infusion of funding, Katerra is bustling with hiring and its planned expansion.
One aspect of what Katerra is doing does include "factory construction" of building elements—walls, floors and roofs. The walls, for example, are built in a factory setting, with windows, wiring, some plumbing, interior and exterior wall finishes. They are then "flat packed" and shipped to the building site. This differs from modular housing, where buildings are shipped and assembled. Katerra is not "shipping air."
In concept, the factory construction allows Katerra to control the materials, labor and quality of construction to a higher degree than "stick building" on the site, according to Curtis.
In many of its projects, the company will serve as the architect, off-site manufacturer and on-site contractor. Katerra will generally contract directly with owners for their projects. It also collaborates with other appropriate teams on some projects, and may control planning, design, manufacture, delivery to the site and coordination of installation upon arrival.
At the construction site, the idea is that nothing will touch the ground. No more lumber or other building materials laying around on site, getting wet or muddy. Building panels are put in place directly from the truck. This is another aspect of Katerra's approach to creating an end-to-end, "better-faster-cheaper" method of design-build for its projects.
When doing things "better, faster, cheaper," Katerra's primary goal is to emphasize the "better" part, Curtis notes. That doesn't mean "faster and cheaper" is out of the mix. "When [we] explain what Katerra is doing—and that they can do it much faster, people pay attention," Curtis says.
Also, empowering architects, engineers and developers to be in control of the project up front, and having a model tied to a supply chain, enables the design and build elements to function in a more integrated fashion.
Curtis also commented that doing environmentally responsible design is in Katerra's DNA. The company will naturally "do the right thing," from smart harvesting of forest products to through project completion. Sustainability and energy efficiency are also core to Katerra's work.
Katerra is conducting research on worldwide sources of materials and products. In some cases, the company will design and manufacture its own line of products for use in its buildings. Kitchen faucets and LED light fixtures are examples of such products. It is also looking at innovative ways of connecting buildings using various renewable sources of energy and battery storage.
The company takes a lot of lessons from the Silicon Valley's computer and chip industry, and applies them to the building industry. It has also learned lessons from studying the 10 to 20 years of European experience with CLT. The major investments that Katerra is making in their plants reflect its research comparing CLT systems with glu-lam systems. Katerra is even studying the possibility of the 3D printing of wood fiber in the future, and is involved with university research programs to study such issues.
Curtis acknowledges that overall, there is very little research conducted by the building industry on improving its methods. It's also very difficult to introduce new ideas, technologies, processes and products into the industry. This is a challenge, but an important aspect of Katerra's work, he notes. "For the Silicon Valley guys, this is a no-brainer," he says. "That is an industry that has always been about technology and change. Katerra has that perspective in its management and executives."
Most of the firm's current work focuses on multi-family structures, with some student housing and office buildings. But Katerra may grow to include other types such as government buildings.
The company's other goals include considering working with other companies on designing projects "the Katerra way." Katerra includes the team-building required in construction, but expands the process to integrate planning and design, with a focus on hiring, training, providing experience and mentoring. This includes educating employees on how to collaborate as the business expands further.
---

Terry Beaubois is an architect in Palo Alto, Calif. He is CEO of the internet startup BKS (Building Knowledge Systems) LLC, and an adjunct lecturer at Stanford University.