Martin Luther King said, "Injustice anywhere is a threat to justice everywhere." That's why Green Builder Media's fourth annual Sustainability Symposium 2020, scheduled on January 20, 2020, Martin Luther King Day, will focus on the nexus between sustainability, social equality, and financial abundance. The event promises to be our best Symposium yet, with a remarkable lineup of luminaries leading the transition to a sustainable future.
Green Builder Media is wildly excited about our upcoming Sustainability Symposium 2020: Improving the Human Condition, scheduled for January 20 at the Artemus W. Ham Concert Hall on the UNLV campus.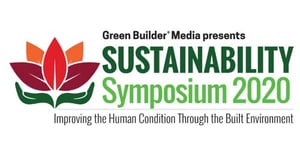 In celebration of Martin Luther King Day, the event will shine a light on some of our society's greatest challenges and areas of opportunity, endeavoring to answer an unavoidable series of difficult questions: how can we build durable, healthy, efficient, affordable communities that can withstand nature's extremes and prevent displacement?
How can we design sustainable structures to include not just energy efficiency, water conservation, smart technologies, and renewables, but also the innate opportunity for inhabitants to live vibrantly and age with dignity, while simultaneously protecting (even regenerating) ecosystems and other species?
How can we elevate our approach to sustainable development so that it bolsters the physical, psychological, and economic health of inhabitants?
And when disaster inevitably occurs, how can we coordinate recovery efforts in a fair and equitable way?
We invite you to join us as we stretch our imaginations to craft enlightened solutions, for in the enduring words of Dr. King, "Our lives begin to end the day we become silent about things that matter."
Here is a glimpse into the Symposium agenda:
8:00-9:00—Registration at Artemus W. Ham Concert Hall at UNLV
9:00—Spoken Word Performance by Dr. Javon Johnson, Director of African American & African Diaspora studies at UNLV
9:15—Welcome remarks—Sara Gutterman, CEO Green Builder Media
9:30—The Big Pivot: Sustainability Strategies for a Changing World, Andrew Winston, Global Sustainability Expert and Author of Green to Gold and The Big Pivot
10:30—Morning networking and refreshment break
11:00—Sustainability for All: The Nexus Between Sustainability and Social Justice, Heidi Harmon, Mayor of San Luis Obispo and Kalpana Kotagal, Civil Rights & Employment Litigation Partner at Cohen Milstein and co-author of the "Inclusion Rider"
12:00—Networking lunch
1:00—Climate Action Now: The Fundamentals of the Green New Deal, Rhianna Gunn Wright, Co-Author of Green New Deal and former Policy Director for New Consensus
2:00—Delivering Sustainability, Sam Rashkin, Department of Energy Chief Architect and Gene Myers, Founder/CEO Thrive Home Builders
3:00—Afternoon networking and refreshment break
3:30—Getting to Zero: The Urgency of Zero Emissions, Ed Mazria, founder of Architecture 2030 and internationally recognized architect, author, and educator
4:30—Closing remarks—Ron Jones, President Green Builder Media
We invite you to join us for what promises to be an unforgettable day filled with ideas, insights, and inspiration.
Click here to register for the Sustainability Symposium 2020: Improving the Human Condition. Space is strictly limited and by reservation only, so reserve your seat today!
Additionally, we invite you to join us for a special gala dinner on Sunday, January 19 to celebrate the winners of our annual Home of the Year and Sustainability Awards—a group of building professionals and manufacturers who have solved for many sustainability issues that we face today.
A sincere thank you to our generous sponsors, Mitsubishi Electric Trane, DuPont, Jinko Solar, Trane Technologies, and Zappos for helping to make the Symposium possible.
Got questions about the Sustainability Symposium? Write to me at sara.gutterman@greenbuildermedia.com.
Want to read more? Follow me on Twitter and Facebook. For more information about green building and sustainable living, visit Green Builder Media at www.greenbuildermedia.com, like us on Facebook, and follow us on Twitter for regular updates and breaking news.