Green Builder Media's Impact Series was launched in 2011 and taps forward-thinking, innovative speakers for lively online interviews and interactive Q&As. These webinars will help you stay on top of trends and will give you new ideas and best practices to bring back to your business (not to mention, they are entertaining—and free!)
The following transcript is taken from Ron Jones' conversation with Richard Louv on January 29, 2013.
GB: I wonder if you'd start by comparing a little bit for us your two books: Last Child in the Woods, and then the more recent The Nature Principle.
RL: Last Child in the Woods is subtitled, "saving our children from nature-deficit disorder." That phrase—"nature deficit disorder"—began as a kind of tongue-in-cheek reference. But since the book came out, it's pretty much entered the language. I'm very careful to say that this is not a known medical diagnosis. Perhaps it should be, but it's being taken more seriously as a concept. The second book, The Nature Principle, is about all of us—the struggle that we all have these days to feel fully alive in a technological era.
GB: In the book, you talk about how nature can "boost mental activity, acuity and creativity," and "strengthen human bonds."
RL: I first started looking into this in the late 1980s when I was researching another book, and I wrote a chapter in that book called, The Nature of Childhood. At that point, this was anecdotal evidence about the disconnection between children and nature. Over the next decade or so, two sets of research began to emerge. One was about that disconnect and how drastic it is, and the other involved the study of human behavior and human well-being in general—the impact of the natural world on our ability to learn, our ability to create—our productivity.
GB: And is this research something that can be applied?
RL: I think so. There's a hopeful scenario in which we create new nature-rich environments, new kinds of schools, new kinds of neighborhoods, new kinds of cities. In that nature-rich future, we can make a huge difference in human well-being, in mental health and physical health. Some research suggests that if we bring nature into our built environment we'll actually treat each other better. We need other creatures, we need to be immersed in nature. It's part of who we are.
GB: Could tackling this issue also create jobs?
RL: A new set of careers could emerge in the design and creation of the built environment, and also in education, healthcare, etc. As of 2008, more people in the world live in cities than in the countryside. That's a huge moment in human history. What that means is one of two things: human will become even more alienated from the natural world—or it means the beginning of a new kind of city in which people will be as immersed in nature as they are in technology, every day, where they live, work, learn, and play.
GB: Isn't this happening already?
RL: Yes, here and there. It's happening in Western Europe, in some of the eco-villages that are emerging, and in a few places in the United States and around the world. China also is showing how this can be done. The potential to create nature-rich cities opens up great opportunities for developers, for architects, for landscape designers and landscape architects to provide a new way of life, one that goes beyond sustainability as it's usually defined. A nature-rich city is about more than energy efficiency, which is the bare minimum we need. A nature-rich future is about more than saving energy—it's about producing human energy through biophilic design, by not only conserving nature, but "creating" it, as well.
GB: I read recently that the ratio of farmers in the United States aged 65 and older to those aged
35 and younger is 7 to 1.
RL: In 1893, based on the 1880 census, Frederick Jackson Turner, in his famous thesis, declared that the American frontier was over. A century later, in 1993, based on the 1990 census, the U.S. Census Bureau published what it said would be the last report on the small family farm—because there were so few left. In our history, that moment was as important a demarcation line as the so-called end of the frontier. My generation, the baby boomers, may in fact be the last to have some kind of familial, direct connection to agriculture. Having said that, we're also seeing another counter-trend that's very hopeful, and that's the emergence of organic farming—the whole movement to have food produced close to the cities in which it is consumed. In Detroit, devastated neighborhoods are blooming with community gardens. That doesn't make up for lost jobs, but it does suggest a different potential for urban life.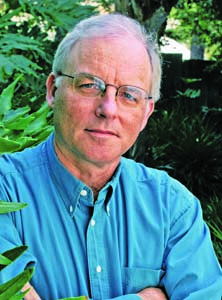 GB: I wonder if there is a corollary we can draw between [nature deficit disorder] and the fact that upward mobility seems to have stalled for the new generation.
RL: Well I think there is. Pediatricians are taking this seriously, because they've seen this coming for some time—they worry that this generation of children will be the first in our history to have a shorter lifespan than their own parents, primarily because of the sedentary lifestyle. We worry about danger and we keep our kids inside, under protective house arrest. That's not to say there's no risk out there, but that in most neighborhoods there is less stranger-danger than we believe there is. If you want to look at a true risk to children, you'll look at childhood obesity.
GB: In Last Child in the Woods, you reported that a young man said he preferred to play indoors instead of outdoors because there are more electrical outlets indoors.
RL: Right. And this has something to do with the design of neighborhoods. I was surprised, after Last Child in the Woods came out, at the response of many developers. I got an email from the president of one of the biggest residential development companies in the country. He said that he had just read my book and was profoundly disturbed by it. He said, "I want to do something about this," and he invited me to Phoenix to a group of about 80 developers and real estate folks. He asked me to give my sermon. I did, and I prepared to run. And then he stood up and said something remarkable: "I want you all to go to small tables, and I want you to solve the problem. How can we create residential communities in the future that actually connect kids and their families to the natural world?" And everybody went to the tables and the room filled with noise—happy noise! Now, this is before the recession hit, but they were excited about this question and how to solve the problem. They saw it as a market opportunity.
GB: Let's hope that kind of passion revives with the U.S. economy.
RL: I believe it will. Developers and builders know that seniors are starting to want hiking trails and nature trails, not just golf courses.
GB: Acquiring good land is always a challenge.
RL: How about if we started redeveloping the decaying ring of the existing older suburbs and all of those redundant shopping centers that are emptying out now? What if we replace those with the kind of eco-villages that emerged in other places in the world—ones that actually have higher human density but more "natural habitat?" What if we did that? Wouldn't our cities be more interesting places—more walkable, healthy places?
GB: For those in the building industry, there tend to be two camps, so the actual opportunity must lie somewhere between hope and despair. I suspect that you lean more towards hope.
RL: Ray Bradbury, whom I interviewed many years ago, was asked if he was an optimist or a pessimist, and he said neither—he was an "optimalist." He wanted to optimize the future. I think it's a false dichotomy between environmentalism and the creation of the built environment. We can look at this as a great opportunity, and again the market surveys show that people want something more than the stucco wastelands they've been given in past decades. They want something better than that. It may be that developments that took over the landscape in the 1970s and 1980s. But nature-rich developments will be marketable, offering opportunities for new jobs—for example, for nature-smart landscapers who specialize in native plants. There's a lot more market for that right now than there was in the past. There's also evidence that biophilic design can produce nature-rich workplaces in which employees are more productive and healther, and schools that improve learning and creativity. Those are other opportunities.
GB: What would you say is the most fundamental thing we can do to move toward a more realistic connection to the natural world?
RL: I think the most fundamental thing is to be very careful about how we talk to kids and ourselves about the future. If you ask most Americans to to conjure up images of a far future, what would that future look like? I think those images would be of a post-apocalyptic future in which nature has been stripped from human beings along with their humanity.
GB: A pretty bleak view.
RL: It doesn't have to be. Martin Luther King, Jr. in many ways demonstrated that any movement, any culture will fail if it cannot paint a picture of a world people will want to go to. As others have said, his speech was not called, "I Have a Nightmare." We're not going to get to sustainability unless we aim higher than that. Architects and builders can lead the way.
GB: Who has inspired you and whom would you suggest that others might look to for the written word—to draw inspiration?
RL: In terms of the built environment, certainly Frederick Law Olmstead. When he designed parks, he thought 40 years ahead. When he planted those small trees, he could see what that park would look like far into the future. That often drove the city mothers and city fathers nuts because they all wanted it to happen instantaneously. He's an inspiration. E.O. Wilson of Harvard is an inspiration. His biophilia hypothesis holds that we are hard-wired, as a species, to have this deep affiliation with the rest of the natural world.
GB: What role does public policy play in the Nature Movement?
RL: I think public policy has to look at a broader range of choices. Many developers want to build nature-rich communities, but we need public policies that encourage them.
GB: Can you leave us with some ideas about what the building industry might do next?
RL: In terms of architecture and built environment, one of the questions we need to ask of green builders is this: Does a neighborhood or development or home or school excite the human senses—or does it act to push the senses downward and inward? Scientists who study the human senses no longer talk about five senses. They talk about, conservatively, as much as 10, and possibly as many as 30. The more we use those senses, the more alive we feel. Shouldn't we create a society that helps our kids and ourselves feel more alive?
---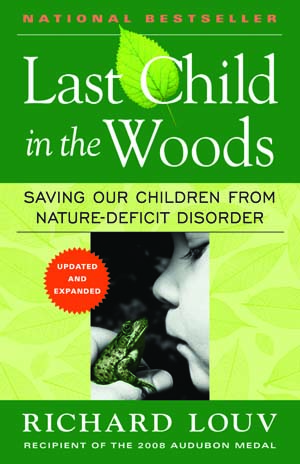 Richard Louv is a journalist and author of eight books about the connections between family, nature and community. His book, The Nature Principle: Human Restoration and the End of Nature Deficit Disorder, offers a new vision of the future in which our lives are as immersed in nature as they are technology. He also wrote Last Child in the Woods: Saving Our Children from Nature Deficit Disorder. He is also chairman emeritus of the Children & Nature Network.
---
© 2017, Green Builder Media. All rights reserved. This article is the exclusive property of Green Builder Media. If you would like to reprint this content, you are free to extract a short excerpt (no more than 1/4th of the total article), as long as you 1. credit the author, and 2. include a live link back to the original post on our site. Please contact a member of our editorial staff if you need more information.