Icynene X-Wall System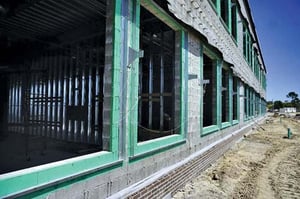 Icynene-Lapolla, manufacturer of high-performance, energy-efficient building envelope solutions, continues the trend with its Icynene X-Wall System, an all-in-one continuous insulation that provides long-term power savings and protects the structure from nature's elements.
Icynene X-Wall is comprised of high performance, closed cell spray polyurethane foam and flashing. Combined with Icynene's ProSeal HFO spray-applied insulation and liquid flashing, the complete system serves as thermal insulation, tightly sealed air barrier, class II vapor retarder and water-resistant barrier.
The X-Wall liquid flashing is a high-quality, gun grade, elastomeric, polyether liquid-applied flashing and detailing membrane. Used for doors and windows, the material bonds to the majority of construction materials including aluminum, brick, concrete, wood, vinyl and exterior gypsum board. Icynene X-Wall meets the International Energy Conservation Code (IECC), which requires continuous insulation in the building envelope in most climate zones.
Icynene X-Wall also helps protect the structure from moisture damage. The system meets stringent ICC criteria for foam plastic insulation to qualify as a Water Resistive Barrier (WRB). The system also offers the spray foam industry's first 15-year thermal warranty.
For more information: www.icynene-lapolla.com