ICC Uses Innovation to Address Future Building Realities
The International Code Council wants codes and standards to help the building industry stay ahead of new technology, trends, and building risk.
When people think about how the International Code Council's building and energy codes work, the word innovative probably doesn't leap to mind. After all, codes are written to be exacting, replicable, and reactive to what's happening in the building universe.
However, working in lockstep with traditional code development is a sector of the Code Council headed by Ryan Colker, vice president of Innovation. His purview includes addressing how the association can be part of new and emerging technologies and practices, particularly regarding resilient housing.
"My title and work are unique," Colker says. "It's about understanding new technology, new practices, new issues, and just seeing things from the internal perspective of whether ICC should be involved and how ICC can help influence issues moving forward."

Tackling Climate Change
Some concepts are harder to square with the Code Council mission than others. Take climate change. "The conversation has been boiling for a while around incorporating climate risk into codes," Colker explains. "We need to recognize that today's risk is not the same as the future. But future risk is not an easily discernible pin on a map that allows us to say this location over the next 20 years will have X percentage increase in flooding," he says.
The Code Council looks to its own expertise as well as others in the United States when considering how to address issues surrounding greenhouse gases and global temperature rise. In addition, the organization partnered with code development organizations from Canada, New Zealand, and Australia to get insight.
"We wanted to know: What are the research needs? What are people thinking about? And move forward on addressing challenges, because we do share some common challenges, such as wildfires and flooding," Colker says. "How do we translate climate models not designed for building decision-making that can inform building designer choices? How much information do they need to adequately address risk?"
The challenge for ICC, then, is to capture changes in a way that is reasonable and fits with the codes process but continues to provide a level of safety that buildings meet current codes. This isn't just for building codes, which provide minimum requirements to protect life-safety in the built environment. It's also an issue squarely impacted by energy codes.
Where Resilience and Sustainability Intersect
As ICC's report "The Important Role of Energy Codes In Achieving Resilience" points out:
Code-based strategies to enhance community resilience must be coordinated across all building codes including energy, plumbing, mechanical, electrical and fire codes. While energy codes have primarily developed to enhance energy efficiency (a resilience goal in and of itself), they also are an important contribution to individual and community resilience in other ways. (See chart below).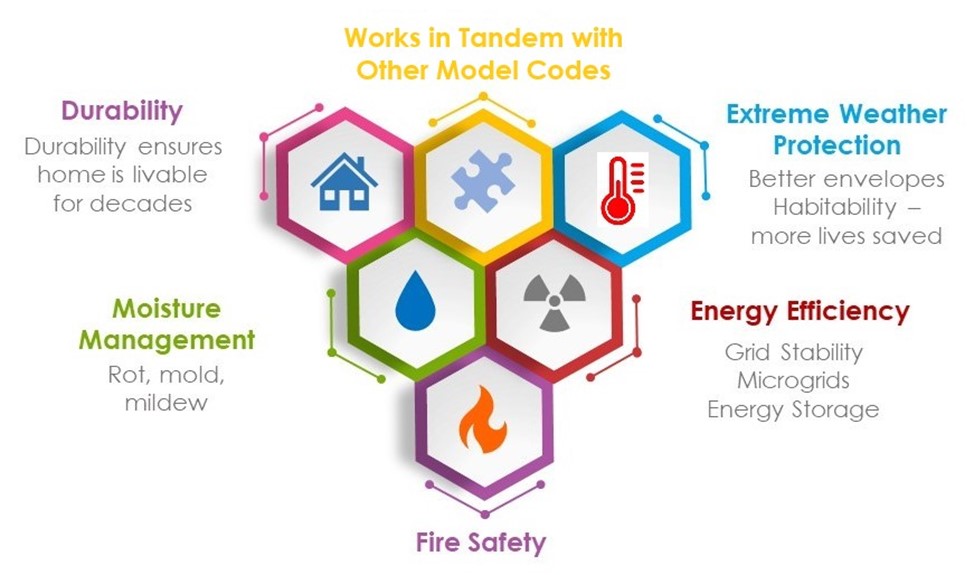 "When you consider the intersection of resilience and sustainability, you're thinking, obviously, about natural hazards and physical danger, but the energy codes impact resilience as well," Colker reminds.
Some examples he provides include extreme heat and cold events, where energy codes could play a role in allowing people to stay in houses if there is a power outage.
"Passive survivability because of insulation requirements means you can be in your house longer at comfortable temperatures if the power goes out. There is no burden on shelters and obviously there is a benefit to being able to stay in your house," Colker says.
The other piece is affordability. "Consider folks living in affordable housing or who have low to moderate incomes, the amount they spend on energy on top of the cost of housing is significant. Higher energy bills perpetuate unaffordability," he notes.
Colker believes that energy efficiency supports social resilience as well as community health. "Reduced energy needs in the community means you have reduced asthma and other health impacts while also reducing the stress of deciding to heat your house or put food on the table. The intersection of energy efficiency and resilience means translating the conversation from just energy efficiency to thinking about how energy codes can cost-effectively support other building performance goals such as debris protection or increased structural rigidity."
Future-Proofing Building Codes
Here are some of the topics Colker highlights as ongoing at ICC, or that will be addressed in the coming years:
Digital delivery of codes. The Code Council will look into enhancing how building codes are delivered digitally as well as how codes interface with BIM.
Incorporating climate risk into building codes. The frequency and intensity of disaster events are changing, and codes need to assure that buildings remain safe in light of these changing risks. ICC is exploring potential pathways to incorporate changing risks within the existing codes and standards process.
New homes and renovation. ICC will explore how codes can expand efforts by builders to enhance resilience through increased homeowner recognition of the benefits and identifying specific opportunities to retrofit existing homes.
Supporting resources for off-site home construction. While off-site construction must comply with the requirements in existing codes, the path forward is not always obvious. Work is under way on new standards and other resources to encourage more systems-built housing. Factory building results in reduced waste and less material damaged from sitting out in the weather. It also promotes social resilience as the factory jobs are safer, boast better lighting, and work is at waist level. All these attributes translate to more opportunities for workers of various ages and abilities.
Zero Energy. Looking at the needs and goals of communities that are leading in net-zero energy building will give the ICC the opportunity to assess what tools or information would be useful. This is particularly important as mayors make climate and renewables commitments that communities, builders, and homeowners must meet.
Wildfire. ICC is continuing to support efforts to enhance resilience in the WUI (wildland-urban interface) through codes and other guidance—particularly addressing both building and community-level requirements.
"We need to recognize all these areas and figure out how the Code Council can support them while remaining, at the core, about safety," Colker says. "This along with the opportunity to take big leaps in energy efficiency and meeting communities' climate goals is our job."