ICC 2021 I-Codes Available for Pre-Order
The new I-Codes are out. Here are the highlights of the biggest changes and two important reasons every jurisdiction should update.
The 2021 edition of the I-Codes includes updates and changes that will impact building professionals in all areas of the industry, from new wind maps to EV charger requirements to the ban of commercial cooking appliances in dwelling units.
As with the cycles before it, this code adds stringency to the building process. Knowing it is a model code, and not a requirement, then, why would a state or locality decide to update to it?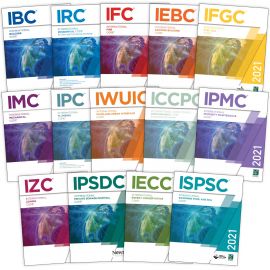 According to Sara Yerkes, Senior Vice President of Government Relations for ICC, there are two important reasons to stay current with codes. "Jurisdictions need to stay current because FEMA (Federal Emergency Management Agency) policies on disaster mitigation want states to be current and because grant funding and other programs require the use of the I-Codes."
In other words, keeping current with codes translates to disaster relief aid approval and potential sources of revenue that can benefit a jurisdiction.
Looking at the recent passage of the Disaster Recovery Reform Act, you can see the writing on the wall. States are being asked to take more responsibility to mitigate the loss of life and property caused by extreme weather events. Data backs this up: A Federal Emergency Management Agency (FEMA) analysis from 2014 estimated that approximately $500 million in annualized loss was avoided in eight southeastern states due to do the adoption of modern building codes.
Yerkes understands the tension that comes with code adoption, but she points out the codes have built-in flexibility. "Remember, these are model codes that are amended to fit geographic or local needs," she says. "I don't know one [state or municipality] that has adopted without amendment. So Florida might consider the wind provisions while California adopts seismic."
Yerkes also points out that some of the new model energy code amendments are being appealed. "The IECC is the most controversial code with home builders because they feel it has become so stringent in its requirements," she says. "You have people on the extremes. Energy advocates on one end and home builders on the other. We get beaten on both sides."
You can get straightforward guidance on how to meet the energy codes using the performance path and more detailed information on code changes and compliance.
The ICC is now accepting pre-orders for the 2021 edition of its International Codes (I-Codes), which will be released in October 2020 and available through ICC.
Below is ICC's 2021 I-Code cheat sheet for code changes for residential and commercial building:
2021 International Residential Code for One- and Two-Family Dwellings (IRC)
This comprehensive code comprises all building, plumbing, mechanical, fuel gas and electrical requirements for one- and two-family dwellings and townhouses up to three stories. The IRC contains many important changes such as:
Braced wall lines must be placed on a physical wall or placed between multiple walls.
Deck design now considers snow load, tributary area for footing and post height, and guard details.
Additional energy efficiency measures are required in addition to the compliance path requirements.
An emergency electrical service disconnect is required in a readily accessible outdoor location.
A surge-protective device (SPD) is now required at the service panel.)
2021 International Energy Conservation Code (IECC)
The IECC addresses energy efficiency on several fronts including cost savings, reduced energy usage, conservation of natural resources and the impact of energy usage on the environment. Key changes include:
IECC, Commercial
Extended requirements for envelope leakage testing and verification.
Structural and efficiency changes to Section C406 expand options.
New provisions for controlled receptacles, electric vehicles (EV) and requirements for EV-ready and EV-capable spaces, and metering.
Elimination of "mandatory" and "prescriptive" language with the addition of new required provisions tables in C407.
Increased lighting efficacy and decreased lighting power density requirements.
A Commercial Zero Code renewable appendix was approved.
IECC, Residential
Increases in energy efficiency can be expected through increased lighting efficacy requirements, decreases in fenestration U-factors, duct tightness testing and an increased SHGC backstop.
Addition of new required additional efficiency package options in R408.
Elimination of "mandatory" and "prescriptive" language with the addition of new required provisions tables in R405 and R406.
Heat recovery ventilation/energy recovery ventilation requirements in northern climate zones 7 and 8 were approved.
A Zero-Energy Appendix based on Energy Rating Index was approved.
2021 International Building Code (IBC)
This code applies to all buildings except detached one- and two-family dwellings and townhouses up to three stories. The 2021 IBC contains many important changes such as:
IBC, Nonstructural:
Puzzle rooms (escape rooms) are now defined and regulated as special amusement areas, requiring compliance with Section 411 and special means of egress requirements.
Where in compliance with the IFC, the distillation and brewing of alcoholic beverages, as well as the storage of beer, distilled spirits and wine, is no longer classified as a Group H occupancy regardless of the alcohol content and quantity of liquid.
For the purposes of determining the allowable number of control areas in a building, each portion separated by one or more fire walls is now considered as a separate building.
Automatic sprinkler protection is now required in Group S-2 open parking garages where any fire area exceeds 48,000 square feet.
IBC, Structural:
Mixed occupancy buildings with assembly spaces are placed in Risk Category III when the total public assembly occupant load is greater than 2500 people.
The 2021 IBC snow map is updated to match ASCE 7-16 snow maps by adding a reference to ASCE 7 snow tables in states with large case study areas.
Frost protection for egress doors has been added to the foundation requirements.
Concealed spaces are now permitted in floors and roof decks for Type IV-HT.
Special inspection requirements have been added to address the anchorage and connection of mass timber structural elements.
2021 International Fire Code (IFC)
The IFC contains regulations to safeguard life and property from fires and explosion hazards. Topics include general precautions, emergency planning and preparedness, fire department access and water supplies, automatic sprinkler systems, fire alarm systems, special hazards, and the storage and use of hazardous materials. Key changes to the IFC include:
Requirements for Additive Manufacturing (3-D Printing) equipment and operations for both non-industrial and industrial applications are now provided.
Flame propagation performance of permanently installed artificial combustible vegetation is required to be verified when exceeding certain heights located on roofs or in close proximity to buildings.
Provisions for emergency responder communication were revised to reflect the expansion of such systems beyond radios and the need for increased performance of such systems.
Sprinkler requirements for the storage, manufacture and sale of upholstered furniture and mattresses were updated and clarified. Part of this update is a new exception for single-story self-storage facilities accessed directly from the exterior.
An automatic sprinkler system is now required for open parking garages exceeding a certain fire area threshold.
A new chapter was added that provides clarification and specific requirements for the storage of distilled spirits and wines in barrels and casks.
2021 International Existing Building Code (IEBC)
Encourages the use and reuse of existing buildings. This code covers repair, alteration, addition and change of occupancy for existing buildings. and historic buildings, while achieving appropriate levels of safety without requiring full compliance with the new construction requirements contained in the other I-Codes. Key changes include:
For storm shelters, the required occupant capacity is now limited to the total occupant load of the classrooms, vocational rooms and offices in the school while the maximum distance of travel has been deleted.
When significant portions of a building's exterior wall coverings or exterior wall envelope are added or replaced, they must comply with the requirements of Chapters 14 and 26 of the IBC.
Snow loads must be addressed during repair of substantial structural damage regardless of whether the damage was a result of snow.
Sprinkler requirements for Level 2 and Level 3 alterations are revised for higher hazard areas.
2021 International Plumbing Code (IPC)
The IPC provides minimum regulations for plumbing facilities and provides for the acceptance of new and innovative products, materials, and systems. In October 2019, the Code Council released an independent study comparing model plumbing codes. To learn more about the IPC's impact on construction, the economy and the environment, read the full report at www.iccsafe.org/IPC.
Important changes in the 2021 IPC include:
Multiple-user toilet facilities to serve all genders are now permitted.
Two new methods for relining/rehabilitation of existing sewers are added.
Accommodations for mounted roof top solar panels over vent terminals is added.
CSA B805/ICC 805 Rainwater Harvesting Systems is allowed as an alternative design method.
Plumbing provisions from ICC A117.1-2017 Standard for Usable and Accessible Buildings and Facilities are now included.
2021 International Fuel Gas Code (IFGC)
Addresses the design and installation of fuel gas systems and gas fired appliances through prescriptive and performance requirements. Key changes include:
The termination of concealed condensate piping requires marking to indicate if it is the primary drain or the secondary drain.
Press-connect joints are acceptable for high pressure (over 5 psig) applications indoors.
Commercial cooking appliances are not allowed within dwelling units.
2021 International Mechanical Code (IMC)
Establishes minimum regulations for mechanical systems using prescriptive and performance-related provisions. The IMC was developed with broad-based principles that make possible the use of new materials, methods and design. Important changes in the edition include:
Clothes dryer exhaust terminals required to be at least 3 feet from any opening into a building.
Fire and smoke dampers must be provided with approved access for inspection and maintenance.
30% reduction in minimum mechanical ventilation for whole-house balanced ventilation systems.
Continuous operation requirement for manicure and pedicure station exhaust systems.
Grease duct horizontal cleanout required within 3 feet of a horizontal discharge fan.
Click here to order the ICC 2021 I-Code.