IT'S NOT A NEW CONCEPT, but the evidence is increasingly uncontestable. The weight of humanity is tearing apart Earth's biological infrastructure. A new study by Arjen Hoekstra, professor of Water Management at the University of Twente in the Netherlands, (co-authored by Thomas Wiedmann) applies complex scientific tools to measure how humans are affecting Earth's land, water and raw materials and climate. The conclusion. There's a disconnect between what people buy, how it's made, and any meaningful moves toward sustainable commerce and lifestyles.
Hoekstra argues that the path to a sustainable future will require rethinking global supply chains, in tandem with changing how people view the goods they consume.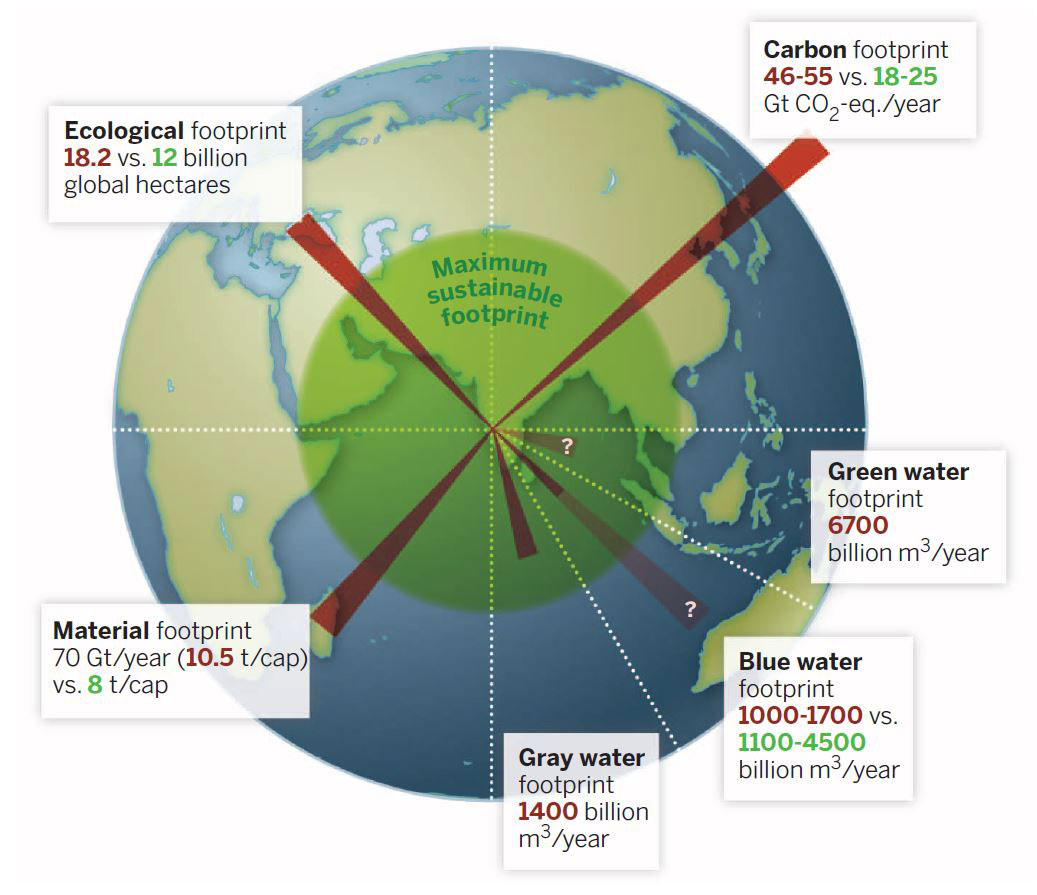 Beyond the Limits. The inner green shaded circle represents the maximum sustainable footprint. Red bars (and red numbers) represent estimates of the current level of each global footprint.
"The various players have divergent interests and take too little responsibility," Hoekstra notes. "Consumers do not feel responsible for what producers do and politicians focus too much on growth, exports and cheap imports. For example, who feels responsible for the distress caused when we deplete the resources in China because of cheap imports? If you buy a stolen bicycle, you are liable to punishment and individually responsible. But isn't the consumption of products that are not produced sustainably also irresponsible behaviour?"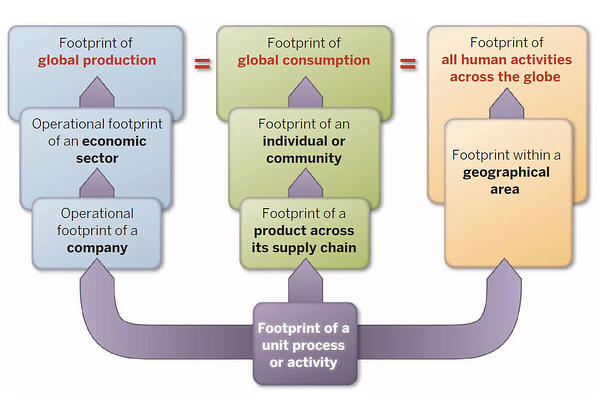 Big Feet.The footprint of global production is equal to the footprint of global consumption. Both equal the sum of the footprints of all human activities across the globe.
The authors argue that corporations and government must look much more closely at the overall supply chain and environmental price of using up resources. As for consumers:
"Footprints per capita are determined by two factors: consumption pattern and intensity of natural resource use or waste generation per unit of product consumed Consumers can influence the latter by buying products with high eco-efficiency (low footprint), but often this is hampered by a lack of product information.
"Usually, the only relevant type of information refers to the energy efficiency and sometimes the water efficiency of products," the report continues. "Consumers can also reduce their footprint by changing their consumption behavior. Measures that have the potential to contribute most to the reduction of the environmental footprint—at least in industrialized countries—include replacing animal with crop products, reducing food and other waste, saving energy at home and in transport, and buying second-hand, recycled products and low-footprint, dematerialized "services" rather than primary-material–based goods. However, such behavioral changes are difficult to achieve in reality because of social constraints and lock-ins. Another problem is that improvements in resource efficiency often do not result in the expected saving, since they allow overall consumption levels to increase—the socalled rebound effect. Profound, effective, socially accepted, and long-lasting changes as required for a truly sustainable transition have yet to occur."
For other possible solutions to the world's sustainability crises, take a look at Green Builder media's Celestia Project, a year-long look at how humanity can address resource use, transportation and other pressing issues over the next century. Also, check out author Bill McKibben's latest efforts to curb Climate Change.
Download the complete article on Humanity's Global Footprint HERE.