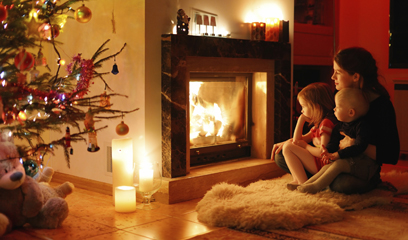 When the power goes out this winter, don't panic. With a little planning, you can stay warm and keep pipes from freezing.
Fireplace or Wood Stove
A wood fireplace or wood stove is a great way of heating your home when you have no electricity, many people maximize their use of fireplaces during the colder months while minimizing the use of heaters and furnaces. This saves energy and money while providing effective heating. For an open hearth fireplace, however, make sure you install glass fireplace doors (Schott makes some) Otherwise that hearth will waste energy whenever the fireplace is not in use. If you go with a woodstove, get a cleaner burning model with a fresh air intake.
Pellet Stove
You may be wondering if a pellet stove will also do the job. That depends. Many pellet stoves require electricity to power ventilating fans for proper combustion. Operating one of these without power can have disastrous results. The same is true of coal-fired stoves. Make sure your model is one that can burn without any electrical assistance if you plan to use it during power outages.
Properly Seal Windows and Doors
Leaky windows and doors let cold air in and warm air out. Therefore, it's important to properly air seal your home. The easiest way to detect drafts is by hand – you can feel for cool spots around door and window openings. Or better still, get an energy audit to find out exactly where the leaks are occurring and how to best seal them. For sealing, use products such as insulating foam sealant to fill big cracks and caulk with a low VOC caulk that won't pollute indoor air..
Maximize Nature's Warmth
Strategic use of sun, and placement of trees and shrubs can go a long way in keeping your home warm when it's cold outside.
Place a row of evergreen trees to shield your home from harsh winter winds.
Plant shrubs and bushes around the perimeter of your home, around one foot from walls to act as an insulator in winter.

Shrubs can help trap snow and reduce drifts when placed along the windiest side of your home.

Use dense windbreaks to protect your home from cold winter winds.
Ensure the winter sun reaches south-facing windows.

Try and make sure you get as much sun in the house as possible during daylight hours.

Close drapes in the evening to keep heat in.
Shut the Door!
The closed door might seem like an obvious way to keep the heat in, but make sure your doors are fully latched and closed, and apply weatherstripping to keep out drafts. This can be a simple yet powerful step to help keep your home warm when every btu counts!
Install Eco-Friendly Carpeting
Rugs and carpeting work as insulation to trap heat in rooms. Liberal use of area rugs and carpeting in larger rooms can help keep rooms warm without necessarily using a heating source. The problem with carpets, however, is that their production is very hard on the environment. In fact, they are the major source of greenhouse gas pollution in most homes. Opt for natural carpets made from wool or a natural fiber sisal rug, rather than synthetic "wall-to-wall" products. Beware especially of rubberized base layers. These release toxic VOCs indoors and are a huge burden on our environment.
Lighting (when your furnace dies)
If you have electricity but your furnace is not working for some reason, you can get some warmth from your electronics (assuming you don't have an electric heater at hand). Traditional incandescent light bulbs might not be as energy efficient as their compact fluorescent or LED counterparts, but if you're trying to warm your home without a heater, then turning on those old-fashioned lights does help. Candles will also create light that emits heat, .Be careful with using candles in enclosed spaces, however. They are anything but clean burning.
Cook More!
This is one of the most effective ways to warm your home! Your gas stove and oven generate lots of heat; take advantage of this to cook great meals, bake wonderful desserts and make your kitchen the warmest room in the house! A bonus is that with all the warmth and great food in the kitchen, family and friends will gather there and you'll get to spend more quality time with them!
Editor's Note: We'd be remiss not to point out that there are many types of highly reliable generator systems designed specifically to keep your home's systems running even during long power outages. For example, the Generac Guardian Generator runs on either natural gas or propane, and automatically takes over when your normal power source goes down.
---
This content was originally published by the Residential Energy Services Network (RESNET) here, The editors of Green Builder have added important caveats and building science details to the text. This content has been republished with the permission of RESNET. RESNET is the independent, national nonprofit organization that homeowners trust to improve home energy efficiency and realize substantial savings on their utility bills. RESNET's industry-leading standards are recognized by the U.S. Department of Energy and the U.S. Environmental Protection Agency, among others.