Changing habits such as purchasing plastic water bottles while you travel can help the planet and your conscience.
TRAVELING CAN BE STRESSFUL. Remembering every item you need while away for work or vacation takes some planning. But being more eco-friendly when you travel doesn't have to be difficult. A few years ago I made a commitment to limit my purchase of plastic water bottles and here's how I was successful.

The most important part of making any change is that you have to care. I travel a lot so when I first started thinking about how many bottles of water I buy at the airport or when I'm on a trip, it concerned me. I began looking for solutions that would work with my lifestyle and with the security measures put in place at the airport.

I found two water bottles I cannot live without when I travel.Ok, I don't need BOTH, but I always have one at my side, depending on the type of trip and how lightly I have to pack.
1. Vapur Reflex
The first Vapur water bottle I received was from an Opportunity Green conference in Los Angeles. I was in love after using it for a week.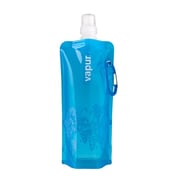 It's lightweight so it doesn't add to your carry on luggage and fits into a small purse. It rolls up when it's empty. The cap is very secure and I've never had a problem with it leaking. It's BPA free and made in the USA.
I keep it empty in my purse or computer bag and once I get through security I find a refillable water station (SEATAC has them and they are awesome), a water fountain, or I ask the friendly Starbucks people to fill it up for me and I'm on my way. While people are waiting for the beverage service to begin in flight, I just pull out my Vapur.
2. Klean Kanteen
If you're looking for something that will keep a beverage hot while it sits in your rental car or for something to keep it cold while you're spending the day at the beach then keep reading.
The Klean Kanteen was originally invented back in 2002 before all the BPA scares really started coming out in the media. The company not only has a strong commitment to sustainability, they also designed a very cool product.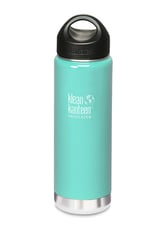 The Vacuum Insulated Klean Kanteen contains no BPA, phthalates, lead, or other toxins and is made from 18/8 food-grade stainless steel. It keeps ice water icy cold for HOURS.
My first experience with this was when I left my Klean Kanteen full of ice water in my car at work. It was probably about 75 degrees outside and my car was in direct sunlight all day long. After about seven hours I got back into my car, opened my Klean Kanteen and found I still had cold water with lots of ice.
They can also keep beverages hot for six hours, fit in a cup holder (always a plus) and come in different colors and a couple sizes. My Klean Kanteen gets packed into my suitcase (stuffed with socks, jewelry, etc.) and gets used when I arrive at my destination.
Being more eco-friendly when you travel doesn't have to be rocket science and it doesn't have to break the bank. Making a choice to do something good will not only benefit you, but also the planet.