Guns don't have a lot to do with green building, but gun safety has everything to do with sustainable living.

We once again find ourselves seeking answers following yet another savage and tragic attack, this time at Parkland High School in Florida.

The clearest voices are the voices of the young people who witnessed this massacre. Even through their tears, they are clearly demanding that adults take action. They are shaming us to act. They are insisting that we act. That we show, as a people, that we love our children more than our guns.

In the past, these conversations seemed so easily complicated and frustrating, but there seems to be a greater clarity coming to us now through the voices and tears of children — stand up to the NRA and protect America's children.

We have a gun violence problem unlike anywhere else in the developed world. 91 percent of children struck or killed by gunfire in developed nations are in the U.S—and last year, we had the highest number in history. Again. We cannot forget the unique history that brought us here, but we must apply critical reasoning and common sense to our response.

We're talking about saving our children's lives. We're smart enough to figure out how to do it and shame on us if we don't even try.

First, most immediately, states should ban combat assault weapons like AR-15s, which were used in Newtown, San Bernardino, Las Vegas, Sutherland Springs and this week in Parkland, and which no responsible gun owner needs. And then we can do more than that.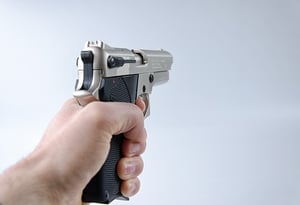 Consider if unregistered cars and unlicensed drivers were killing football stadiums full of Americans every year. Our leaders at the state and federal level would do something about it.
I believe guns should be registered like cars, gun owners should be licensed, just like car, truck and motorcycle drivers, and ammunition should be taxed like cigarettes.
No state restricts freedom of movement, but every state requires cars to be registered, and drivers to be licensed. The same safeguards should be put in place to prevent our children, neighbors, family and friends from being murdered by guns.
And if every state can tax cigarettes to reduce smoking, why not tax ammunition the same way so there is less of it? The time to enact these types of change is now and states are the places where this can happen.
You've already heard the response from the NRA and its bidders in our government: It won't work. Really? How do you know it won't save a life?
It restricts our rights! How does registration and licensing restrict the Second Amendment? It doesn't.
These are nonsense arguments bought and paid for by millions of dollars in campaign contributions from the NRA.
In 2018, 36 states have gubernatorial elections. Since we can't find solutions to gun violence from Congress and the White House, people should demand more from the servant leaders they elect to govern their states. People need to insist that their state lawmakers take action to protect their kids.
My experience as Governor of Maryland illustrates how this can be done.
In 2013, after the horrific massacre at Sandy Hook Elementary School in Newtown, Connecticut, I made passing comprehensive gun safety laws my No. 1 priority as governor. In Maryland, despite the concerted attacks of the gun lobby and the NRA, we banned combat assault rifles like the AR-15, required a license to buy a gun, required training to operate a gun, required registration, and banned the sale of ammunition clips with more than ten rounds. Politically, this was not easy, but we did it as a state and other states can feasibly do the same.
In addition, law enforcement must be empowered to uphold these safeguards. It is a fact that possessing marijuana can be a felony under federal law; outrageously, trafficking guns is not. We must shut down the pipeline of illegal guns that flow between states. We should establish strong federal penalties for gun traffickers. We need to revoke the licenses of dealers whose guns routinely end up in the hands of criminals. The stakes that necessitate these changes have never been higher.
As we grieve the 18 school shootings and seemingly innumerable mass shootings this year, let us also remember that change is possible. Gun violence can be stopped. States have the unique opportunity to do so now.
---
Martin O'Malley is the former Governor of Maryland and the Chair of Win Back Your State PAC.