Most high-end homes can be prepared for residents with special needs—making them more suitable for lifelong occupancy.
One of the many advantages to building your perfect home is that you can customize it according to your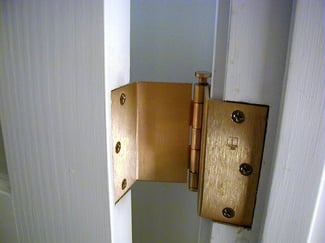 needs. This can be especially beneficial for families that need to accommodate a member with special needs. A luxury home builder can help you to incorporate accessibility features into the design from the very beginning, ensuring it is comfortable for the whole family. In addition, when the home is sold, subdivided or passed on to a family member, it will include features that make it ADAPTIVE. In other words, it will require less remodeling and demolition—an environmental win.
▪ Offset Hinges
When you open a standard door, its edge will still block a small portion of the doorway. It doesn't seem like much of a problem until you try getting through in a wheelchair. Offset hinges will allow the door to swing completely clear of the doorway, ensuring that there is plenty of room for a wheelchair to pass through unobstructed.
▪ Flooring
Keep in mind that it is more difficult to push a wheelchair across carpet than it is a hard surface (such as tile, timber and composites). You should consider these surfaces to ensure that easy access is provided. If you have opted for tiles, it's also a good idea to use larger ones; wheelchairs are known to track in dirt, so large tiles mean less grout to clean.
▪ Thresholds
Most people place a transition strip between rooms when different types of flooring are used. Whilst it is quite easy to step over these thresholds without paying them much mind, they can pose a problem for wheelchairs. Ask your home builder to create seamless transitions between rooms to eliminate this problem.
▪ Bathrooms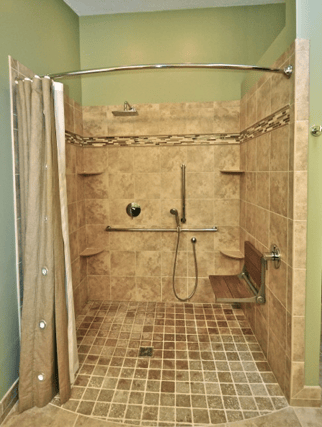 At least one of the bathrooms in the home should be large enough for a wheelchair to easily navigate. This means that extra space will be required for accessing the toilet, sink and shower – and there will need to be enough space to turn around. If you are able to incorporate this design in every bathroom, we definitely recommend that you do so.
▪ Roll-in Shower
Even if your special needs family member does have some mobility, transferring from a wheelchair to a standard bathtub or shower can still be difficult. Roll-in showers, on the other hand, use gentle slopes and 1- to 2-cm-tall soft rubber barriers on the floor to keep the water in the stall whilst allowing ample wheelchair access.
While we have mostly covered alterations that would suit a wheelchair, mobility scooter or walking frame, it is important to note that luxury home builders can also assist with other special needs (from visual impairment to autism). By simply making your builder aware of your specific needs, they can recommend a range of design solutions that will make life much easier.
Anthony Fee works for EvenWedge, a custom builder in Melbourne, Australia. www.evenwedgehomes.com.au/luxury-home-builders