From sightline rules about solar panels to preservation of antique windows, historic district watchdogs do measurable harm and negligible good.
Portland, Maine is a great city, for some.
Known for its food, working waterfront, and to a lesser degree, historic buildings, it's a place many people would like to retire. But hand in hand with these pleasant daguerrotype fantasies, are the challenges. Perhaps Portland has always been two cities: the affluent one and the other one--Halfway houses number well into the double digits. Shuffling heroin addicts roam the streets, and public alcoholism often ends in a collapse on the sidewalk. But on the East and West Ends of the peninsula, where many of the oldest homes are, cash-rich newcomers have clashed with entrenched residents. Teardowns are causing an uproar. People are afraid the city will be "Bostonized."

In these more affluent areas, most of the new homes causing such a stir are Net Zero or better, creating far less greenhouse gases than their 100-year-old counterparts.
Yet, resistance to this critical shift in priorities has an ally: Portland's Historic Preservation Office. The keepers of Portland's aging housing stock bring efficiency improvements down to a horse and buggy pace.
Screw the View

A couple of years ago, I put 26 solar panels on my three story, flat roofed building in Portland. At the time, because I live on the fringe of a historic district, I had to design my system so that no passer by, craning her neck, might look up 60 feet and catch a glimpse of my panels, ruining the experience of walking down my street.
But solar panels are just one area where Historic Preservation's rules make efficiency harder. The City of Portland created the Historic Preservation Office back in 2000, but unfortunately, energy efficiency and greenhouse gas reduction are not part of that organization's mission. In my opinion, that makes the Office now only obsolete, but an environmental hazard.
This office argues that "preserving historic resources stabilizes neighborhoods and makes economic sense." They take credit for the rebuilding of certain neighborhoods that have fewer derelict properties than they used to. But if you look closely at Portland's ongoing gentrification, it's happening across the board, in both designated historic districts and plain old neighborhoods, which are less gentrified.
Efficiency for the Entitled
Preservation fans will argue that a building can have a complete, historic-compliant facelift, using modern, energy efficient materials. That's often true. If you own an old building, you can pay tens of thousands to have custom "old fashioned" windows made that will look like something from the age before vaccines. But most people don't have that kind of money. So instead your building stays cold, wasting fuel every year.
I've spoken repeatedly to Rob Wiener, at Portland's Historic Preservation Office. He recognizes the irony and the challenges of prescribing historic standards in the face of modern technology. But he's still out there enforcing the sometimes arbitrary "rules" of his office. Those standards are extremely vague, and at the same time far reaching. The Office, for example, is supposed to discourage "alterations that have no historical basis or create a false sense of historical development such as adding conjectural features or elements from other properties."
In other words, if a building is boring, badly built and leaks energy like a sieve, don't try to make it look modern, interesting and cool.
Historic folks have just enough aversion to new technology to be dangerous. Often, the suggested "solution" is to erect some kind of trellis, box or fence to hide the offending device. But the moment you box a mini-split compressor of any size, you reduce its efficiency.
You can follow the anti-green impacts of historic standards all the way down to fencing. Wooden fences, often preferred by historic, may be attractive, but they're neither as durable as chain link or composite materials. Yet try getting a chain link fence permitted. Even pressure treated wood fences typically have an expected lifespan only in the 10-year range. Historic will likely want the fence to be painted or stained a certain color. Combine the embodied energy of regular repainting with the short-lived nature and embodied energy of CCA-treated wood. You've created a temporary solution with burdensome environmental impacts. Treated wood is a hazardous waste. You can't grind it for mulch when it's thrown "away."
Let's drill down on doors and windows. I'd love to replace my drafty exterior front door, but it's a custom size, and a custom style, and would cost a fortune to have made to Historic standards, yet still , and at the same time be energy efficient. So the old one remains. The same is true of windows. Because replacement that complies with Historic preconceptions is so pricey, most people do nothing, or resort to low-budget, temporary alternatives. About a year ago, I spent a weekend helping build temporary inserts for hundreds of Portland homes. These will be "hidden" inside drafty buildings unlikely enough to fall under the shadow of historic significance.
Arbitrary Irrelevance
But if diminished building efficiency is the number one argument against Historic Preservation rules, number two is the arbitrary and inconsistent nature of the rules.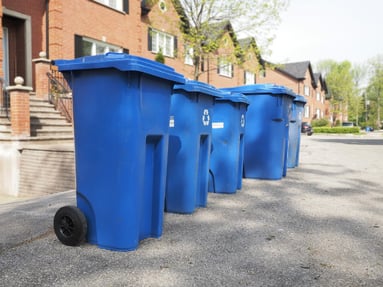 I've had Wiener call me about moving a small "Private" sign that's somehow not appropriate, when, during a five minute walk around my hood, I can find a half-dozen signs of all shapes and sizes, with varying messages. And I've jumped through hoops for him to "raise" fence two inches, when I'm surrounded by homes with non-compliant chainlink fences, not to mention derelict alleys full of hypodermic needles.
But common sense often has no apparent bearing on the standards of Historic Preservation. Take the case of the ORCAS, as I like to call them
Last year, the City gifted us with thousands of gigantic blue recycling bins. In fact they ordered hundreds too many!
I had to laugh out loud when these monstrosities arrived. Every carefully restored brick facade and inch-specific fence is now overshadowed by an army of plastic blue Orcas.
"Yeah, we really should have been out in front of that," Wiener told me. "Yeah, you should have," I said. "It kind of makes everything else your office does irrelevant."
Leaky Envelopes and Shoddy Work
With Historic breathing down the neck of any would-be remodeler, what's the natural reaction for anyone without deep pockets? Avoid anything visible from the street. Avoid pulling a permit at all. So not only does building efficiency suffer, work may be completed by unqualified people who create fire hazards or potential plumbing problems.
I like history. Or I used to, until I began to deal regularly with people who want history to be static, predictable and marketable. That's really what this is all about--or was, when the Historic Preservation Office was created almost 30 years ago. Portland's desirability was seen to be linked to the perception of it as a historic city. But most of the City has been burned to the ground three times and rebuilt almost from scratch. Can you imagine if it hadn't? We'd be burrowing leaky tunnels underneath Commercial Street today, so that rich German tourists could snap selfies in the ruins of Fort Loyal (the original fort, which was located near the Ferry Terminal).
We need to re-examine why we have a Historic Preservation Office. Tourism and Marketability are no longer relevant reason. If anything, we already host far more tourists than we can sustaind. For God's sake, we don't even have public toilets. That's a sure sign of a city where private businesses profit from tourism, not residents. The City is so popular, Millennials can't afford to rent here without bunking down with roommates. And greedy landlords keep "upgrading" apartments to suit high-end clientele from away.
Rather than a Historic Preservation Office, we need a Planetary Preservation Office, where the standard for every permit and remodeling job is whether it raises the energy efficiency and durability bar of a structure. I see no reason Rob Wiener can't change the sign on his door and take on a new mission.
The past is inescapable. But we don't need to drag it along like an anchor.