Each February, Green Builder Media's editorial team releases our Hot 50 list, comprised of the greenest, most resource efficient, and advanced building products available on the market today.
This year, our Hot 50 selections include a gamut of products that are making a big difference in the built environment, creating more efficient, resilient, beautiful, and sustainable structures.
Not surprisingly, Connected Home technologies stole the show this year, represented by a wide spectrum of intelligent controls and whole-home automation systems, such as Honeywell's Lyric Thermostat with geo-fencing functionality (so that your house recognizes when you're on the way home and triggers certain preferred settings), Carrier's Côr Smart Thermostat with reporting functionality for easy energy optimization, and integrated heating, cooling, and water heating controls from Bosch Thermotechnology and Rheem. Uponor's Climate Control Zoning System enables a homeowner to remotely view settings and adjust room temperatures.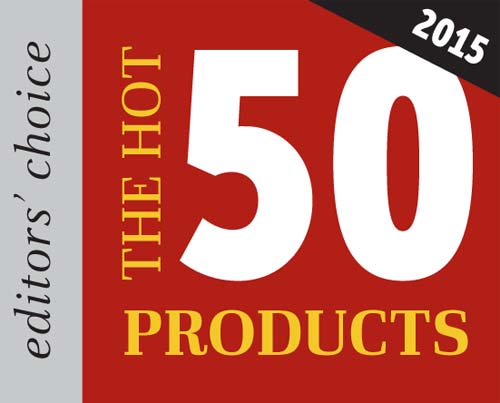 Other Smart Home technologies include Schlage's Sense Bluetooth-enabled lock, the harbinger of the Keyless Era, and trutankless' intelligent water heaters, designed like our smartphones to automatically receive software downloads that improve product efficiency. These smart water heaters can also proactively alert homeowners when a malfunction is about to occur.
We couldn't resist RavenBrick's Smart Window with its thermo-chromatic filter technology that automatically controls the amount of light, heat, and glare that passes through the glass (no electricity needed!), saving up to 30% on annual heating and cooling.
Innovation in the solar sector was represented by SMA America's lightweight and highly efficient residential photovoltaic Sunny Boy inverters and Grundfos' SQ Flex solar powered pumps.
Nexus eWater made the list as well, with its dual greywater recycling and heat recovery system. The system uses recovered heat from greywater (from showers, sinks, and washing machines) to heat potable water (saving up to 3,000 killowatt-hours annually!), and then purifies the greywater for reuse in landscaping and outdoor applications.
As always, the appliance category features some stunning examples of sustainability, including Whirlpool's HybridCare dryer, which repurposes energy created during the drying cycle to reduce energy use and mitigate moisture.
Kohler's Sensate Touchless Faucet was a no-brainer for us. As an owner of one myself, I can attest that the Sensate is the mother lode of all faucets—it swivels, extends, streams and sprays, and turns on and off all with the wave of a hand.
After moving into an existing house (and undertaking the always-daunting task of remodeling) with unvented ventilation fans (yes, an ironic paradox that shows the original homeowner's ignorance of healthy indoor air quality!), I have a personal affinity towards Panasonic's wide selection of ultra-quiet and energy efficient WhisperGreen vent fans, replete with motion sensors, automatic air exchange settings, and LED lights.
Living walls by Z Living Systems stole our hearts—who can resist the opportunity to incorporate a little nature into our cities and structures? Vertical gardens not only provide fresh flowers and edibles as well as visual delights, they also help to reduce that irascible heat island effect (the buildup of excessive heat from hard, impervious surfaces in the urban concrete jungle.)
BASF and Owens Corning topped the list this year with their super energy efficient, insulating wall systems that serve as air, moisture, and noise barriers—building scientist approved!
Westech was selected for its innovative decking made from rice husks (a pesky byproduct of the milling process—Asia alone produces 770 million tons of husk annually), salt, and mineral oil. While the decking looks like wood, it is weather resistant and won't crack or splinter—great for those bare feet in summertime.
There are also some extraordinary insulation, air sealing, house wrap, water heating and HVAC selections from companies including Kimberly-Clark, Huber, Icynene, Noritz, and Trane that dramatically increase performance and reduce energy use.
On the flooring front, Lauzon's Pure Genius flooring was the belle of the ball with its unique ability to filter the air—its titanium dioxide finish reacts with light to breakdown VOCs and other airborne toxins. Mohawk's SmartStrand Forever Clean carpet made with renewable plant-based materials is always an old faithful for us because of its durability and patented stain-resistant formula that enables a homeowner to clean the carpet with water as opposed to harsh chemical products.
With so many innovative, game changing products to choose from in the marketplace, narrowing down the vast pool of candidates to only 50 always presents a quandary for our team. However, we think that this year's list accurately represents the ever-increasing convergence between sustainability, connectivity, and durability. To read more about our Hot 50 products, go to http://www.greenbuildermedia.com/hot502015.
Got a groundbreaking product that we should consider for the Hot 50 list next year? Write to me at sara.gutterman@greenbuildermedia.com or follow me on Twitter or Facebook.
For more information about green building and sustainable living, visit Green Builder Media at www.greenbuildermedia.com, like us on Facebook, and follow us on Twitter for regular updates and breaking news.