Honorable Mention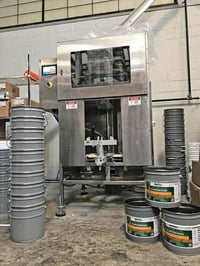 DriTac Flooring Products
Operating under the motto "It's easy being green," DriTac Flooring Products, LLC offers a full lineup of environmentally friendly adhesives, underlayments and other installation products for the flooring industry. The Clifton, N.J., and City of Commerce, Calif.-based company also specifically and selectively sources high-quality raw materials for use in designing, developing and manufacturing every eco-friendly product formula, a corporate mission statement since it began serving the flooring adhesive industry several decades ago.
The manufacturing process for several of DriTac's products relies upon use of renewable and sustainable raw materials. The company actively works with architects, builders and developers to address the well-being of the environment.
To reduce the overall carbon footprint of installations, DriTac offers a line of zero-VOC, zero-solvent and independently tested products that have been certified by the Carpet and Rug Institute's Green Label Plus Program for Indoor Air Quality.
DriTac manufactures its adhesive products in direct compliance with all mandated regulations and requirements at the federal, state and local levels. This includes working directly and proactively with the Occupational Safety and Health Administration (OSHA) and the New Jersey Department of Environmental Protection (NJDEP).
Greyter Water Systems
Utilizing a philosophy of "Reused water is smart water," Greyter Water Systems specializes in providing H₂O recycling solutions that help builders, developers and municipalities create water-efficient communities. Headquartered in Toronto, the company plans to open a U.S. facility in Sydney, Neb., in 2019.
The company's residential flagship product, the Greyter HOME, is billed as the first out-of-the-box household greywater system. The unit recycles shower and bath water for flushing toilets or irrigation, and ultimately cuts indoor water consumption by about 25 percent. The system meets NSF 350 standards.
Greyter's efforts to boost water conservation has helped preserve resources in water-stressed regions—those with water scarcity or access issues. It also results in reduced water demand and treatment loads on aging infrastructures, and generates savings for water treatment facilities due to less water to supply and treat.
Within its own practices, Greyter uses tanks made from recycled plastic and a regenerated activated carbon for its final polish.
Newland
Newland Communities is a geographically diverse private developer of planned communities in the United States. The company specializes in comprehensive residential and urban mixed-use master planning, with expertise in large-scale single-family and multi-family new home communities. Newland's projects are tailored to meet the National Green Building Standard (NGBS), a certification that addresses green components such as energy efficiency, air and water quality, water conservation and site design. Headquartered in San Diego, Newland and its affiliated companies are currently developing and managing nearly 30 projects in 13 states.
Newland's sustainability program identifies and shares best practices across its communities nationally, as well as track and continuously improve upon progress towards its sustainability goals.
Other sustainability efforts include preservation of open space, unique environmental features and historical sites; support of reforestation and habitat creations; and incorporating stormwater best practices and energy efficiency certification programs into residential and commercial design guidelines.
The company also engages with local communities on education and information on best sustainability practices.
NV Energy
NV Energy is a public utility that generates, transmits and distributes electric service in northern and southern Nevada. The Las Vegas-based company services more than 1.2 million customers and a state tourist population of more than 43 million annually, and also provides natural gas to more than 165,000 citizens in the Reno-Sparks area.
In 2016, NV Energy unveiled its PowerShift website to help consumers find ways to save on their bills. Customers can use the site for information about rebates on air conditioning, smart thermostats and energy-efficient lighting.
NV Energy offers a Free Smart Thermostat program, which can save homeowners up to $100 on home energy per year. The mobile app allows users to access their thermostat remotely.
The company's PowerShift energy advisors make house calls when they visit a home to inspect lighting, insulation levels, seals around doors and windows and more. The resulting customized assessments help customers to learn inexpensive ways to increase energy efficiency, save money and potentially receive free energy-saving products.
Between 2005 and 2015, NV Energy helped Nevada triple its in-state renewable production and reduce carbon emission in the electricity sector by 44 percent. That means more clean energy with nearly 50 projects statewide—enough renewable energy to power more than 1 million homes at once.
Owens Corning
Owens Corning develops, manufactures and markets insulation, roofing and fiberglass composites that save energy, and improve comfort in residential and commercial buildings. The company's glass reinforcements business makes thousands of products lighter, stronger and more durable. The Toledo, Ohio-based manufacturer employs 19,000 people in 37 countries and has been a Fortune 500 company for 63 consecutive years.
Owens Corning has exceeded its 2020 environmental footprint reduction goals in primary energy, water and fine particulate, and is on track to meet target numbers for reductions in greenhouse gas and toxic air emissions.
In 2015, the company entered into Power Purchase Agreements that enabled generation of new wind capacities in Texas and Oklahoma. Both wind farms came online in late 2016, generating 1.1 million megawatt hours of electricity per year.
The company's EcoTouch and Thermafiber insulation products are certified by SCS Global Services as being made with 100 percent wind-powered electricity. Thermafiber is also North America's first formaldehyde-free mineral wool insulation.
Wells Fargo
Wells Fargo & Company is a diversified financial services company with ties to the green building industry. The San Francisco-based company recently pledged $200 billion in financing to sustainable businesses and projects by 2030, with more than 50 percent focused on clean technology and renewable energy transactions.

In 2015, the U.S. Green Building Council recognized Wells Fargo as the green building leader among financial institutions for its implementation of Leadership in Energy and Environmental Design (LEED) standards, the last time it made such a designation.
As of the end of 2017, 28 percent of the institution's total square footage in leased and owned buildings—more than 30 million square feet—was LEED certified. The company is on track to meet its goal of earning LEED certification across 35 percent of its footprint by 2020.
In 2017, Wells Fargo received its first WELL Building Standard certification for a 28,000-square-foot floor in San Francisco. WELL is an international building certification that focuses on the health and well-being of buildings and building occupants. The project was one of the first 50 WELL-certified projects in the world, and one of only 20 silver-certified projects completed globally to date.