No one quite knows what the future will bring in these strange and unsettled times, but after talking with economists, building professionals, and manufacturers, I offer some insights into how the Coronavirus may impact the homebuilding sector.
There is nothing normal about this moment in time, and the Coronavirus has only just begun changing the rhythm of our lives.
It's unclear how extensively the Coronavirus will impact the economy. Most economists agree that we're heading for a recession. Some project a "short but sharp" event, with a steep tumble in 2Q20 and a quick rebound in subsequent quarters. Others forecast a longer downturn, with more dramatic impacts felt throughout the rest of the year.
Previous pandemics have put the housing market on pause (if homebuyers aren't actively viewing homes, they likely aren't buying), but they haven't necessarily forced a decrease in home values or pricing.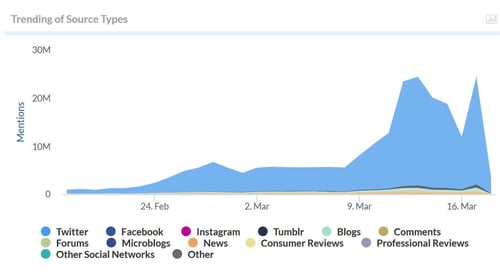 The Coronavirus is the first pandemic to unfold online. According to COGNITION Smart Data, there have been over 1 billion posts about Coronavirus (compared to 52 million for SARS). People are looking for practical information and how the pandemic will affect their local communities.
In this way, the housing market has proven to be somewhat resilient to pandemics. In fact, the real estate market has even benefited from past pandemics—when the stock market is suffering, investors look for safer places to put their money, like bonds and real estate.
Prior to the Coronavirus outbreak, the housing market was expected to be vibrant in 2020: while housing supply is short, demand has been high due to low unemployment, solid wage growth, low mortgage rates, and high property confidence.
And even considering the impact of the pandemic, indicators show that opportunistic buyers still have the savings to take advantage of low interest rates—that is, if they have the appetite (it is important to note that home prices are near an all-time high nationwide, which might price some buyers out of the market if it's a long recession.)
Interestingly, while there has been a marked drop in in-person homebuying inquiries over the past two weeks, online interest has increased dramatically—especially since mortgage rates dropped to 3.7%.
But even with the increased online interest, building professionals should brace for impact. While the housing market is resilient, it is certainly vulnerable, and it's likely that we'll see some variety of downturn over the next few quarters.
Plan for supply chain disruptions, inventory shortages, delays in inspections and permitting processes, and further labor shortages (although, layoffs in the retail, restaurant, tourism, and entertainment sectors may drive labor to the building sector.)
With that said, savvy building professionals and manufacturers will understand that this is not a time to proverbially stick their head in the sand. Rather, now is the time to strategically acquire land, build pipelines, and develop relationships that will enable them to capitalize on pent-up demand when the time is right.
And, perhaps even more importantly, now is the perfect time to ravenously consume information, data, research, and insights to understand how the shifting market dynamics will lead to systemic change in our sector.
For example, now that people are working from home, it's likely that they're going to start thinking more seriously about essential topics like health and wellness, resiliency, self-sufficiency, and indoor air quality.
How will the lifestyle changes forced by the Coronavirus impact the way people approach home offices and flexible spaces for home schooling? Now that people are, presumably, cooking more, will they want to redesign their kitchens once things have settled to optimize layouts and increase storage capacity for essential supplies?
What are the implications for enhanced connected living with respect to the expanding ecosystem of smart home technologies, including home healthcare, tele-medicine, and fitness apps?
Over the next weeks and months, Green Builder Media will tap into COGNITION Smart Data, our suite of market intelligence services, to offer extensive information in the form of articles, market reports, videos, and webinars, about how the Coronavirus will influence behavioral modification and alter the homebuilding sector. We invite you to join us in our exploration as we reimagine the concept of home as a sanctuary in these challenging times.
How do you think the Coronavirus will change the homebuilding sector? Write to me at sara.gutterman@greenbuildermedia.com.
Want to read more? Follow me on Twitter and Facebook. For more information about green building and sustainable living, visit Green Builder Media at www.greenbuildermedia.com, like us on Facebook, and follow us on Twitter for regular updates and breaking news.