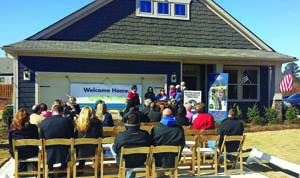 MERITAGE HOMES CORPORATION is a Top Ten national homebuilder based in Scottsdale, Arizona. The company was the first to certify 100 percent of their homes with the Energy Star Program, so it's not surprising that Meritage also became the first large production company to partner with RESNET to perform energy modeling and certification.
"We've built 100 percent of our homes with RESNET for the last four years straight," says C.R. Herro, the company's vice president of Energy Efficiency and Sustainability.
In addition, Meritage has partnered with the nonprofit organization Operation Homefront to build energy-efficient homes for wounded veterans at no cost to them. (The organization also helps veterans modify homes, particularly those returning from service with life-changing injuries.) One was for a wounded army sergeant who lives outside Raleigh, North Carolina with his family. "Building a home that accommodated his needs was really important to us, but we also built the house to achieve three certifications, which [we had] never done before," says Herro. The home earned Energy Star, WaterSense and Indoor airPLUS certifications, and exceeds the standards of all three. (All are U.S. EPA-sponsored programs; the latter is designed to make sure homes are free of indoor air pollution.)
Some features of the 2,066-square-foot home include polyurethane spray foam insulation in the walls and attic, an energy-efficient HVAC system, CFL lighting and Energy Star appliances. Water-saving features include high-performance sinks and showers, dual-flush toilets and a weather-sensing irrigation system that ensures plantings only receive water when they need it.
Herro says the HERS rater from RESNET, whom had been provided with full architectural plans, performed on-site inspections at specific times during the building process—inspecting insulation and framing, ensuring that the windows were put in place properly and verifying correct installation of the HVAC system.
After the home was built, the rater returned to the home to perform tests for duct leakage and air tightness, to ensure that the model assumptions were met. Ultimately, the home achieved a desirable 58 on the HERS Index.
"That is the great part about the partnership with RESNET: the homebuilder provides a third-party validation," says Herro. "The key is to give the customer peace of mind that all the marketing promises were kept."
Working with RESNET also allows homeowners to predict home energy costs, says Herro. "By understanding the energy efficiency of a home through HERS, you can cut [energy bills] in half; with renewable energy, you can cut them to zero." The Meritage Homes website features an interactive HERS scale, so visitors can compare the carbon footprint, energy savings and comfort levels of homes with different HERS ratings.
The bottom line? Building homes with a low RESNET score requires thorough planning as well as effective execution.
"Partnership is so key," says Herro. "It helps us strategically build better homes, and consumers validate that their homes perform to those standards."
---