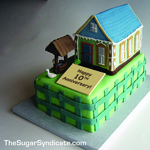 2015 marks Green Builder® Media's 10 year anniversary. So much has changed in the past decade. The green building market, and Green Builder Media along with it, has evolved from niche and fringe to mainstream and intelligent. As individuals, corporations, and governments around the world have awakened to our pressing environmental realities, sustainability has become recognized as the most cost-efficient, durable, and efficient design and building strategy.
This widespread market adoption is coming just at the right time. It's now generally understood that ambitious and immediate action towards reducing our global carbon emissions is imperative to mitigate the changes in our climate, such as rising sea levels, super storms, wildfires, droughts, and extreme temperatures.
The built environment is responsible for approximately 70% of global energy consumption and carbon emissions. Over half the world's population lives in urban areas, and it's predicted that cities will absorb an additional 1.35 billion people by 2030.
Across the planet, there is approximately 1.6 trillion square feet of built space (75% residential and 25% commercial.) It's expected that an additional 861 billion square feet of space will be newly constructed or retrofitted by 2030. The bulk of this growth will occur in China, U.S., & Canada.
The average age of a home in the U.S. is 35 years old. Approximately 41% of the homes in this country were constructed prior to 1969, and another 17% between 1970 and 1979. Many of these homes have lead and asbestos. Many have moisture, structural, and durability problems. Many offer poor comfort and performance, resulting in health risks and large energy bills.
Given that a significant portion of the total built environment is expected to be built or rebuilt over the next two decades, those of us in the building sector have a singularly unique opportunity—and responsibility—to develop and implement solutions that are resource efficient, adaptable to our changing climate, and in line with our energy, water, and emissions targets.
The building sector has never had as much opportunity as we do today to directly—and substantially—shape the future. To meet our sustainability targets, it will take a comprehensive effort, with all hands on deck from building professionals, code officials, city planners, regulators, manufacturers, and homeowners.
It's sobering to think that the future is so decisively in our hands—the same hands that design, build, rate, test, assess, and appraise our built environment. It's exciting to know that we have the power to transform our industry without regulation or legislation. It's our privilege to be the change that is needed in the world. It's our responsibility to care enough to do what is right.
Which makes me all the more grateful to be a part of a rapidly growing community of passionate individuals who are dedicated to affecting positive change in the world. I am honored to participate in the ongoing debate about the actions necessary to address climate change, restrained resources, increased pollution, diminishing habitat, and other sustainability related realities.
I am particularly thankful for the chance to work with my incredibly talented, creative, and committed team members at Green Builder Media. You inspire me on a daily basis and challenge me to become better every day.
I offer a wholehearted thank you to our readers, advertisers, partners, and colleagues for all of the big and small things you do. It is a herculean task to transform an industry, but we're successfully doing it together. Through your hard work and perseverance, we're starting to move beyond the price per square foot metric, redefining value in the built environment to incorporate quality and sustainability.
I've said it before and I'll say it again— our goal at Green Builder Media is to affect positive change within the building industry and beyond. Our mission is to increase awareness that the natural and built environments are intricately linked, and that the improvement of one restores the other. Our mantra is to constantly reinvent ourselves, remaining on the leading edge of sustainability so that we can deliver relevant, interesting, and visionary content to our community.
Our commitment is unwavering and our task is clear: to continue exploring the frontiers of sustainability. We are pleased that you're here to join us for this wildly exciting journey into the future.
What are you thankful for this holiday season? Write to me at sara.gutterman@greenbuildermedia.com or follow me on Twitter.
For more information about green building and sustainable living, visit www.greenbuildermedia.com, like us on Facebook, and follow us on Twitter for regular updates and breaking news.