Every year, Green Builder Media asks our readers to share information about your favorite brands and current perceptions about the green building market. We invite you to participate in our 2017 Readers' Choice Survey so that we can keep our finger on the pulse of the greenest companies, latest trends, and your preferences.
Green Builder Media is proud to be the nation's leading media company focused on green building and sustainable living. Our mission is to constantly improve ourselves, our editorial, and our offerings by aligning with our readers' preferences and important market trends.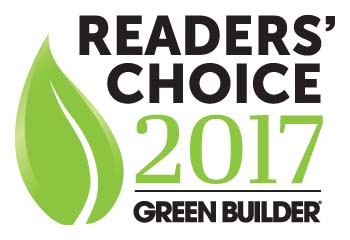 We are able do this through rigorous observation of the marketplace as well as through constant communication with our readers. It's essential that we hear from you about what's important to you and what's a waste of your time, about innovative companies doing great green things, about exceptional people and extraordinary projects, and about your struggles and ideas.
To that end, we encourage you to fill out our 2017 Readers' Choice Survey. We want to know which sustainable brands stand out to you, which categories within the green building market are most accessible to you, and how you select green products.
We know that you're busy, so to show our appreciation for your time and input, we're offering the chance to win a $250 gift card to each person who fills out the survey.
You'll see the results of our info-gathering prowess analyzed and highlighted in Green Builder's annual "Readers' Choice" article in our Spring 2017 Special Awards Issue.
Click here to check out our 2016 Readers' Choice coverage. Last year, high performance, quality products won the day and connected technology was identified as a hot trend. You told us that homeowners/buyers were significant in specifying green brands, and you called for more innovation from manufacturers relative to sustainability and building science. We're eager to hear what's top of mind for you this year!
Got ideas for how we can improve the Readers' Choice survey in the future? Write to me at sara.gutterman@greenbuildermedia.com.
Want to read more? Follow me on Twitter and Facebook. For more information about green building and sustainable living, visit Green Builder Media at www.greenbuildermedia.com, like us on Facebook, and follow us on Twitter for regular updates and breakin