Haste Without Waste Bathroom Design
An interior designer discusses her strategies for maximizing her projects' health and performance, while minimizing waste.
Patricia Gaylor has had her hand in kitchen and bath design for over 20 years and is adamant about keeping waste to the absolute minimum. It's at the very core of all the projects she takes on, including a 10-day bathroom remodel she worked on in 2012.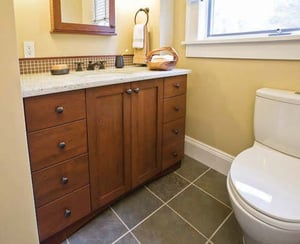 The bathroom already tends to be the most challenging part of a house to remodel, and because the client, a New Jersey-based homeowner, was undergoing chemotherapy, Gaylor needed to design the healthiest and most sustainable bathroom possible, including superior air quality and no off-gassing of products. The $14,000 remodel of the bathroom (the only one in the house) had to be fast and furious, and Gaylor made it work with high-performance products, including a dual-flush toilet, WaterSense-certified Delta faucet and a highly efficient Panasonic vent fan. Cabinets were made locally with no-added formaldehyde plywood and treated with a no-VOC finish.
Of course, not every homeowner can make such large investments in high-performance appliances and products for the kitchen or bath, and that's when Gaylor makes an "energy trade-off" by saving money on something else in the room.
"If the client still wants to use the old fridge, we need to use LED lights instead. If the client wants a countertop from another country, I don't like to do that, but then we get FSC-certified lumber for the cabinets," she explains.
Still, for Gaylor, it's not just about LED lights or no-VOC paint—it's about minimizing landfill waste. "I'm trying to find a place for whatever is being ripped out. Don't try to get rid of it—the whole point is to try to the keep the product viable, to find a second life for it or recycle it into something else."
If there's anything at all from the bathroom or kitchen that's salvageable, Gaylor will list it on Freecycle or Craigslist or take it to Habitat for Humanity. Certain companies like GE have a program to recycle old appliances, including fridges, and some ceramic tiles that have been demo'd can be recycled with programs like Tile Take Back from Crossville Tile, a company that will recycle previously installed tile, even if it's not their product.
The Scoop on Surrounds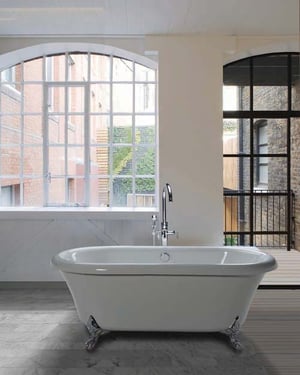 The Melinda Tub from MTI Baths offers a modern interpretation of the classic clawfoot.
Interior designer Patricia Gaylor prefers tiled-in shower surrounds over other choices, such as acrylic panels. Though quick to install, acrylic panel surrounds will off-gas, are easily scratched and usually end up in the landfill.
Using a top-quality backer board that resists moisture and mold under ceramic or porcelain tile will last indefinitely, if properly installed. Large-format tiles can reduce the number of grout lines--and hence, maintenance. Homeowners can also use no-VOC adhesives, grouts and grout sealers to enhance indoor air quality. And of course, adequate ventilation can prevent the conditions that breed mold.
Although free-standing tubs are more requested now by homeowners, according to the 2015 NKBA survey, they aren't necessarily the go-to choice for designers, says Gaylor. Although the small size of clawfoot tubs means there is less water wastage, the heavy weight (often cast-iron) requires a strong floor to hold a full tub, not to mention less flexibility in spatial arrangement of the bathroom.
On the other hand, these tubs are likely to enjoy a long installed life, and can be refurbished and reused in another bath or home.