With its three battering landfalls, Hurricane Harvey has spilled over 9 trillion gallons of rain, wiped out communities, and caused countless casualties—with a quickly rising death toll. In the aftermath of the superstorm, victims will reconstruct their lives. But should they rebuild their homes?
Harvey has rendered us speechless. With heavy hearts, we send thoughts, prayers, and donations to our friends and colleagues in Texas, hoping that our support will, in some small way, ease their inconceivable suffering.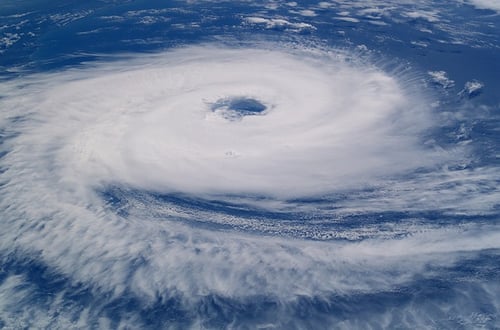 Nothing can be written or said to assuage the pain that the superstorm—now deemed by climatologists as the worst weather event in U.S. history—has inflicted.
And while it is impossible to undo the damage, perhaps we can glean some hard-learned lessons so that we are better prepared for similar events in the future—downscaling them from catastrophes to occurrences.
Hurricanes are an indisputable weather reality, and the link between superstorms and climate change is complex. With that said, science shows that above-average sea-surface temperatures in the Gulf of Mexico are causing more frequent and intense storms, and that these warmer waters augmented Harvey's energy and moisture levels.
Additionally, rising sea levels are strengthening storm surges and preventing floodwater from draining effectively. Pennsylvania State University Professor Michael Mann asserted that Harvey's "storm surge was half a foot higher than it would have been just decades ago, meaning far more flooding and destruction."
Given that category 4 and 5 hurricanes are occurring more frequently, it would make sense to plan accordingly.
Unfortunately, Houston's population explosion over the past decades (it's the second-fastest growing city in the nation and the heart of the U.S. fossil-fuel energy sector), has resulted in unchecked urban sprawl with rambling swaths of impermeable surfaces, making the famously un-zoned city exceptionally vulnerable to the catastrophic flooding.
Developer-friendly laws coupled with a decisive lack of regulation and enforcement in the greater Houston metropolitan area (which spans over 10,000 square miles—an area larger than New Jersey) has kept home prices low and demand high. But, in the process, developers have paved over crucial floodplains, wetlands, and prairie lands that were once able to absorb excess floodwater during storms.
Now, floodwater is channeled into the city's bayous, drainage networks, and reservoirs, posing a grave threat to nearby communities. As Fast Company reports, "While the prairie seems "empty" to developers with dollar signs in their eyes and policy makers who need to keep their constituents in affordable homes, it's a critical part of nature's own flood-absorbing infrastructure. The root systems for these grasses grow up to 15 feet deep, which essentially turns the land into a sponge during flooding."
Man-made infrastructure has proven to be an inadequate replacement for these crucial flood-absorbing prairie and wetlands.
Even after Hurricanes Ike and Allison, Houston hasn't created a comprehensive resilient building plan, despite the fact that over 50% of the homes in the U.S. that have flooded multiple times are located in the greater Houston area.
Now, with insurance payouts expected to reach up to $20 billion (a figure that doesn't include thousands of homeowners who lack adequate coverage) and estimated total costs projected to reach $100 billion, everyone is paying attention to how city officials and policy makers will respond.
Bloomberg journalist Christopher Flavelle underscores that, "Hurricane Harvey has highlighted a climate debate that had mostly stayed out of public view -- a debate that's separate from the battle over greenhouse gas emissions, but more consequential to the lives of many Americans. At the core of that fight is whether the U.S. should respond to the growing threat of extreme weather by changing how and, even where, homes are built."
With respect to Harvey, Flavelle opines, "Contributing to the high losses is the fact that Texas, despite being one of the states most vulnerable to storms, has one of the most relaxed approaches to building codes, inspections, and other protections. It's one of just four states along the Gulf and Atlantic coasts with no mandatory statewide building codes, according to the Insurance Institute for Business & Home Safety, and it has no statewide program to license building officials."
With a history of uncontrolled growth and little oversight, I can't help but wonder: who is holding the reins in Texas?
To his credit, the Texas Governor Greg Abbott was quick to declare a state of emergency in anticipation of the storm and request Federal assistance. But Abbott has been a vocal denier of climate change science, and he was one of several Governors who sued the EPA over the Clean Power Plan. Given his track record, it's unlikely that he will become an advocate for resilient building and enhanced regulation.
Senator Ted Cruz has also been fervent in his repudiation of climate change and has a nefarious history of hiring "scientists" employed by the fossil fuel industry to toe his line.
We can't expect to see any leadership from Lamar Smith, Texas's 21st congressional district representative and chairman of the House Science Committee, who subpoenaed eight environmental groups (including Greenpeace) for requesting an investigation into Exxon's alleged cover up of climate science.
And, while on the topic of elected officials, it's unfortunate that just 10 days before Hurricane Harvey, President Trump overturned flood risk regulations that would have enhanced the resilience of our nation's cities and communities by requiring governments to account for climate risk and sea level rise when building new infrastructure or rebuilding after disasters.
Ultimately, the only way to protect Houston and other superstorm-prone areas is to hold elected officials, regulators, code officials, and big polluters accountable.
Until then, the good people in the Gulf Coast of Texas need our help as they deal with the day to day realities of loss, heath concerns from tainted waters and noxious gases (caused by the abrupt shutdown of petrochemical facilities), and piecing their lives back together.
There are many ways to help in the short-term. If you're interested in participating in the process of creating long-term solutions for a smart, clean, efficient, and resilient built environment, please join Green Builder Media and the City of Orlando at our upcoming Sustainability Symposium: Champions of Change on January 8, 2018 at the University of Central Florida campus in Orlando, Florida. The event will directly and honestly confront the reality of climate change—the challenge of our generation, and the opportunity of a lifetime.
Click here for more information about the Sustainability Symposium 2018: Champions of Change. Space is limited, to be sure to reserve your seat today! Register before September 29 using the code EarlyBird to receive a $100 discount.
How do you think Houston can rebuild in a resilient and sustainable way? Write to me at sara.gutterman@greenbuildermedia.com.
Want to read more? Follow me on Twitter and Facebook. For more information about green building and sustainable living, visit Green Builder Media at www.greenbuildermedia.com, like us on Facebook, and follow us on Twitter for regular updates and breaking news.