Hardware Resources Lighted Power Strip by Task Lighting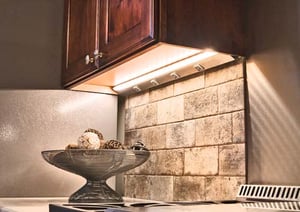 There's always a need for more lights around the house, but not always the room for it. Task Lighting, a division of Hardware Resources, offers an array of power strip-based LED products to illuminate any cabinet space, including upper cabinets, inside cabinets and toe kick areas. Task's Lighted Power Strips are low-energy devices in recessed, lighted power, angled, lighted closet rods and 120-volt bar varieties.
The under-cabinet power strips, mounted against the wall, create extra space for appliances and additional plug outlets when needed. The beauty of the kitchen is no longer disrupted by a crowed backsplash. The strips are also tamper resistant to prevent injury from accidental insertion of a foreign object. They come in various colors, enabling them to blend into the background and not be as visible from elsewhere in the room.
Task Lighting also has products available with tape lighting with a protective IP65-rated micro-waterproof coating. This protects against potential damage that could result from water, cleaning or accidental strikes to the tape lighting.