As climate change puts more cities and communities at risk of flooding, wildfire, super storms, drought, and other cataclysmic natural events, which areas will be hardest hit, and who foots the bill?
From coast to coast, U.S. cities are being brutalized by climate change. As the toll of destruction escalates, lives are torn apart and costs skyrocket.
The National Oceanic and Atmospheric Administration (NOAA) estimates that the total amount of damages from natural disasters in 2017 topped $300 billion in the U.S. alone. Moody's Analytics predicts that the damage inflicted by climate change on the global economy could explode to a crippling $69 trillion by the end of this century.
"Climate change is not a cliff event," says Mark Zandi, Moody's chief economist. "It's more like a corrosive—one that is getting weightier with each passing year."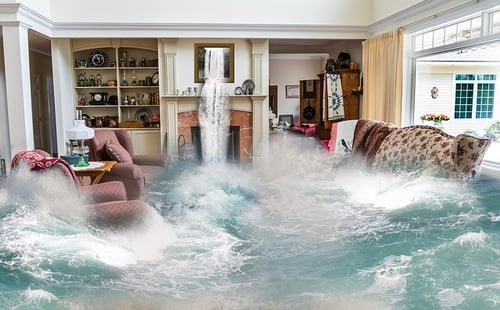 Community members across the nation are being forced to make difficult choices about whether or not to rebuild after the assault of a flood, fire, or storm. Many of them opt to rebuild, resolute in their decision to not abandon the places where they grew up and raised families—the places they love the most.
But how many catastrophic events does it take to compel a community to reach the heartbreaking verdict that remaining in place is no longer worth the suffering that comes with each ensuing natural disaster? Where is the breaking point?
It's sobering to recognize that, at some point, this profound decision may be taken out of the hands of community members, as local, state, and even federal governments intervene to prevent rebuilding in disaster zones.
While the staggering level of post-disaster human anguish is not qualifiable, the financial costs are certainly calculable. NOAA estimates that the U.S. has incurred over $1.6 trillion in losses from natural disasters since 1980.
With the increasing intensity and frequency of climate change related events, policymakers are feeling an express urgency to corral costs. Some advocate for investing in mitigation to reduce the risk of losses before disasters occur, with the goal of decreasing response and recovery costs. A solid strategy, as research shows that $1 investment in mitigation saves approximately $6 in recovery costs.
While the most commonly employed mitigation activities include reinforcing buildings and strengthening infrastructure, we're starting to see government agencies purchase disaster-prone properties in an attempt to relocate occupants to safer areas in order to end the repeating cycle.
But, as regulators dive deeper into setting policy for climate change and disaster related events, the slope may become increasingly slippery.
The level of federal mitigation aid already varies greatly across states: between 2007 and 2016, state-allocated federal funding ranged from $7 million (Wyoming) to $1.4 billion (New York). Clearly, while the type, frequency, and severity of natural disasters impacts the level of federal funding that each state receives, funding decisions may become increasingly politicized. For example, a state will receive more funding if the President declares a post-disaster emergency, and we're already witnessing the fact that certain federal programs receive preference (meaning, more resources) based on specific political agendas.
Which brings us to the inevitable question: if there isn't enough money to protect and rebuild every community impacted by climate change, which ones get salvaged and which are abandoned? Who makes the ultimate decisions, and how will those decisions be made?
According to journalist Chris Flavelle, "After three years of brutal flooding and hurricanes in the United States, there is growing consensus among policymakers and scientists that coastal areas will require significant spending to ride out future storms and rising sea levels — not in decades, but now and in the very near future. There is also a growing realization that some communities, even sizable ones, will be left behind."
Flavelle points out that policymakers are starting to decipher between "winners and losers in the race to adapt to climate change." He asserts that, "The cities that are quick to adapt to climate risks are going to attract the jobs and the factories of the future," and those that drag their feet will be left behind.
Flavelle further insists that "Many cities, especially small ones, will not be able to meet the costs facing them." But relying on federal funding is becoming increasingly precarious as the availability of capital falls short of the vast actual need.
Craig Fugate, Director of FEMA during the Obama administration, predicts that the federal government will begin making spending decisions based on where that investment will have the greatest impact on reducing the future cost of damages. Or, in Fugate's words, policymakers will start asking, "how much risk avoidance do I get for every dollar I invest?"
In reality, this decision-making approach will inevitably result in lopsided spending. Which begs another set of questions: will Congress implement processes that allocate funds in an equitable and balanced way? Will they consider social justice and environmental issues, or will they focus myopically on an area's property values, economic contribution, and political influence?
The floodgate is about to open, bringing with it a surge of unavoidable questions—and uncomfortable decisions. In the end, which communities are valuable enough to protect?
Interested in learning more about the nexus between sustainability, social equity, and financial prosperity? Join us at the Sustainability Symposium 2020: Improving the Human Condition on January 20, 2020 in Las Vegas. Click here for more information—we'll let you know when registration opens!
Want to read more? Follow me on Twitter and Facebook. For more information about green building and sustainable living, visit Green Builder Media at www.greenbuildermedia.com, like us on Facebook, and follow us on Twitter for regular updates and breaking news.